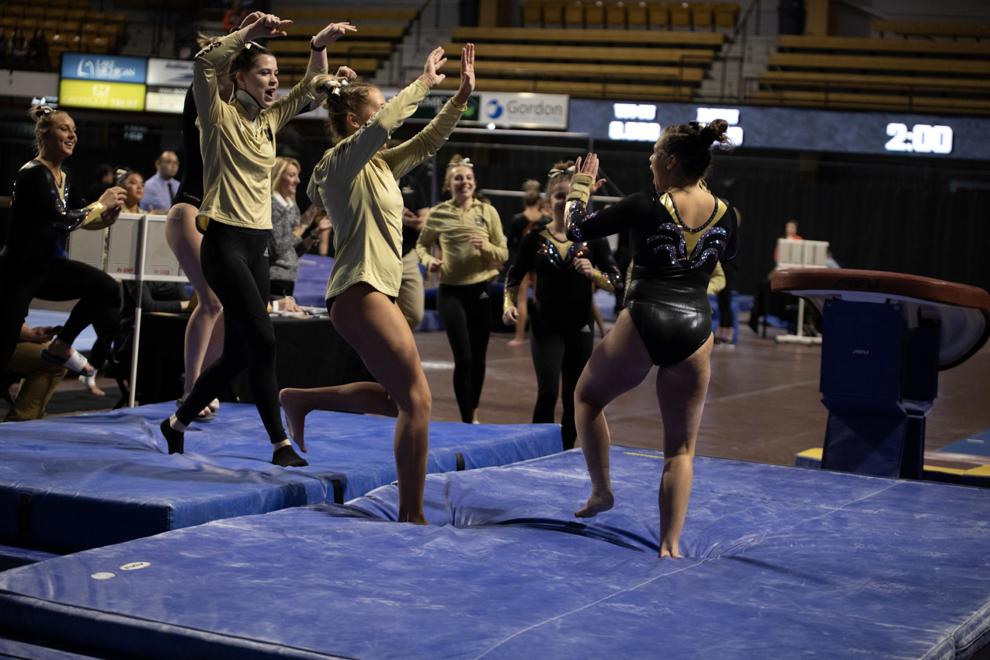 Western Michigan received the 2019-20 MAC Institutional Academic Award for the 2019-20 academic calendar year, the conference announced on Thursday.
376 WMU student-athletes across 16 league-sponsored sports combined to post a 3.317 cumulative grade-point average (GPA), the highest in the Mid-American Conference.
The honor is presented annually to the MAC school that posts the highest GPA for student-athletes across all of its sports.
"Our student-athletes have continued to perform as champions," Western Michigan athletic director Kathy Beauregard said in the school's press release. "I am so proud of all our Broncos. I am not at all surprised by their classroom efforts. This award speaks to the total team effort of WMU Athletics. I also want to thank all our academic support services, as well as all our parents, coaches and support members who were so consistent and dedicated to helping our student-athletes during this year."
WMU gymnastics played a big role in helping the university achieve the award, as the team posted an overall 3.923 team GPA in the spring, which included 11 student-athletes with 4.0 GPA's.
"I am so proud to be a part of an athletic department that places great value on the education of our student-athletes," head gymnastics coach Penny Jernigan said via the release. "It's a collective effort. Our gymnasts are extremely hardworking, as is our academic services team. They're all tireless in their pursuits of excellence. Winning this prestigious award twice in just the last four years is a testament to their focus and dedication."
We're so proud to announce that our WMU gymnasts earned a 3.923 TEAM GPA this spring semester! Highest in program history!! ELEVEN 4.0s! GO BRONCOS!! # pic.twitter.com/gRmic9OoQ9

— WMU Gymnastics (@WMU_Gymnastics) May 28, 2020
Gymnastics performed just as well on the mat over the spring, posting a 5-1 conference record and capturing the regular season MAC title.
WMU volleyball also excelled in the classroom, accumulating a 3.6 team GPA for the spring semester, including four student-athletes with a 4.0 and 12 with a 3.5 or higher.
"We are so very proud of our student-athletes for their commitment and dedication in the classroom," head volleyball coach Colleen Munson said in the press release. "Along with our faculty and staff, our student-athletes put in the work in the classroom and exemplified what it means to be a student-athlete. This award shows we chose to finish strong individually, collectively as teams and corporately as an athletic department." 
Broncos volleyball finished with an even .500 record in 2019 (14-14) with a 5-11 conference record.
Excellence on and off the court! 📚🐴 pic.twitter.com/NkzEq49Gjx

— WMU Volleyball (@WMUVolleyball) May 26, 2020
WMU men's soccer coach Chad Wiseman's team posted a 3.74 team GPA in the spring, with 10 student-athletes earning a 4.0.
"What an accomplishment by our Bronco student-athletes," Wiseman said via the school's release. "I am very proud of the discipline and effort from each and every player. Our student-athletes are leaders and role models in the Kalamazoo community and for this university. They once again showed just how exceptional they are. They compete hard in athletics, but what's even more impressive is how they compete in the classroom. They win in the classroom like no other MAC institution."
Wiseman's team finished last season on the field with an 11-6-2 overall record before a semifinal loss to conference foe West Virginia in the MAC Tournament semifinals last November.
𝓟𝓡𝓞𝓤𝓓Unusual circumstances this spring, but our group came out as champions 📚 🐎 pic.twitter.com/dPt4f65WzM

— WMU Men's Soccer (@WMUMensSoccer) May 27, 2020
This is just the second time in school history Western Michigan has won the award, with the only other time coming in the 2016-17 academic year.
Toledo finished just behind WMU for 2019-20, posting a team GPA of 3.301 after winning the award the past two years.