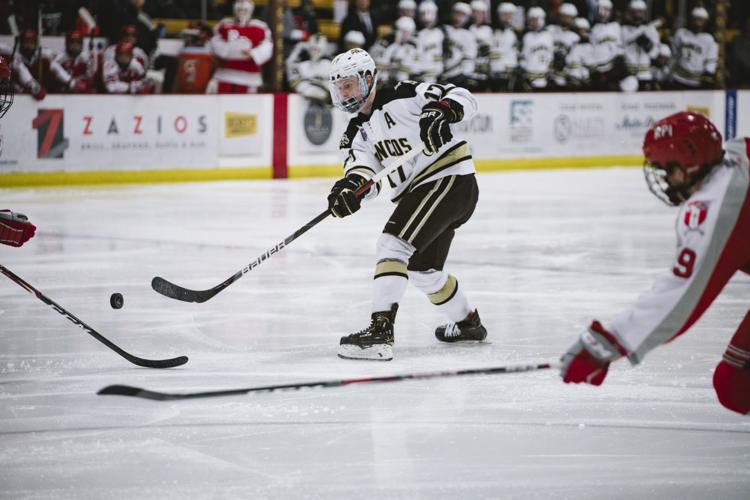 The Western Michigan Broncos (14-10-4, 8-6-2 NCHC) get set to face off against NCHC rival Miami Redhawks (6-16-4, 3-11-2 NCHC) this weekend (Friday, Feb. 14  and Saturday, Feb. 15). This will be the two programs first matchups of the season and the two teams will end regular season play against each other in early March.
Western Michigan and Miami have been pretty evenly matched against each other since their first contest back in 1979. WMU trails the Redhawks in the all time series with a record of 67-68-11, but the Broncos have dominated Miami recently winning the previous five contests.
The Broncos currently own the third seed in the NCHC behind North Dakota and Duluth and are 7-1 in their last eight games.
WMU Keys to the Series
The number one thing that the Broncos have been doing in a dominant fashion recently is being able to put goals on the board. Over their last eight games WMU has managed to outscore their opponents 44-20. The Broncos haven't had one skater reach the 10 goal mark so far this season, but three players have scored nine while two players have scored eight.
Senior Dawson DiPietro, junior Paul Washe and sophomore Rhett Kingston have all put nine pucks in the net while senior Wade Allsion and junior Austin Rueschhoff have put eight behind opponents goalies. Senior captain Hugh McGing is currently the program's points leader scoring seven goals and earning 20 assists totaling 27 points. 
Out of all the skaters mentioned above, Allison so far has been the hottest for WMU after struggling to stay healthy at the beginning of the year. Over the Broncos last eight contests, Allison has racked up 13 of his 17 total points.
The Broncos will need to continue to stay on their toes with their defensive play as they approach the end of the season and face Duluth and North Dakota back-to-back in the coming weeks. WMU allows nearly three goals a game (2.93) which stands 38th in the country. However, over the eight game span, the Broncos have played six games where they allowed only two goals.
Freshman Brandon Bussi has also been a huge part for Western Michigan over the past eight games remaining a top goalie in the NCHC. Bussi has started 27 of the 28 games so far this season while compiling a record of 14-10-3, has put together a .907 save percentage and has allowed 2.74 goals a game.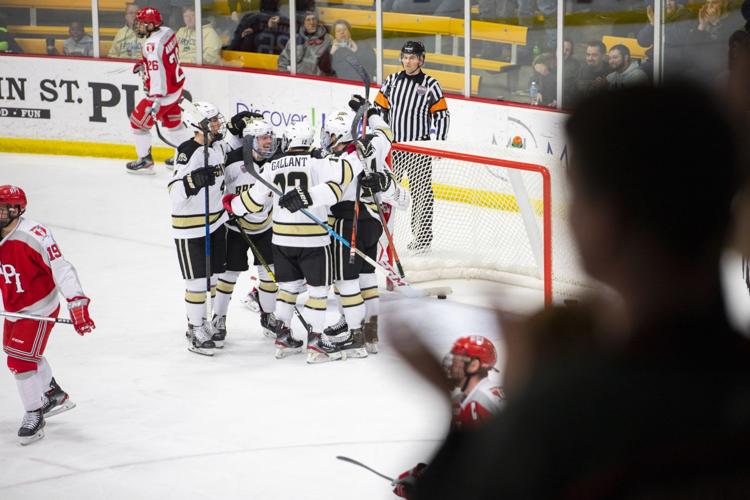 Scouting The Redhawks
Even though the Redhawks only have six wins on the season, they still have some weapons that could cause Western some headaches. Those players are Gordie Green, Karch Bachman, seniors, and Casey Gilling, junior. That squad in particular has been lethal for the Redhawks as they have combined for a total of 74 points this season.
Green has scored 10 goals while earning 17 assists this season, he is also the NCHC's active career points leader with 106. Bachman has posted 25 total points this season earning at least one point in the last 11 out of 15 contests. Gilling has put seven goals in net this season while racking up 15 assists earning a total of 22 points so far this season.
Miami does however, struggle with puck control. The Redhawks have only outshot their opponents four times while getting outshot in 19 games this season. In their previous six contests, Miami is only managing to put 20 shots per game. 
Senior Ryan Larkin, the primary goalie for the Redhawks has never really been a force in between the pipes. In his senior season, Larkin has compiled a 5-10-1 record while having a save percentage of .897 % and is allowing 3.64 goals a game. Throughout his career, Larkin has never posted a winning record, only had a save percentage over .900 twice and has allowed over three goals a game in three of his four seasons.
Final Analysis
If the Broncos can stay hot on offense and keep the puck flowing smoothly, finding the back of the net shouldn't be a problem against a pedestrian defense and goalie. Even though the Redhawks do not have the best offense in the country, they still have some weapons that the Broncos will need to tame and will need to be aggressive against. If Bussi can help out the defense and continue to remain hot and protect the pipes well, along with all the other things mentioned, the Broncos have a very good chance at sweeping Miami.
The Broncos have been out of the United States College Hockey Online top 20 since the end of December. If they sweep Miami, that could change next Monday when the new rankings are released.
The Friday and Saturday game will start at 7:05 p.m. fans who cannot attend can tune in with an NCHC.tv subscription, or listen in on the Bronco Radio Network