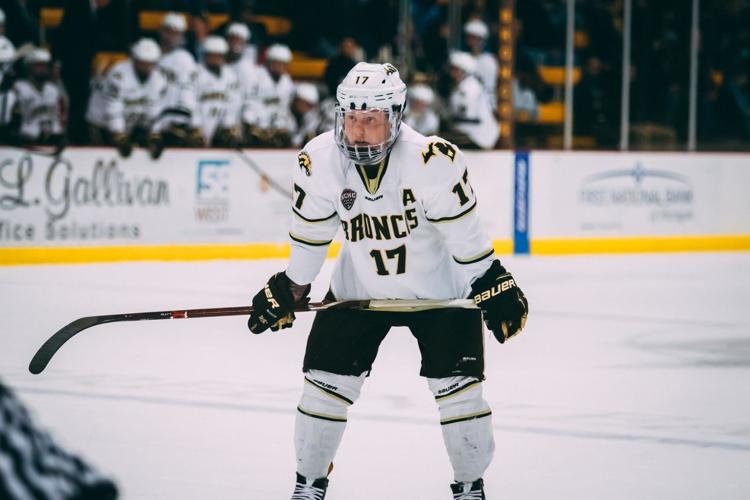 Canadian hockey star Wade Allison has been a stand out player for Western Michigan since arriving on campus back in 2016. Allison's career statistics include 35 goals and 39 assists totaling 74 points in 80 career games.
Allison suffered a season ending ACL injury back in the 2017-18 campaign which was a huge setback. However, with only playing in 22 games, he still earned All-NCHC Honorable mention for the season.
During his comeback season in 2018-19, Allison appeared in 22 games putting up 15 points while recovering from one of the most devastating injuries in sports. The Philadelphia Flyers prospect struggled to get clearance from the doctors in Philadelphia during last season. After getting cleared by the Flyers to return to the ice for the Broncos, Allison struggled to regain his endurance.
Allison grew up playing hockey and has been on the ice ever since he was a toddler. Being born and raised in Myrtle, Manitoba hockey was a huge part of his life. Hockey was part of the culture in Manitoba and was one of the first things he learned how to do.
"I started playing when I was four years old. I started skating when I was three," Allison said. "That's what everyone does in Canada, just play hockey."
Bronco hockey head coach Andy Murray has been more than just a coach to his players over the course of his tenure but also a mentor and a father figure. Murray helps his players grow and develop into fine young men after they become alumni and embark on the rest of their lives. Allison gives Murray credit to helping him become the player and young man he is today.
"Coach Murray has been a big part of (my growth). He's honest everyday about details and the small things and pushes you to put in 100 percent," Allison said. "He has been a big part of me maturing over the last few years."
When trying to choose a school to continue your education and athletic career, some students may have a difficult time with that, but for Allison, Western was a no brainer.
"It's an incredible place, I love it here, the rink is sweet and the coaches are great," Allison said. "The guys are unbelievable and I wouldn't change it for anything."
With being the third highest draft pick in program history, Allison could've played professionally  in 2016 after being drafted 52nd overall by the Philadelphia Flyers of the NHL. However, Allison still has a drive to get better and bring a national title to Kalamazoo before his time is up. 
Allison also thinks this team is a special one and before he becomes a professional, he wants to make sure he's 100 percent healthy. That's what gave him the motivation to come back for one more shot at the grand prize.
"The talent we have in the locker room and the potential we have this year and making sure my knee is 100 percent, all those things combined made it an easy decision," Allison said. "I think this is the best place for me and I want to win a national championship. I couldn't pass it up."
Allison is definitely a player that people should have their eyes on as the Broncos enter the new season ranked No. 14 in the country. If he can get back to the level of play he was at before his injury, the Broncos will definitely be a force to be reckoned with nationally.