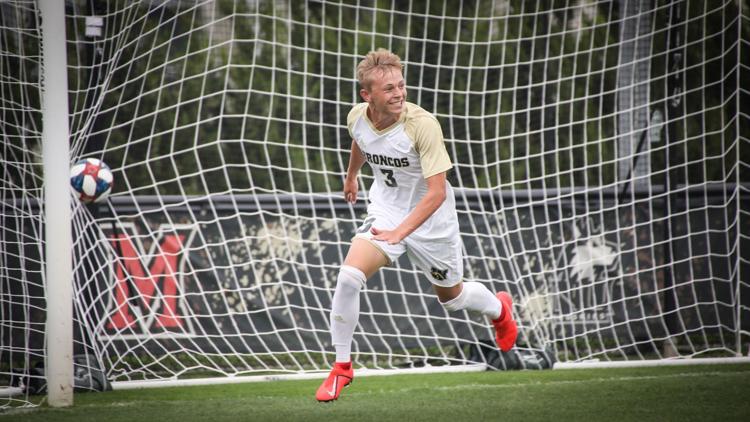 Western Michigan men's soccer scores four goals for the second time this season as they earn a shut out win at Green Bay. After falling to DePaul on Friday in overtime, the Broncos bounced back with a commanding victory.  
"It was a complete performance today by the guys. They stuck with the game plan for the entire match and were rewarded with the victory," head coach Chad Wiseman said via press release. "We had to show some toughness today after dealing with the emotions of the overtime loss at home on Friday night. To me, coming away with a 4-0 result against a good Green Bay team on the road is toughness." 
Sam Biek opened the scoring in the 19th minute after an assist from Anthony Bowie. Bowie added his name to the score sheet after smashing home a ball from Mike Melaragni in the 24th minute. Bowie has had a strong start to the season totaling eight points on three goals and two assists. 
The Broncos started the second half with a two-goal advantage which grew into four as they continued to control the match. Brennan Creek scored his second goal of the season in the 61st minute on a Max Keenan assist. Senior Giuseppe Vitale finished off the Phoenix with his crafting goal in the 64th minute as Alex Ruddock was awarded the assist.  
"Four different goal scorers is great to see," Wiseman said. "A huge congratulations is also in order to our captain Giuseppe on his first collegiate goal." 
The Broncos outshot Green Bay 9-3 and allowed zero shots on net. Lukas Von Lienen earned his first shutout of the season and Green Bay goalkeeper, Jamison Yoder, was credited with two saves on the night.  
"It was a total team commitment on the defensive side of the ball," Wiseman said. "We did not concede a shot on goal, which is impressive. Both Sam Biek and Brandon Skinner had great control of the game and the players in front of them." 
The Broncos continue their season on Saturday as they host Cincinnati. The non-conference match is set to kickoff at 12 p.m.