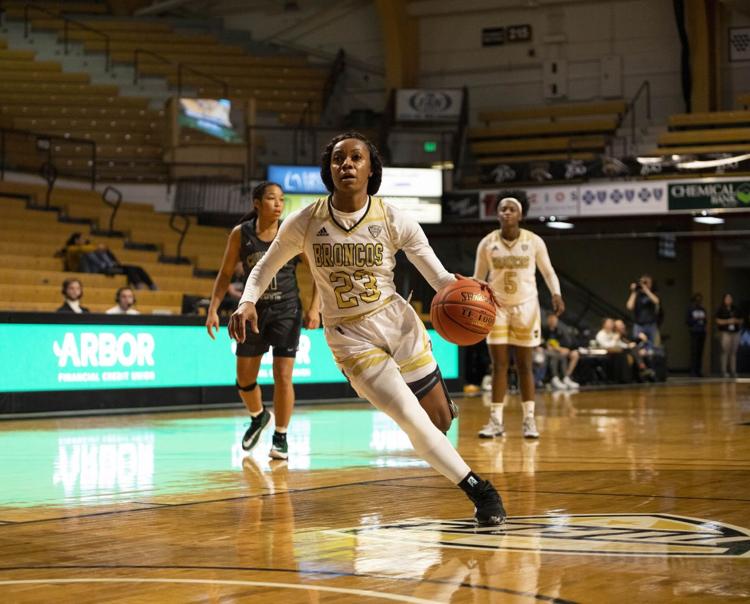 Western Michigan women's basketball suffered their first Mod-American Conference loss of the season at the hands of Kent State on the road last Saturday by a score of 75-63.
WMU, who came into the game in first place in the MAC West, started slow as they trailed 23-12 early in the second quarter and 43-27 at the half. 
WMU came back with a vengeance in the second half, going on a run to cut the deficit to two as they outscored the Golden Flashes 24-12 in the third quarter to make it 50-48. 
Breanna Mobley had another successful game, putting up her 11th double-double with 16 points and 13 rebounds. Mobley became only the third WMU women's basketball player to have scored 1000-plus points, grab  600-plus rebounds and 100 or more blocked shots..
Jordan Walker, who leads the team in scoring,  had 11 points while only shooting 3-for-12 from the field. Leighah Amori-Wool also had 11 points but shot just 4-for-12 from the field. 
The Broncos shot better than Kent State in both field goal percentage (34.8-32.4) and three point percentage (38.1-25.0), but the Golden Flashes lived at the foul line all day, shooting over twice as many free throws as the Broncos.
Kent State shot 24-30 from the free throw line compared to 9-12 for the Broncos.
Western will try to rebound as they are back at home for a conference game against Ohio on Wed., Jan.15 at 7 p.m.