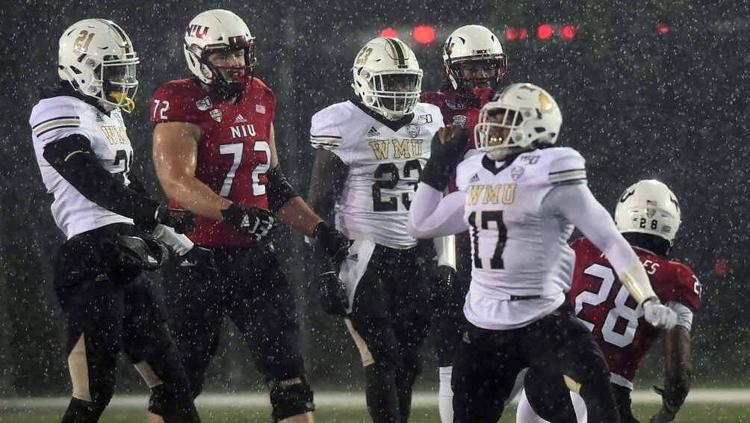 Western Michigan junior linebacker Zaire Barnes is out for the 2020 season after suffering a non-contact knee injury, head coach Tim Lester said in a zoom call with reporters on Thursday.
Barnes was projected as the strongside linebacker for this season after playing in 11 games and starting in four last year for the Broncos. For his career at WMU, Barnes has appeared in 24 games and has recorded 44 tackles, 3.5 tackles for loss and one pass breakup.
Lester said senior A.J. Thomas will move from strong safety into the SAM linebacker spot to replace Barnes, with redshirt junior Roy McCree has also having rotated in that spot in practice.
With Thomas moving to linebacker, the Broncos will need someone to step up to fill Thomas' previous role. Lester explained Harrison Taylor, Damari Roberson and Marshawn Foster have been battling for the strong safety position.
"That's probably the one battle you really can watch," Lester said when going through the defensive depth chart.
Both Thomas and Barnes stand at 6-foot-3, with Barnes having 15 more pounds on Thomas, weighing 225. Thomas gives the Broncos experience and someone who is versatile and a solid tackler, as he recorded 67 tackles last season while starting in all 13 games at safety.
Although the loss of Barnes is not ideal, the Broncos should still be well equipped at the linebacker position. MAC Defensive Player of the Year Treshaun Hayward is back, along with the return of the return of redshirt sophomore Corvin Moment after being academically ineligible for most of the 2019 season.
The bigger question mark may be how the Broncos replace Thomas' spot, as the players in that mix are inexperienced overall. Roberson is a redshirt freshman who is moving from wide receiver while Taylor played in all 13 games last season, but mostly on special teams. Foster, a redshirt freshman, has not appeared in a game yet.
The Broncos begin its six-game schedule on Wednesday, Nov. 4 when it travels to Akron to face the Zips.