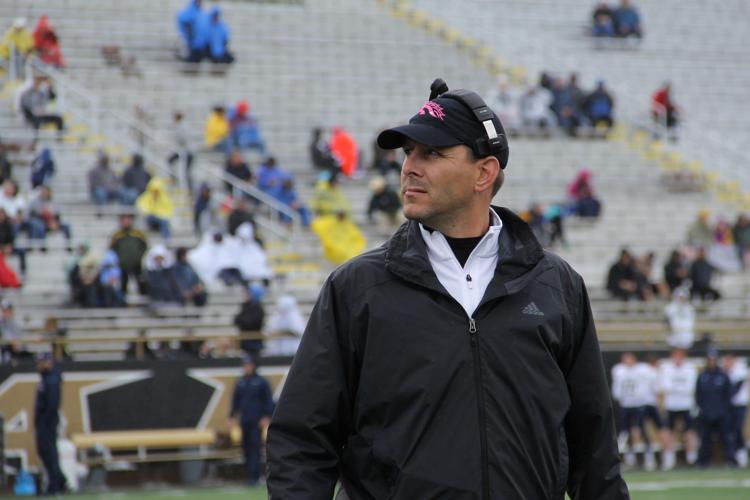 Western Michigan football head coach Tim Lester met with the media for the second time in less than 12 hours on Wednesday. 
After the late Tuesday night contest where the Broncos pulled off a 35-31 thriller over Ball State to put themselves in a first place tie in the MAC West, the Broncos will next travel to Ohio on Tuesday to face the Bobcats, who currently sit atop the MAC East standings.
Here is what Lester had to say on Wednesday afternoon.
Opening statement 
"A lot of great things. We are bowl eligible six years in a row, which is the longest streak in our program's history, so I'm proud of that. We were 6-0 at home which was a pretty special year playing at Waldo. Really trying to send the seniors out the right way. Their last game at Waldo means a ton to them and I thought the seniors played great."
"Now we go to Ohio in a week. They're tied for number one in the East. I have a ton of respect for coach Solich and what they do and how they do it. They're solid in every phase and we're going to have to play a great road game to keep our hopes going."
On if the Ball State win was the biggest win in his career as WMU's coach
"Yeah because it was the last one. I like the way it ended. You've gotta be able to win close games in the last minute. You have to be good in those situations. Maybe very rarely you'll have a team once every 25 years that blows everybody out. You're gonna have to win in the fourth quarter and win in the last minute and when they scored and we had three minutes left I felt pretty good about our chances. Didn't want to score too fast, thought of Eastern a little bit. But we did a good job scoring, left them a minute then our defense made the stop. Ali (Fayad) was unblockable at the end of the game and we got the stop we needed."
On the feelings of playing his last home game as a player
"You remember your last game. For me it was senior day. But it's an emotional thing. Being able to play and come out of that tunnel , there's nothing like it. I had the same feeling when I was named the head coach here where it was my first time on the field, we were going out there to do a workout. You get kind of nostalgic about all the things that have happened there."
On the team playing on national television
"I think they (the players) love it. The TV timeouts are long. The first one is a three minute one. It's a lot of standing on the sidelines. We talked about it though, I told them in the morning 'hey this is an ESPN game and we get to play in front of the world.' It's a unique opportunity to tell a story about our program, our players, our school and our town. That's the special part."
On whether he will discuss Ohio blowout loss from last year with team
"We'll talk about it. You have to do the things you need to do to win a game. There's about 700 stats but there are like five, six or seven of them that are the most important things to winning, and we're pretty good at those. That game we didn't do any of them. Jamauri dropped a fumble, we dropped two kick offs and it was over at halftime and it was bad. We'll talk about that and learn from it, we haven't been turning the ball over and we have to do a better job of getting it back. But yeah it was an embarrassing loss and we have a chance to redeem ourselves."
On what he sees from Ohio quarterback Nathan Rourke
"He throws the ball well, he's a great runner. They do so many things to outnumber you. If you are willing to run your quarterback consistently, you are hard to stop. You've watched NFL defenses try to stop Lamar Jackson, the numbers purely aren't there, you can't create a 12th guy on defense. They lost a ton of people off last year's team, but if you told me we were going to lose like 15 seniors and I got to keep one dude off that team, I would have picked him. He's a warrior quarterback that keeps them in games, they are gonna chew the clock. They're gonna run the ball and take shots."
On if he was surprised that there was no booth review on Bellamy hit to head in Ball State game
"I always ask. I thought there was one with Gio where he got hit, but it was a clean hit. But they double check everything, they buzz down to check all that. It was a good clean hit. He (Bellamy) got his bell rung a little bit and landed on his shoulder and he was fine. We kept him out for a little bit and when we got him back in I thought he was a little jittery on his first cut. But he calmed down and got back into rhythm and obviously had a pretty good day."
On NCAA allowing players to profit off their name, image and likeness
"Is the NCAA video game going to come back? Because that was the greatest video game of all time. I still have it at home, my kids still play it. But I think it's great. It's going to be interesting because I think there are so many things that come along with that. I've talked to a lot of people and I think it's a work in progress. I think it's great if people are gonna make money off of our players, I think they should get a piece of that for sure. There's gonna be other parts to this puzzle, I think it's for the players which I'm 100% for but we have a lot to figure out."