After taking a 27-26 lead on running back LeVante Bellamy's third touchdown of the night under the lights in Ypsilanti, the Western Michigan defense needed one stop to be in control of their own destiny in the Mid-American Conference West Division. 
But the defense couldn't get that stop, as Eastern Michigan backup quarterback Preston Hutchison found receiver Matthew Sexton for a 34-yard touchdown with 39 seconds left to ultimately seal a 34-27 win to give the Eagles their first MAC win of the season.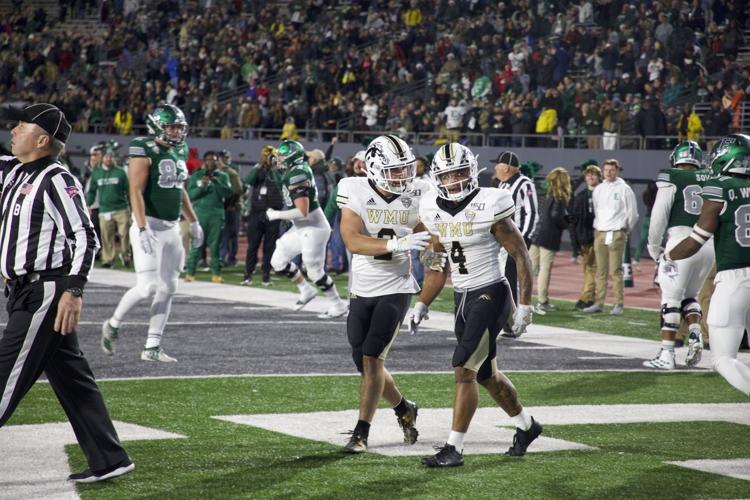 The Broncos were caught by surprise when they found out before the game that EMU starting quarterback Mike Glass III would be out. The Eagles turned to Hutchison as he had a monster game, going 31-for-36 through the air for 357 yards and three touchdowns. 
Western Michigan head coach Tim Lester said that caught them by surprise and EMU changed some of their offense with Hutchison in at quarterback. 
"We didn't know their quarterback wasn't playing," Lester said. "We found out before the game so they ran a totally different offense that we needed to figure out and we couldn't figure them out." 
WMU's 0-3 road record coming in (now 0-4) had a lot to do with getting off to slow starts. But that wasn't the case on Saturday night, as the Broncos struck on their first drive on an eight-yard touchdown run off the left edge from LeVante Bellamy to get the Broncos on the board first. 
EMU was able to move the ball on their first drive Broncos with a long 17-play drive, but Western's defense was able to hold to a field goal. EMU's Chad Ryland knocked one home from 31 yards out to make it 7-3. 
The Broncos were able to counter with a long drive of their own and eventually Bellamy would punch it in from a yard out to make it 14-3 WMU with 10:38 to go in the first half. Western's offense was able to use a mix between quick passes and using the ground game to move it down the field. 
Eastern would move the ball into the red zone again midway through the second quarter, but the Broncos defense held them out of the end zone again. And this time, the Broncos got a miss from Ryland, keeping the lead at 11 points.  
The Eagles were able to cut it to a one score game with 15 seconds to go in the half. After a Broncos three-and-out, EMU finally converted a red zone opportunity into a touchdown pass from Hutchison to Dylan Drummond to make it 14-10 going into the half. 
To start the second half, EMU put together another nice drive. Set up by a couple of big passing plays, Hutchison took an option play in for a touchdown from six yards out to give the Eagles their first lead of the game at 17-14. 
That lead wouldn't last long, however. With 4:39 to go in the third, Wassink connected with Corey Crooms on a 38-yard deep ball on a first-and-35 play after the Broncos were backed up after two consecutive penalties. It was Crooms' first career touchdown and it gave the Broncos a 21-17 lead. 
"We had been setting that up all game," Lester said. "We had been waiting for it, they gave us a little different look pressing us instead of playing off. But he (Crooms) did a great job at the line and at the last second their corner bailed. I'm proud of the kid for being patient on the route." 
The Broncos defense would help retain that lead heading into the fourth quarter, as they halted another Eastern drive inside the 20. With 13 seconds to go in the third, Ryland connected on his second field goal of the game, this time from 28 yards out, to make it 21-20 WMU. 
Ryland would get another chance to give EMU the lead early in the fourth, but WMU's defense forced him into a long field goal after a big sack by Ralph Holley pushed EMU back and forced a long try that Ryland pushed wide. 
WMU's defense would finish with three sacks on the night, but ultimately could not find enough ways to make Hutchison uncomfortable. 
"We have got to pressure a new quarterback," Lester said. "We tried to get after him but we didn't put enough pressure on him and he got comfortable. He played a great game for his first start." 
Western's offense was not able to capitalize off the missed field goal as they found it tough to move the ball with consistency in the second half. 
"The first half we made more plays and in the second half they made more plays," senior running back LeVante Bellamy said." 
Eastern would get the ball back and regain the lead as receiver Quian Williams beat cornerback Patrick Luprow down the sidelines for a 29-yard score to make it 26-21 EMU. 
Western Michigan's offense would have to put together one of their best drives of the season late in the fourth quarter if they wanted a chance to come out with their first road win. 
And they did just that. Wassink and the Broncos offense marched down the field and LeVante Bellamy eventually found the end zone for the third time of the night to give WMU a 27-26 lead with under two minutes to play. 
Bellamy finished with 113 yards rushing on 28 carries and three touchdowns. Through the air, Wassink was 15-of-24 with a touchdown and an interception while Giovanni Ricci was Wassink's leading receiver on the night with 88 yards. 
What could have been a game winning drive was overshadowed by Eastern's game winning touchdown drive. 
The most disappointing part of the night for the Broncos was their defensive play, surrendering 547 yards on the night to EMU's offense. The Broncos were able to hold the Eagles to some field goals early, but were hurt by the big plays, especially in the fourth quarter.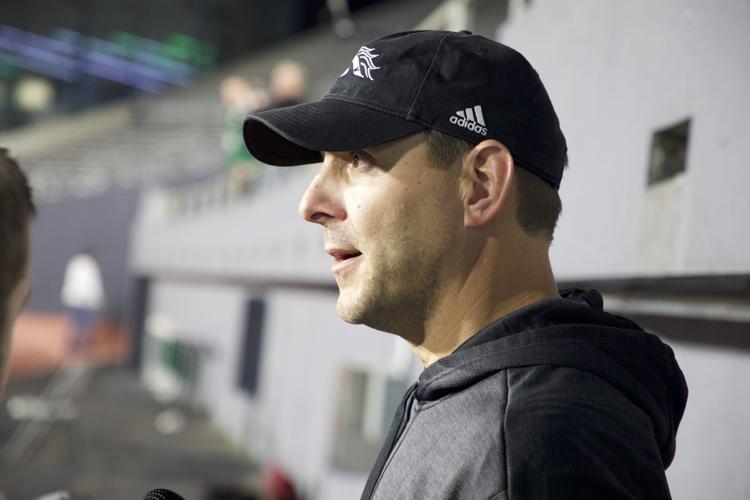 "They got after our corners and double moved them and they got behind us," Lester said. "They didn't really throw the ball deep much early on, it was all underneath. When it gets to the red zone it gets tight down there, so we were able to hold them to some field goals. But the double moves, they were three, four, five yards past us. We've gotta do a better job of staying on top of routes." 
The Broncos will look to bounce back as they welcome Bowling Green to Waldo Stadium on Saturday, Oct. 26. Kickoff for that game will be at noon.