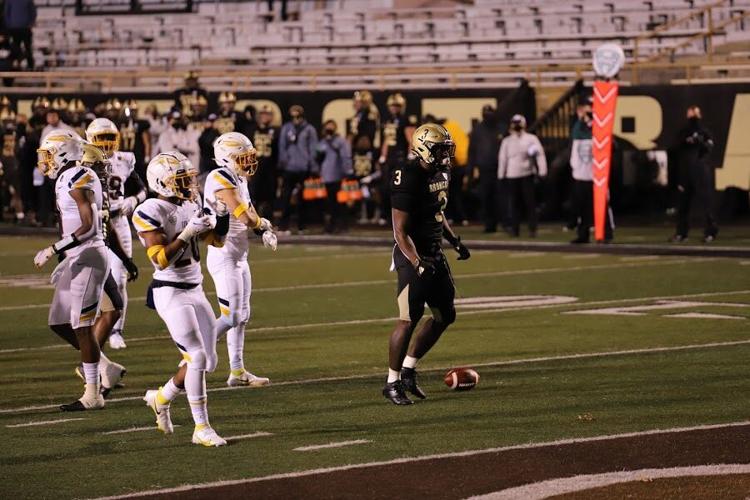 On Monday, WMU football head coach Tim Lester gave injury updates on four key contributors in his weekly Zoom press conference with the media.
Last week during the Broncos' 41-38 win over Toledo, WMU lost defensive end Ali Fayad, along with graduate transfer running backs Jaxson Kincaide and La'Darius Jefferson to injury.
Defensive end Andre Carter went through pregame warmups but did not play against Toledo after leaving with an injury against Akron in WMU's 58-13 win on Nov. 4.
The news is positive for Carter, Kincaide and Jefferson, all of who Lester believes will be back in the lineup for WMU's 7 p.m. kickoff at Central Michigan on Wednesday.
Fayad's status, however, is more up in the air after suffering an apparent ankle injury against the Rockets.
"Ali is going to be a game-time decision, we'll see. I would list him as doubtful if I had to list him as anything," Lester said. He's been getting better every single day, but I'm not sure about that one."
Fayad had two tackles, a sack and forced a fumble last week and has six tackles to go along with two sacks in two games this season.
If Fayad can't go, that will be a big loss for the Broncos as the senior was a preseason first team all Mid-American Conference selection and has 18.5 sacks in 40 career games (30 starts).
But getting the 6-foot-4, 250-pound defensive end from Cass Tech High School in Carter helps, who ended his 2019 campaign as a redshirt freshman with 23 tackles, 5.5 tackles for loss and 2.5 sacks.
The Broncos' defense will have to turn to the likes of defensive ends Marshawn Kneeland and Kailien Guillory to step up on the defensive line.
Kneeland, a redshirt freshman, has already made an impact this season after recording two sacks against Akron and adding seven tackles in last week's game. Guillory, a redshirt senior, has recorded three tackles on the season to add to WMU's depth up front.
"It'll be great to get Andre back, he didn't play last week and the other guys filled in and played really hard and they're getting better," Lester said. "Young Marshawn Kneeland's getting better, and KG (Guillory) played well too, but it will be great to at least get Andre back and we will see how the next 48 hours go with Ali."
Sophomore running back Sean Tyler had to do the heavy lifting in the backfield last week, going for 100 yards on 12 carries with Kincaide and Jefferson exiting early.
Kincaide, the Nevada transfer, made the most of his one touch against the Rockets after running the ball into the endzone from 21 yards out off right tackle as time expired in the first quarter.
👋👋 Bye Bye! @JaxsonKincaide is in for 6! 📺 - https://t.co/pnhuFZKJ32 pic.twitter.com/G5fuUHvuZn

— WMU Football 😷 (@WMU_Football) November 12, 2020
"Kincaide practiced yesterday and today, so he's looking better and I think we're going to have all three of them again," Lester said.
Jefferson, the former Michigan State Spartan, racked up 34 yards on nine carries before having to exit. He did come back on the onside kick play the Broncos recovered to set up the game-winning drive, something Lester didn't notice until he watched the film the next day.
"La'Darius was just a little bit banged up there. He found his way out there on the onside kick, he was going to be out there for that play," Lester said. I didn't even notice it until I watched the film and I was like 'well shoot,' he was not going to be denied the chance to go get the ball if we ended up kicking it to his side. He's been practicing all week, he looks really good."