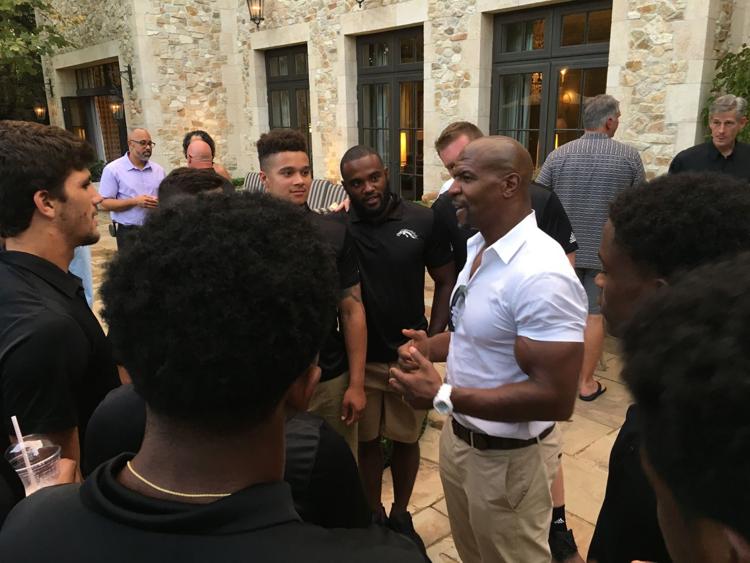 Terry Crews, Western Michigan football alum, can always say he was one of the few to live out the dream of playing in the NFL. But now, he gets to live out something arguably even more spectacular.
It was recently announced that the Hollywood star and former Bronco football player will be inducted into the 2020 Hollywood Walk of Fame alongside the likes of Julia Roberts, Spike Lee, Wendy Williams, and others.
Crews' has had a successful career in both the film industry and on the football field. The Flint, MI native earned a full scholarship out of high school to play football at Western Michigan, where he was an art major.
As part of the WMU football team, Crews was a force, as he earned all-conference honors as a defensive end on the 1988 Mid-American Conference championship team. He was drafted in 1991 in the 11th round by the Los Angeles Rams. He played two seasons with the Rams before bouncing around the league a little bit. He also had stints with the San Diego Chargers (1993-94), the Washington Redskins (1995), and the Philadelphia Eagles (1996). 
After Crews retired from football in 1997, he started to get his feet wet in the acting business. He made his big-screen debut in 2000 in "The 6th Day". As time went on, he began getting more film parts with roles in "White Chicks" (2004), "The Longest Yard" (2005), "Balls of Fury" (2007), "Get Smart", (2008), "Terminator Salvation" (2009), "The Expendables" (2010), and "Bridesmaids" (2011).  
Crews is also well-known for his roles in the popular TV shows Are We There Yet?, Arrested Development and Brooklyn Nine-Nine. And who could forget about the Old Spice commercials? On top of the movies and shows Crews has appeared in, the former Bronco has served as a host in several different occasions; he currently appears on America's Got Talent, after taking over for former AGT host Nick Cannon.
From a Bronco football star, to an NFL journeyman, and now to the Hollywood Walk of Fame. Terry Crews has just about done it all.