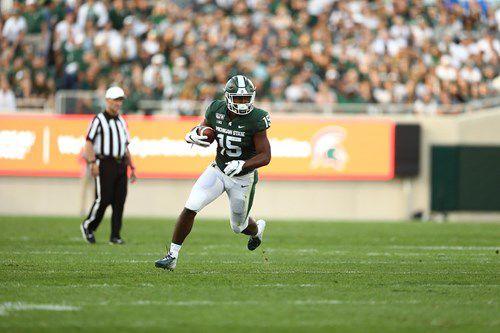 Michigan State transfer running back La'Darius Jefferson may get to suit up on game days for the Broncos this season after all.
In a near hour-long zoom conference with reporters on Thursday, Western Michigan football coach Tim Lester said the program is in the process of submitting a waiver to the NCAA in attempt to make the junior immediately eligible to play in the 2020 season.
Lester said once submitted, the program should be hearing back from the NCAA "within a couple of weeks," and will certainly know by the time the Broncos take the field for its Nov. 4 opener at Akron whether or not Jefferson will be eligible to play.
"We're close to having all the materials we need," Lester said. "Our goal is to have it in by the end of the week and normally it will take two weeks from that point, collecting letters from all different sides."
Lester said he does not know what the chances of his waiver being accepted are, but the program is hoping for the best.
"Obviously we're rooting for it. We're rooting for him and he's been great since he's been here as a leader and as a worker and he wants to play in these six games if he can. If not, we'll swallow that pill and move forward," Lester said.
Jefferson, along with fellow running back Jaxson Kincaide (Nevada), transferred to WMU in January. 
Kincaide will be immediately eligible as a graduate transfer, but Jefferson would have to sit out a year due to NCAA rules unless his waiver is accepted.
Currently, WMU's running back room includes a promising sophomore in Sean Tyler and an experienced Kincaide as the Broncos try to fill the big shoes of former running back LeVante Bellamy.
Tyler is an elusive back who showed potential as a true freshman last season, rushing the ball 68 times for 390 yards and five touchdowns as he worked his way up in the depth chart as the season went on. 
Kincaide played 38 games at Nevada since 2016 and rushed for 894 yards on 199 carries and six touchdowns and will add to the Broncos depth in the backfield.
Lester likes what both of them bring to the table, but said adding Jefferson to this year's mix would be a boost to the rushing attack.
"He's a great player, big body, 230-pound running back. He's a bruising runner, fast too. He had a great spring," Lester said. "We have two really good running backs, but man, it would be great to have three."