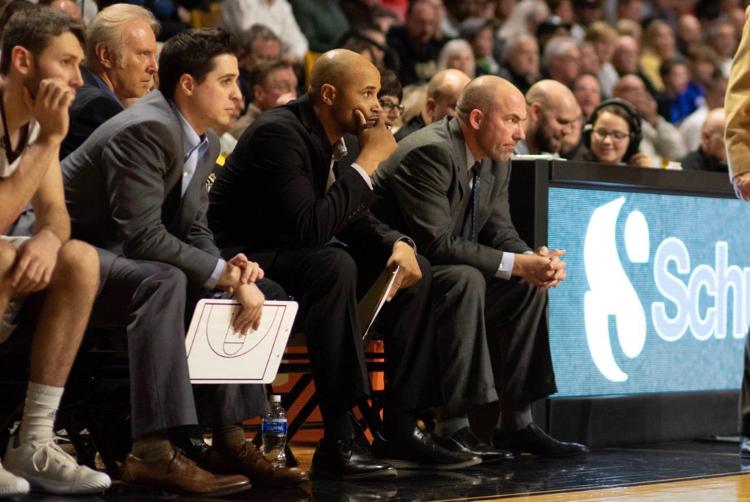 While there are not many happenings in the sports world in terms of athletic competition, the Western Michigan athletic department still has plenty of work to do.
Part of that work consisted of the recent hire of newly appointed head coach Clayton Bates of the men's basketball program, who was officially hired last Saturday and introduced by the program on Monday.
"My mission is to build a program the university is proud of," Bates said in a conference call with the media on Monday. "It's going to take a lot of hard work and a lot of people, but we are certainly excited about the start we have and what we are gonna build here going forward."
But how did the athletic department go from Michigan assistant and decorated alum Saddi Washington being the lead candidate, to hiring Bates, a longtime assistant under former head coach Steve Hawkins? On top of that, how did Bates even get into the mix in the first place when he never applied for the job? And why is he being paid $165,000 less annually than Hawkins was making on his contract?
WMU athletic director Kathy Beauregard spoke with the Western Herald to answer some of those pressing questions in what was an unconventional hiring process, with factors that included a significant budget cut coming to the athletic department and a "hiring freeze" that was enacted by the university in the middle of the search.
Missing out on Saddi
Tuesday, March 10 was the day Beauregard said she decided to move on from coach Hawkins, who spent 17 seasons as the head coach at WMU.
After making what Beauregard said was a difficult decision, she said she was fully prepared to conduct a national search.
"We really thought and believed we were going out to do a national search," Beaureagrd said. "It was time for a big change. Obviously coach (Hawkins) had his history with us and will always have history with us. We've had some wonderful championships and outstanding student-athletes. But there was also the part of winning games."
After Beauregard spoke to Hawkins that Wednesday, the program officially announced the decision to move forward.
On Friday the same week, Beauregard said she had scheduled a chance to talk with Washington and was planning on meeting face-to-face with him that night.
Beauregard made it clear that she never technically offered Washington the job, but instead asked him if it was an opportunity he would be willing to pursue.
"He did not turn down the job, I never offered him the job," Beauregard said. "The conversation was 'is this what you want, is this the right time for you, would you consider this?'I know he knows he was at the forefront of the opportunity."
 Washington's schedule changed that night and the dinner that was planned never happened.
Beauregard did follow up with Washington the next week via a FaceTime conversation about the job, where Beauregard said Washington showed a considerable amount of emotion when telling her he was going to stay at Michigan.
"It was a very tough but honest conversation to not pursue the job considering my love for the university and my admiration for her (Beauregard) as a longtime friend," Washington told Tony Paul of The Detroit News. "But this quality of life decision was the right one for my family and I."
Beauregard said after that happened, she had upwards of 200 people that had contacted her about the job.
But out of all of those potential candidates, most of them did not get an opportunity to sniff the job opening because of a policy the university would enact. 
The "Hiring Freeze"
On the Friday Beauregard was supposed to meet with Washington face-to-face, she said she had heard the university could possibly enact a university-wide "hiring freeze" due to the coronavirus pandemic.
If the policy was approved by President Edward Montgomery and his cabinet members, this would restrict Beauregard from going outside the university to hire a new coach.
The policy was eventually made official last week, a decision Beauregard said she showed some resistance on but agreed with in the end.
 Beauregard acknowledged she did continue to have conversations with some names outside the university before the official word of the hiring freeze was announced.
Although Beauregard did not want to say who else she interviewed directly, she did say Michigan State assistant coach Dwayne Stephens and former Indiana assistant Ed Schilling were "definitely names that came to me and definitely names we looked at."
During the weeks before the hiring freeze, Beauregard said she was contemplating a couple of different options. One of the options being waiting a couple of weeks and see what the university would do in terms of their hiring policies, or make a hire internally.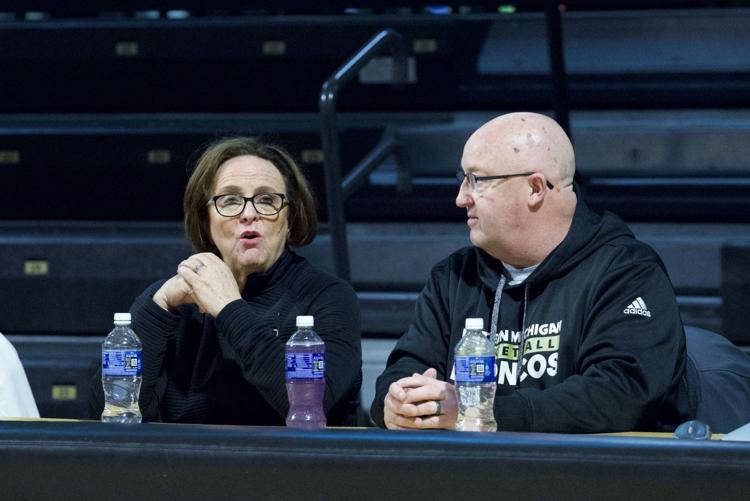 One thing Beauregard said she was not going to do was hire someone she didn't know digitally and without meeting in person, since she said the university is not allowing travel in or out.
She ultimately made the decision to reach out to Bates once it was clear the direction the university was going with hiring policies after getting a feel for what the players told her.
A 'Cost Reduction' Mode
Beauregard said she knew coming into the year that the athletic department would be in a "cost reduction" mode. 
Although she did not have a specific figure in total budget reduction for athletics, Beauregard said they were looking at an estimate of "a couple million" before the pandemic hit, which could reduce the budget even further.
"We had already been given projected numbers as to what was going to have to happen," Beauregard said. "And it's happening everywhere on campus. Each area has to find a way to reduce, change and look at things differently. There's no doubt that we all knew that."
Bates' two-year contract that will pay him $220,000 per year between his base contract and media obligations is a significant reduction compared to Hawkins' $385,000 salary, which Beauregard acknowledged the hire as being one that saved money for the athletic department.
But Beauregard also believes Bates is the right guy for the job and has the ability to get momentum back into the program.
'Not settling'
Going into the search, Bates said he did not "raise his hand" for the job as it was believed the program would likely go outside of the university to make its next hire.
Bates said he had hoped whoever came in and got the job would consider him and that he wanted to stay at WMU, but his future was unclear.
But as soon as it was clear the athletic department was going to make an internal hire, Beauregard said she reached out to Bates after speaking with the team and talking to several former student-athletes.
"All of the feedback I received is what I thought it would be," Beauregard said. "Then we got to the point of saying, 'wow, I think I might have right under my nose of where I am supposed to be going.'"
Beauregard said she doesn't believe she settled with hiring coach Bates because of the stability he can bring to the program right away.
"If anyone thinks we settled on this hire, that's the absolute opposite truth," Beauregard said. "I think things happen for a reason, we may not always know why but I'm blessed and thankful that we've had him here at the right place and right time. I know he's going to work hard and it will be a family commitment and a family-generated program he has among his team."