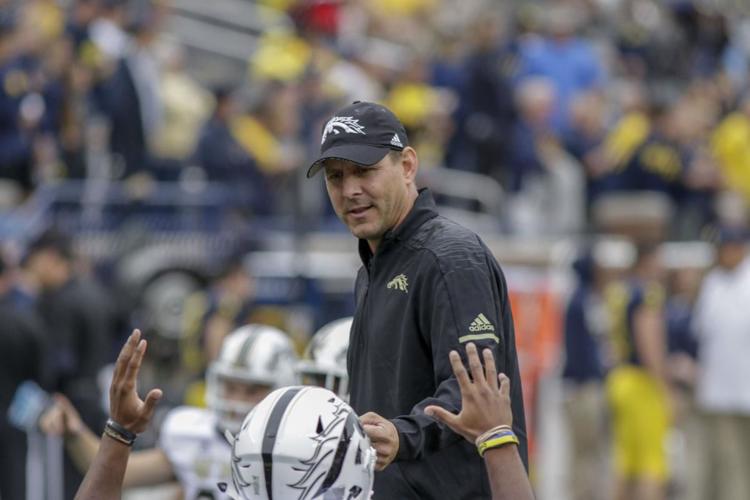 Western Michigan football doesn't start practice back up again until August. However, the coaching staff is using the time in between to shape the future of the Broncos football program.
The Broncos landed two verbal commitments to their 2020 recruiting class on Sunday, pushing the number to 14 total commits. Anthony Sambucci, a 6-foot-1 receiver from Lemont, IL, and Anthony Enechukwu, a safety from St. Mary's High School in West Bloomfield, MI pledged their names to coach Tim Lester's program on Sunday.
WMU's 2020 class is led by defensive end Logan Wilson, who goes 6-foot-4 and weighs 245 pounds. Wilson attends Kimbery High School in Wisconsin. He holds offers from Iowa from the Big Ten, as well as Miami (OH) and Northern Illinois from the Mid-American Conference. 
Overall, Western Michigan's class ranks at No. 56 overall according to 247sports.com. Their 2020 class is also good for second overall in the MAC, only behind Bowling Green (No. 47). WMU is even in front of some notable Power Five schools, such as Washington (No. 58), Indiana (No. 59), Syracuse (No. 67), Rutgers (No. 77), Nebraska (No. 79), and UCLA (No. 81).
These rankings are sure to change, considering there are still plenty of big names who are still undecided about their college futures. But, for now, it gives a sense of the success the Broncos are having on the recruiting trail right now. 
One area the Broncos seem to be wanting to ramp up on is in the secondary. Of the 14 recruits, six of them are listed as a cornerback, safety, or an "athlete." The Broncos ranked 59th in pass defense last season out of 129 FBS teams.
Although the Broncos class seems to be shaping up nicely, there are still some decisions to be had. One of those players the Broncos are targeting is quarterback Dustin Fletcher of Flint, MI.
Fletcher is a 3-star, dual-threat quarterback who goes to Carman-Ainsworth High School. He has good size at 6-foot-3, 205 pounds. He is the 27th ranked dual-threat quarterback in his class according to 247sports. 247 lists his top choices to be Michigan State and Northern Illinois as a 50-50 split, but Fletcher did list WMU as a final candidate of schools he will choose from on his twitter account. He will make his decision this Friday. 
WMU does have a quarterback in their 2020 class already in Jake Salopek. He is of the "pro-style" variety, as the 6-foot-2, 174 pound quarterback from Irwin, PA is ranked as the 38th best prostyle quarterback in the class by 247sports. Even if Fletcher doesn't commit to WMU on Friday, the Broncos should still have depth at that position and have plenty of Broncos on the way for the 2020 class.