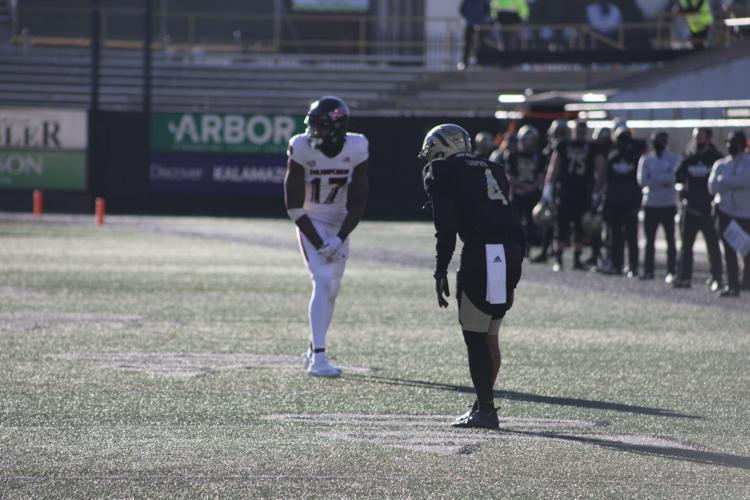 In two of Western Michigan football's four wins this season, the games have had the feeling of bad movies that were saved by spectacular endings.
When the Broncos came back from 10 down against Toledo at home on Nov. 11 in the game's final three minutes, it felt that way. And Saturday's game against winless Northern Illinois--a game in which WMU failed to convert a single first down in the third quarter, felt the same.
Head coach Tim Lester called Saturday's 30-27 win "ugly." And it was. Truthfully, both of those games could be placed into that category.
But at the end of those games, along with WMU's other two wins this season, when the clock hit all zeros, the Broncos have come out on top in all four.
In a shortened, six-game season where there is little margin for error, the result of the game is the only thing that matters.
And the bottom line for the Broncos is they are 4-0 and alone atop the MAC West standings with two regular season games to play.
"Things didn't look good most of the time," WMU head coach Tim Lester said after win over Northern Illinois. "They just kept playing and they played 60 minutes and that's what we preach all the time, no matter how good it looks."
Just last season, WMU's three losses in MAC play came by a total of 17 points--an average of 5.6 points per game. One of those games included a loss to a below .500 NIU team in the final game of the regular season to spoil the Broncos' chances at a MAC West title.
Another came at the hands of Toledo earlier in the 2019 season in a seven point loss, a team the Broncos had not beaten in Lester's tenure until this season.
But 2020 has been different for WMU as it has been able to come out on the right end in the close games it has played in.
Whether that is because the Broncos are executing better down the stretch in critical situations, whether it's the team's overall resiliency or whether they have just been a bit luckier this season, or a combination of the three.
Whatever it is, the way WMU has played has been good enough to put itself in the driver's seat to get to Ford Field for the first time since 2016.
And the reality is, with how competitively balanced the MAC has been the last several seasons, championship caliber teams are going to have a handful of games where they have to win nail biters.
"I told them we're going to have to win some ones down to the wire," Lester said. "Happens every single year to every single team. This team hung tight and leaned on each other and made plays."
While WMU has been one of college football's most explosive offenses in its four games and has been solid in many areas, it also knows where it has to get better to reach its ultimate goal.
Redshirt receiver D'Wayne Eskridge said after his seven-catch, 134-yard performance against the Huskies that the team will be eager to get back onto the practice field to correct the areas it can improve on.
"I think the best thing about this team is that everybody is going to walk out of here knowing there are things we can get better at, and we're going to come in on Monday and we're going to get better at those things," Eskridge said.
And there are plenty of areas in which the Broncos must improve moving forward, which are issues that have plagued them consistently throughout the season.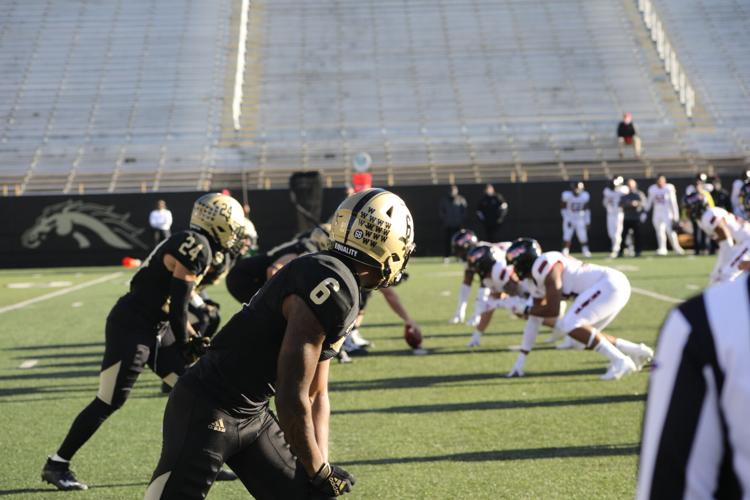 WMU's defense has struggled to get off the field in critical situations all season long. The issue was glaring in both of the Broncos' near losses. 
Against Toledo, WMU allowed the Rockets' offense to convert 9-of-16 third down plays. Against the Huskies, WMU did a much better job on third down, holding NIU to 7-of-21, but allowed the NIU offense to convert 4-of-5 on fourth downs, including three on one drive in the first half.
The Broncos' offense, which had been nearly flawless up to Saturday's game, converted just 1-of-9 on third down against the Huskies and could not move the ball with consistency for much of the game.
"We're proud to be 4-0, so happy," Lester said. "We've got tons of work to do and there's some humility there where we have to be better on third down, we have to get off the field more, we've got to give our offense more touches, and offensively we've got to be more efficient. There's so much to get better at."
But for the Broncos, they will surely be happy they have things to work on coming off wins as opposed to losses.
This team, despite its flaws, is one of the MAC's best when it puts everything together and is fully healthy.
 Despite how choppy it can look at times, there is nothing ugly about being undefeated.
And there is nothing ugly about being in the driver's seat to get to the MAC title game on Dec. 18., either.