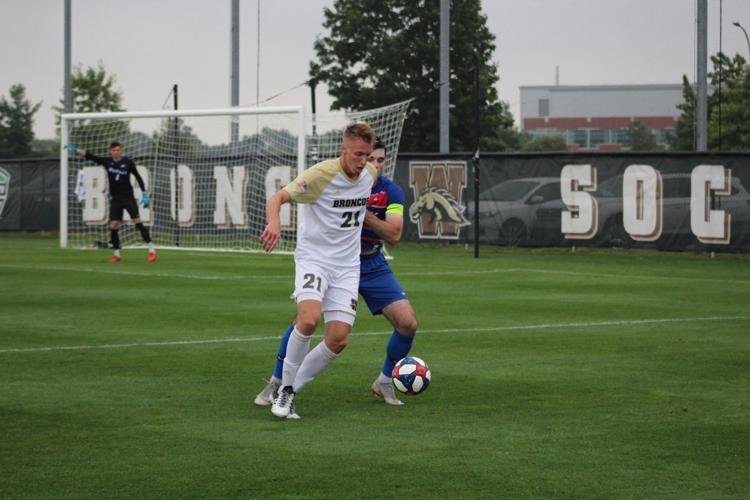 Adding Mr. Soccer's to the roster is like clockwork for coach Chad Wiseman and the Western Michigan men's soccer staff. Mr. Soccer — the prestigious award given to the best Michigan high school soccer athlete has been the commonality between Wiseman's top recruits the past four years.
Freshman Brennan Creek, Sophomore Mike Melaragni, redshirt sophomore Dalton Michael and senior Anthony Bowie were all awarded the title during their high school career. Each looks to help Western Michigan compete for a MAC title in 2019. 
"Anthony Bowie was the first Mr. Soccer we got. He helped us break through the recruiting world and were happy to have him and he's been an explosive player for us for the past 4 years," Wiseman said. "He's a five-star kid, a good soccer player and an exceptional student and values being a leader for our program and our university."
A Forest Hills Central (Grand Rapids, Mich.) graduate, Bowie plays midfield and forward and started in all 20 games last season for the Broncos, totaling a career high in points with two goals and three assists.  
Along with being named Michigan's Mr. Soccer, Bowie won multiple honors in high school including winning the 2016 Michigan Gatorade Player and was part of the 2016 MHSAA Dream Team, 2016 NSCAA All-American, 2016 First Team All-State and First-Team All-Conference. Due to injury, he was forced to be redshirted his Sophomore year, but coaches are excited to see what kind of impact he will bring to the team. 
"Dalton Michael is coming back from injury," Wiseman said. "He is one of the fattest players on the field and looking forward to see what he can do as he finally is sitting healthy" 
Coming off two game winners during his freshman year against Oakland and Bowling Green (one of which to advance the Broncos to a spot in the MAC championship), Melaragni is looking to capitalize on a fantastic freshman year. Melaragni's eight points as a forward last year helped WMU establish themselves as a powerhouse. 
"Mike's been our striker so far this season," Wiseman said. "He's big, he's strong, he's powerful, were looking for him to have a strong breakout sophomore campaign." 
Last and certainly not least, Creek is the first division four high school athlete to be named Mr. Soccer. During his time at Hackett Catholic Prep, he finished with 105 goals and 95 assists with almost half coming in his senior year. He currently sits with one goal and two assists on the year in the three games he has played in. 
"He's a playmaker in the middle of the park, he pulls the strings and gets the guys involved along with putting them in good spots," Wiseman said. "He's a player you want on the ball as much as he can be."
Wiseman also had this to say about the program and gave us an insight on what the season is going to look like.
 "As a program I think we've raised the expectations to compete for a regular season and tournament championship in the Mid-American Conference," Wiseman said. "The expectation of this program is to be a nationally top 25 team. The schedule gives us the best teams in the nation, and it allows us to do that."
The Broncos have now established themselves as an elite soccer program in their conference and the nation. The past four Michigan Mr. Soccer recipients have come to WMU as they continue to compete for the MAC title year-in and year-out. The men's soccer program's future looks bright as top recruits continue to file through the program.