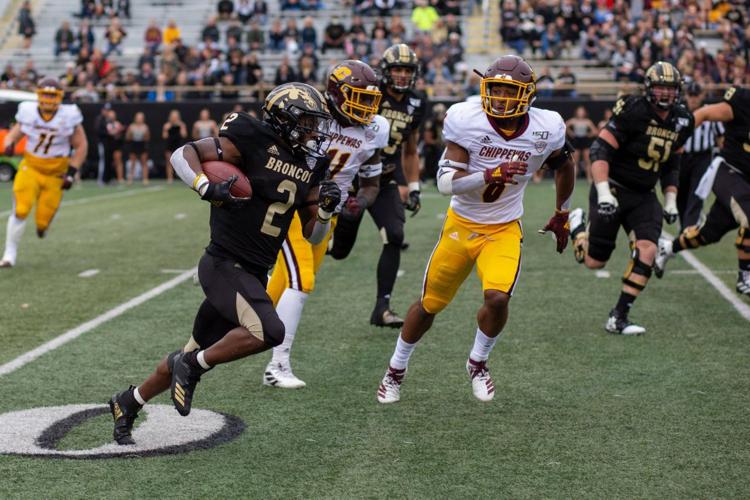 Western Michigan running back LeVante Bellamy received an invite to the 2020 NFL Scouting Combine on Friday, per an NFL release.
Bellamy is one of 337 players to receive an invite and one of just two players who will be representing the Mid-American Conference in Indianapolis. Danny Pinter, an offensive lineman from Ball State, also received an invite from the NFL.
In his senior season at WMU, Bellamy finished with 1,472 rushing yards for 23 touchdowns on 5.5 yards per carry. His 23 touchdowns tied for first in the nation with SMU's Xavier Jones in the 2019 season.
For his career, Bellamy's 3,720 rushing yards ranks fourth all-time in school history. He found the endzone 35 times total in his five years as a Bronco and averaged 6.0 yards per carry.
Bellamy, at 5-foot-9, 190 pounds, will surely impress scouts with his speed. In June of 2019, Bellamy was clocked at a 4.28 in the 40-yard dash.
While being a smaller back, the NFL has recently found places for guys who have similar framework to Bellamy's. Tarik Cohen for the Bears is just 5-foot-6, 179 pounds, while Aaron Jones, the Packers' 'work horse' in 2019, goes 5-foot-10, 207 pounds.
Matt Breida for the 49ers has a couple inches on Bellamy, but weighs in at just 190 pounds.
If Bellamy can open some eyes at the combine, that may open up some opportunities for him.
The 2020 NFL Scouting Combine will take place Feb. 24-March 1 in Indianapolis. NFL Network will provide exclusive coverage of this year's event.