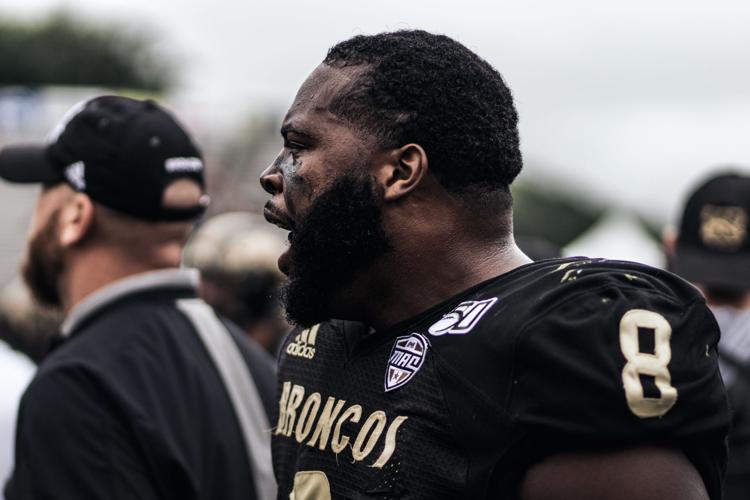 In 2019, Western Michigan football's defense was one of college football's best at getting to the quarterback, sacking opposing QBs 36 times on the season, which was good for second in the conference and tied for 21st in the nation.
The defensive line played a big role in that statistic, as second-year defensive coordinator Lou Esposito returns plenty of pass rushers this season along his defensive front, who helped produce 17 of those sacks in 2019 of the returning players.
The Broncos also bring back three of its four starters from last season along the defensive front, only having to replace Antonio Balabani at defensive end.
From a pass rush standpoint, the Broncos will be led by senior Ali Fayad, who had 6.5 sacks last season and had 15 tackles for loss to go along with four forced fumbles.
"It's amazing to me that Ali Fayad is going into his senior year," Esposito said. "I remember like it was yesterday him stepping on campus. He's been a mainstay in the d-line for a long time and he's got an unbelievable work ethic and does a great job preparing himself physically and mentally."
On the interior line, the Broncos have plenty to pull from, returning both of last year's starters in senior Ralph Holley and redshirt sophomore Will McCabe.
Holley wreaked havoc on opposing quarterbacks all year long in 2019, coming up with 4.5 sacks and 10.5 tackles for loss, while McCabe gives WMU a solid run stopping presence. 
"I think Ralph gives us a truly explosive, quick twitch guy inside that when he gets off the ball and gets going he's hard to block," Esposito said. "With McCabe, Fisk and (Ken) Aguire, those three other guys are big, physical kids that play with high motors, that understand the game. I think (Braden) Fiske's best football is ahead of him, he's another one halfway through the year you really started seeing flashes of him showing up and being explosive and I think Will McCabe is the same way. So we're happy with the depth, but I still think we need one more guy to be where we were at the end of last year."
Behind McCabe and Holley, redshirt sophomore Braden Fiske got some experience at defensive tackle in 2019 with 24 tackles and a sack in 12 games. Aguire, a redshirt senior, played in the final seven games last season after battling a foot injury in the first half of 2019 and comes into 2020 healthy.
At defensive end, Fayad is clearly the anchor at the position, but Esposito said he is encouraged by redshirt sophomore Andre Carter, who was a factor last season for the Broncos while recording 2.5 sacks and 5.5 tackles for loss in 13 games played.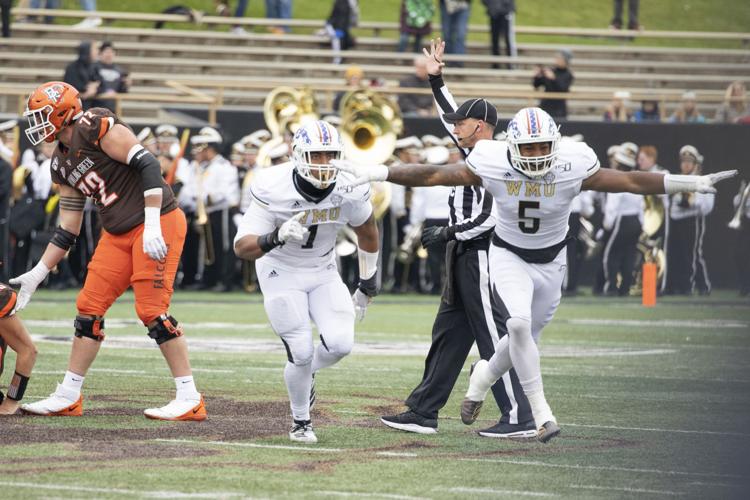 "Andre Carter is going to be a good player for us. He is long, he's explosive, he's tough, I think he cares about football, it's important to him," Esposito said. "His biggest thing is just needing more opportunities, and having some many guys last year, when he came on last year toward the end of the year, it was pass rush stuff. He did a great job this spring of playing against the run and putting his hands where they should be. I truly believe if he keeps progressing the way he is, he'll be an all-conference player here for us."
Redshirt senior Kailien Guillory is another end Esposito has been impressed with who adds depth to the defensive line.
"He's a really really good athlete and he pushes Andre," Esposito said. So that makes it a good thing, I think spots where you have competition are normally the spots where you have better players."
Last season, the Western Michigan defensive line was able to rotate nine, sometimes even 10 players into the rotation to keep bodies fresh. Esposito said he doesn't know if they will quite be able to do that this year, but he still likes the depth.
Esposito said redshirt freshman Jack Sherwin could be a 'swing guy' for the Broncos this season, meaning he has the ability to play both defensive tackle and along the edge to add to WMU's depth up front.
Despite having the nation's best pass rush, WMU was not effective at stopping the run last year, ranking 89th in the FBS in rushing yards allowed per game at nearly 182 yards per game.
Esposito said he has been watching film from all angles during the offseason to figure out what his team can do better to stop the run and how the defensive line can contribute to that, while maintaining a good pass rush.
"We have to understand how people are going to attack us," Esposito said. "In order to be a good defense, you gotta stop the run, hands down no questions asked. If you can stop the run and get them into those situations where they're gonna throw the ball, I feel like we have the advantage because we are good at that, we can get after the quarterback. There is a fine line between stopping the run and getting to the quarterback."
Other players along the defensive line include redshirt freshman Marshawn Kneeland, who appeared in one game last season, along with another pair of redshirt freshmen in Joseph Salisbury and Joe Misak, who did not see game action in 2019.
True freshman Logan Wilson, WMU's highest-rated recruit in its 2020 class according to 247 Sports, comes in as a defensive end along with fellow class of 2020 defensive lineman Eston Miles.