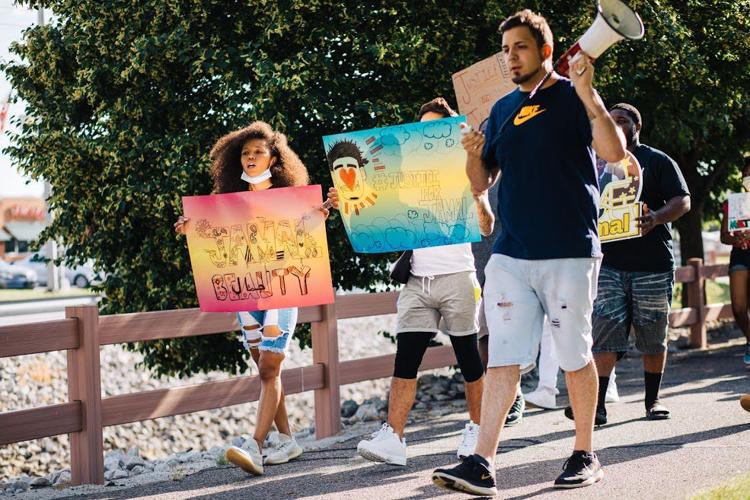 Family and friends of former WMU football player Jamal Williams, along with other demonstrators of roughly 100 people gathered peacefully outside Community Hospital in Munster, Ind. on Thursday night to remember the life of and demand justice for the 22-year-old who was shot and killed at the hospital on Tuesday, June 16.
Jamal's sister, Imani Williams, along with one of Williams' friend's from high school, Juan Gutierrez, helped organize the march that looped around a bike trail near the hospital as the crowd belted out chants related to demanding justice for Williams' death.
"We want the hospital to have protocols, to make sure that when there is a patient in distress that sedation is always the first thing," Gutierrez said. "You never want to pull a gun on a patient seeking medical attention. We also want to make sure the officer (Benny Freeman) is charged. He had no right to take Jamal's life away, he had no right to take his partner's life away when there's so many different options. There are just so many steps that could have been taken without Jamal's life being taken."
After the march, Imani Williams stood in front of the crowd demanding several things in the aftermath of the shooting, including the firing of officer Freeman along with second-degree murder charges placed against him, as well as accountability from the hospital for putting Williams' safety at risk by allowing security officers to carry guns (see full list of demands in this petition).
Imani Williams said even in Jamal Williams' last days, even though she knew something wasn't right with him, all he wanted was peace in the world amid the social unrest in the country in the George Floyd aftermath.
"In Jamal's last days, he ached for peace and togetherness for all races. He would call me in the middle of the night to try to devise plans on how he was going to fix the world, and even though I knew something wasn't right, his spirit was still good. There was no anger, no aggression, no violence in his voice."
Several friends and family members took to the megaphone to express the ways Williams impacted their lives in celebration of the ways he touched people around him.
A former Western Michigan graduate assistant, Michael Brewster, wrote an excerpt for the family to read at the event.
Brewster graduate assisted at WMU for one season in 2018, where he and Williams spent a lot of time with each other as Williams was on the scout team.
"I was so excited to see what Jamal would do in life, he had so much to offer, a true gentle giant," the statement read. "I still can't believe he is gone, it'll never make sense. Moving forward, I promise I won't let you die in vain. For the rest of my life, I'll push harder for equality, for justice, to STAND TALL for what's right. You've ignited a passion inside me, a passion that'll burn in your memory forever."
Imani Williams said her older brother was her "protector" and that she always felt safe and was in good spirits when anyone was around him.
"I had the pleasure of being his sister so I was able to get to know him on an intimate level and really understand how his brain worked," Imani Williams said. "Growing up with him, what I did note about him was that he was always a calm spirit. He was always helpful to others and always put others' needs before his own. He's going to be truly missed. I was depending on Jamal to be there to protect me. He was my protection in this world and I feel like my protection is gone. It scares me and I'm vulnerable and I'm angry. But I'm hoping through all of this there is some type of revelation with politics or with protocols that something good comes out of this so I can have some peace and that my family can have some peace."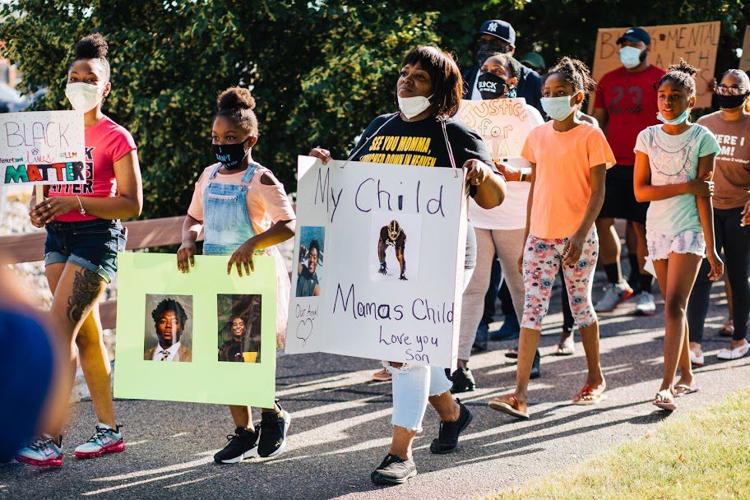 Gutierrez said Williams' smile and upbeat energy is what he will miss the most about his friend from high school.
"Just like everyone said today, Jamal always had a smile on his face, he always warmed up the room when he walked in. His presence was always known and I know he impacted so many people's lives."
Williams' father, Eric, said Jamal provided motivation in his life and his son was the reason he was able to fight through difficult times in his own life.
Eric described a situation where he lost his home and had to live in his car for a month while he was in college, but said he knew he couldn't quit because of his son.
"The reason I couldn't quit like my other friends was because I already had Jamal," Eric Williams said. "That was a good boy to have, he made me very happy. He was handsome, was a good football player and was a great student, better student than I was. I was waiting on him for him to come up with his own business, like 'hey dad, forget working for people, this is a good idea.'"
 Eric Williams said Thursday was a night to bring awareness to what was done to his son, highlighting mental health and racial issues as key points.
"My only purpose is I wanted the world to see what they (the hospital) had done to my son. Such a great son. It felt good to see the people that also loved him. To see everybody out here in unity and seeing stuff like that makes me very proud. I still miss him and I'm so happy they came out for him. But I don't think it's over, I need to talk about this more. It's a mental health issue as well, it's not just black and white. I want clarity, I want justice, I want to see the tapes in that hospital. There's a lot of lies going on out here at this hospital."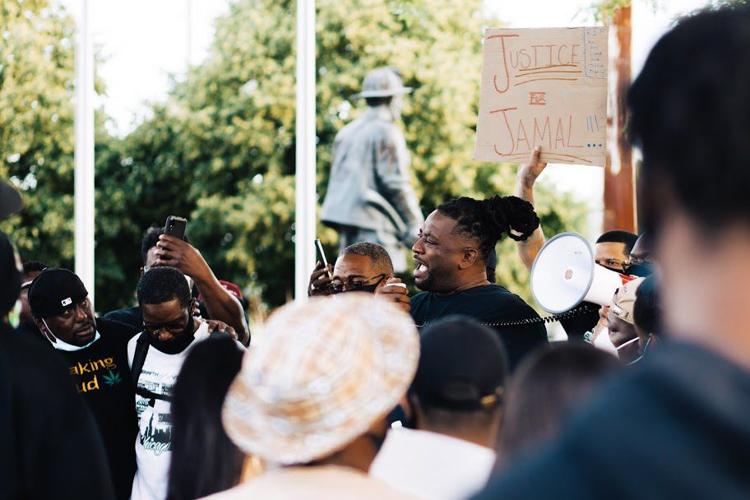 Jamal Williams, along with security officer Ryan Askew, were shot dead after the 1 a.m. hour on June 16  by security officer Benny Freeman at Community Hospital.
Authorities said both Freeman and Askew responded to a situation where Williams, a psychiatric patient, was allegedly attacking a nurse.
According to authorities, Williams put officer Askew in a chokehold after the two officers tried to pull the nurse away from Williams. Freeman then fired two shots, hitting Williams in the face and Askew in the arm, killing both.
Lake County Prosecutor Bernard Carter confirmed Freeman was the only person to fire shots in the situation, which refuted an initial report from authorities saying Williams had disarmed Askew and shot him.
The family's lawyer, Sal Indomenico, told ABC 7 Chicago they have "reason to believe" Williams was never violent with the nurse and wondered why two armed security officers would be sent to a patient's room who is flagged as having mental health issues.
The investigation is ongoing.