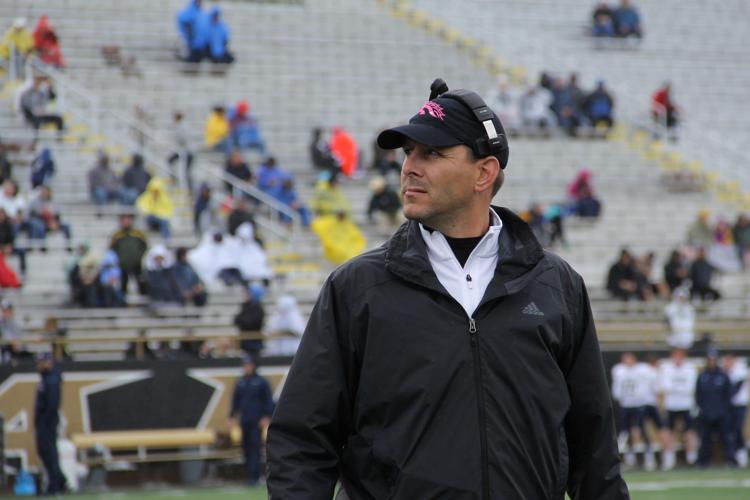 Western Michigan football finished eight of its 15 originally scheduled spring practices before the Mid-American Conference shut down athletic competition on March 12 due to the coronavirus pandemic.
In retrospect, WMU was probably fortunate to even get that many in as a lot of programs throughout the nation had not even started spring practices yet.
As the sports world continues to be on pause, the Western Herald caught up with head football coach Tim Lester to catch up on how the program is handling these unprecedented times.
Lester discusses his takeaways from spring ball, his feelings on the NCAA's transfer waiver process, the financial challenges athletic departments will be faced with going forward and much more in this comprehensive Q&A.
Western Herald: What were some of your overall takeaways from the eight spring practices?
Tim Lester: It was good to get out there and watch the young kids play. We also have a lot of returning players, which is exciting for us. It was competitive. It was probably the most competitive spring we've had since I've been here. Both sides (of the ball) had a lot of success last year and that hasn't always been the case. When I was here in 2005-06 our defense was Top 10 in the country and every day was rough in the spring when we had to go against that defense. Then, there were some times when our offense was really rolling and our defense was struggling. But this (spring) was a pure battle. Day in and day out it was going back-and-forth. It was chippy because there is a lot of pride on both sides of the ball right now. So that was probably the most fun part for me, was just watching the execution level with the amount of games that these guys have played. The back-and-forth and the competition of it all was great.
WH: What are some of the biggest challenges right now for redshirt sophomore quarterback Kaleb Eleby in trying to prepare for the upcoming season?
TL: He's so fortunate to be able to have played in five games and have gone through some of the hardships. I remember my first year here trying to get Wassink ready and you're trying to throw him in every situation that you can, because with quarterbacks, there's no replacement for experience. You live through it, you make a mistake, you hesitate and you go through every little nuance while there are like 30 things happening on each play. Every time you live through it and make the mistake, that's how you don't make those mistakes again. We're lucky that he got five games in but we are still working to try to get all of the different nuances in with all of the different defenses he could see. It is hard when you are going against the same team over and over again and the same looks over and over, because one of the strengths of a veteran quarterback is 'he has seen everything.' Our defense is multiple so they did throw a lot of different things at him. But that was the biggest thing, is trying to get him into as many situations as humanly possible.
WH: How do you adapt your offensive system to fit this year's personnel in the passing game considering the added depth at receiver and the loss of Ricci?
TL: Yeah I think that's the key to offensive production, is making sure you are flexible. Two years ago when we had Odell (Miller) as our tight end at 270 pounds, he was darn near a sixth offensive lineman. Then the year before that we had Donnie (Ernsberger) who was kind of both, he could block really well and was also good in the passing game. He wasn't a major mismatch in the passing game like Gio was. Giovanni was a flat out threat. A good blocker, not a dominant blocker but a good one and he is a phenomenal receiver. So over the last three years we have had all different types. We do have plenty to pull from, we have a guy like (Tanner) Mathias, who is a 270-pound tight end who is a dominant blocker. He has a lot of Odell's traits, things we didn't necessarily do as much last year but had a lot of success with our first two years. Then Brett Borkse, who is 270 pounds and can run and catch. He's a little bit like Donnie, he does everything really well. We moved Luke Sanders from wideout to tight end and he's a lot like Gio. He's still putting weight on and he's not where he needs to be yet, but we have different run schemes, different pass schemes and different RPOs that work well for different guys. We do have experience with all different types of tight ends and I think the most important part is to just get our best athletes on the field. When we can do that, we'll have a great chance. 
WH: One area on defense you guys have to replace a lot of experience is in the secondary. What is your feeling on how things are going in the back end and who do you expect to step up as the season approaches?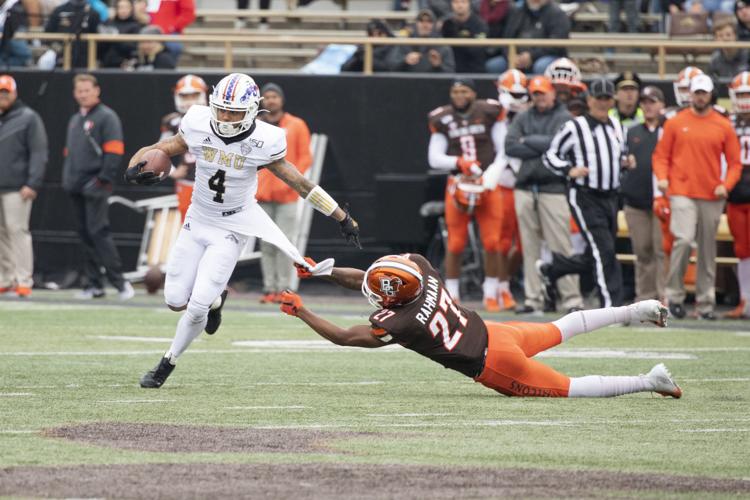 TL: We are excited about it. When Dee got hurt last year, Lupro was kind of forced into the lineup and he ended up being an all-conference player. So it's awesome to have that boundary corner back because that's a big position. Having A.J. Thomas back there for his third year starting is huge. So the two we have back have a ton of experience, which is exciting. With the field corner spot, Keni-H Lovely is a guy who we think is a really talented young man. He's been hurt since the moment he got here, he had a right shoulder and left shoulder issue. He played a little bit last year and made a couple big plays, then went to make a tackle against Toledo and got hurt. But he is back and healthy and looks good. Therran Coleaman (grad transfer from Pittsburgh) can play safety or corner. He has a ton of experience and we are excited about him. And at the safety spot, we moved a lot of different people around. The great thing is that the numbers are healthy and the competition was fantastic. We are two-deep, we know what Lupro and A.J. can do. But we have about six to eight others who are battling and it's making for great competition out there. Then we have four or five freshmen as well. That's going to be a huge battle in training camp. You have got to figure out who your best four are, then you build your best eight. We have a lot of guys fighting and it was good to bring a senior in from the ACC who has played a ton of football, that helps the back end with experience. Then you have a bunch of guys that have been around and know what they are doing. I don't think any decisions were made but that is one of the biggest things we are going to be watching going into training camp, whatever training camp may look like. 
WH: Recently, the NCAA Board of Governors suggested a delay on any changes to the current transfer waiver process. Would you be in favor of a one-time, immediate eligibility transfer waiver for student-athletes?
TL: I don't have a huge opinion on it because I've never lived it. It's hard to have an opinion until you've seen the good and the bad of it. I think it sounds like it is going to eventually pass. That'll be a new day for football as far as the ability for guys to go from one school to another and play right away. It's going to be really interesting. I think one of the things they're (the NCAA) struggling with right now is just figuring out the time frame of it all. If one day before training camp a school can get ahold of three of your starters, or even in the middle of training camp, they are gone and they go play for another team. Then, you are really putting that team at a disadvantage because they wouldn't have time to recoup those players. I know they are talking about a deadline on when the kids have to be in the portal by. If it's something like August 1, I would feel bad for those teams getting poached at the last minute. They would never be able to put together a team and I think that's what we all want at the end of this. I think it's going to happen and it seems like they are talking through every little nuance and trying to make sure we don't have to re-legislate it again a year later because we forgot something. I'm glad they are taking their time and I'm glad they are talking through all the nuances of what is going to be the best fit for the players and the teams for the sake of college football. Other sports have had this rule so it will be interesting to see how big of a splash it will make.
WH: With the university being in a budget reduction mode, if resources become limited from an athletics standpoint, should that change the expectation in terms of how many games the program should be winning each season?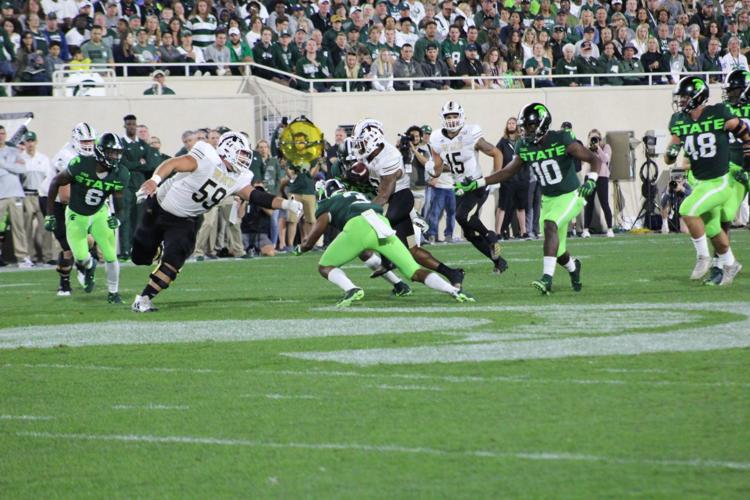 TL: I think there's the potential of creating a bigger gap between the Group of Five and the Power Five. There's already a gap there but that could get bigger when the programs who are financially struggling have to make tough decisions. We don't know our numbers yet and Kathy (Beauregard) has been doing an unbelievable job of keeping us in the loop even though there is limited information. The best thing about her is that she is bluntly honest and tells us what's going on. We're all on board as a coaching staff and we are in communication with the athletic department to try to make sure we can save as many people and preserve it the best we can. But depending on what you are allowed to do and what you can do to develop your players, it's a major part of it. We are going to have to find ways to make sure we are doing everything we can to develop our players, because that's the key to everything. We are talking as a MAC coaching group about doing little things that will help us save as much money as humanly possible so that we can make it through this. But I don't think you ever change your expectations. When I was a Division III head coach and Division II head coach, our budget was next to nothing, but the expectations were still the same because most of the teams you played were on the same level. That I think is the biggest part of this thing, everyone is going to have to do it a little differently as far as how they get through this thing. The teams with the most financial security are going to have to make less changes than the ones that need it. But everyone is going to be doing a lot of the same things so that will make college football as exciting as it has always been.
WH: Is there one particular thing you have learned about yourself during quarantine?
TL: One thing would be how well the virtual space works. It has been a lot of fun to get in some of the meetings, which I thought were going to be the biggest pain ever. But overall, when we're all sitting in a room and we are all staring at the screen and we're talking, it's no different than being in the Bill Brown Center doing it. I have been unbelievably impressed by some of these different sites and how well they work as alternatives. Secondly, my wife had the greatest idea ever. She is currently teaching a 1st grade, 3rd grade and a 4th grade class all at the same time because all of my kids are in different grades. So I have been kicked out of my office, which is now a classroom. Now I have been put upstairs in an exercise type room that I have turned in to like a mobile office. I've become pretty good at the tech part of this thing because this room had to be transformed into what it is and it works good. The kids are downstairs taking class and I'm up here working and they bring food up a couple times a day. I never thought I could get any work done at home to be honest with you, I've always been a guy that works at the office all the way until I'm done. When I come home most of the time my children are asleep, I kinda give them a kiss goodnight and just pass out and go to bed. I have been able to get a ton of work done as long as I stay on the second floor and they go all live life on the first floor. I've been surprised because I know a lot of coaches who set up in a room at their house that's like a film room and they go home, put their kids down then stay up late at night watching film at home. I've always stayed until 10 and get home around 10:30. I wasn't against anyone working from home but I just didn't think it was feasible for me, but it has been really good.