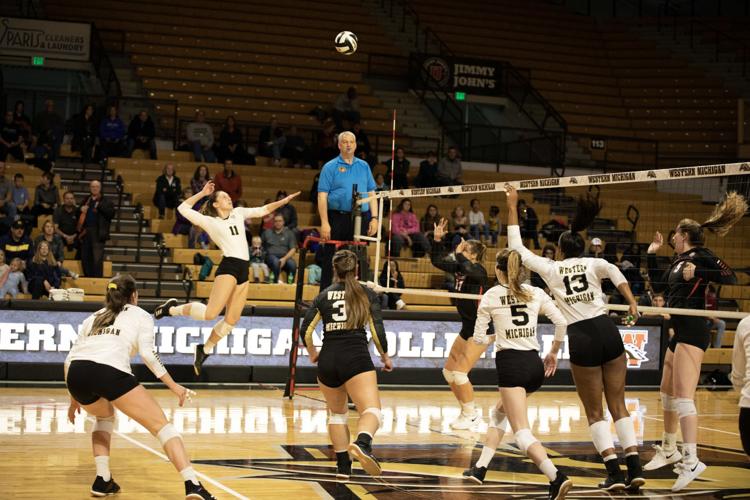 Western Michigan dropped both of its final home games over the weekend, losing to Ball State on Friday in four sets (25-17, 18-25, 18-25 and 18-25) then falling a hard fought five-set match on Saturday against Toledo (21-25, 25-17, 20-25, 25-11, 15-12). Moving the team's record to 13-13 and 4-10 in the Mid-American Conference. 
Starting the weekend, the Broncos took on Ball State and would drop the game in four sets. However, junior Rachel Bontrager was able to notch down her ninth double-double of the year with 18 kills and 14 digs. While freshman Maggie King picked up her fourth career double-double posting 11 kills and 11 digs. 
In her first game back for the brown and gold since her injury on October 5, junior Mary Marzo nearly earned a double-double with 28 assists and eight digs. 
Defensively the Broncos had a big game from senior Kathleen Reilly with 32 digs. At the net was redshirt sophomore Janell Williams putting up seven of the teams 14 blocks. 
For the Cardinals it was freshman Natalie Risi with a day and a half contributing 18 kills and 10 digs on her way to a double-double. While on the other side of the net freshman Maggie Huber had a great night with 26 digs. 
The Broncos set their sights on Toledo to turn the ship around and pick up another key late season win, sadly they came up short in five sets. Bontrager led the offense again nearly picking up another double-double with 14 kills and nine digs. While King posted double figures in kills (11) and digs (10).
While over on the other side Reilly took care of business again this time having 22 digs, and Williams had a night on the net with 12 blocks. 
The Rockets had major contributions from junior Chloe Kleespies, posting 14 kills and five digs and junior Emma Swope with 13 kills and six digs. While defensively the Rockets had tremendous contribution from junior Rhyen Neal putting 17 digs on the statsheet. 
Next up the Broncos travel to Northern Illinois on Thursday, Nov. 14 to take on the Huskies at 7 p.m. and try to earn some key late season victories before the MAC tournament begins.