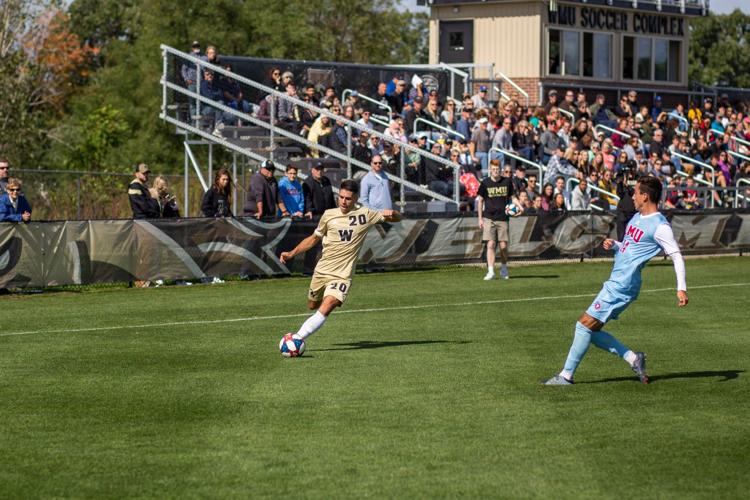 After winning five games in a row, Western Michigan was held to a 1-1 draw against defending Mid-American Conference champion Akron, bringing their record to 9-4-1 and 1-0-1 in the conference. 
The Broncos stuck early with a goal by Eric Conerty 44 seconds into the game, good for the quickest goal this season. Freshmen Brennan Creek and Charlie Sharp earned the assist giving Creek a team-high six assists and extending Sharp's point streak to five games.
"It was a story of two halves today," said head coach Chad Wiseman via press release. "Even though we scored early in the game, Akron was at its best in the first half. We felt fortunate to be level at the half." 
After bouncing back well and controlling much of the play in the first half, Akron tied the game in the final seconds of the half. Christian Lue Young sent in a corner that found Diogo Pacheco who was able to head the ball home. 
Late into the second half, defender Marco Milanese was shown his second yellow of the game and ejected from the match. WMU outshot the Zips 3-2 in the half but couldn't find the back of the net and the game would head into overtime. 
"You have to give our guys a lot of credit for their performance in the second half," Wiseman said. "We were able to flip the game and that's not an easy thing to do against a team like Akron. Brennan Creek and Giuseppe Vitale were outstanding for us, as they connected on passes and jump started our counters to put Akron defenders in some tough spots."
Both teams were able to get off three shots during the two overtime periods, but the game remained at a stalemate and both teams earned a point.  
"We went for the win in overtime. I thought we created the chances, but were just unable to finish one off," Wiseman said. "It was a fantastic week for us. To win at West Virginia, win at Michigan and tie Akron at home all in a seven day span is outstanding. I'm proud of my team for leaving everything they had out on the field this week." 
The Broncos will put their six-game point streak on the line on Friday when they travel to face Northern Illinois at 7 p.m.