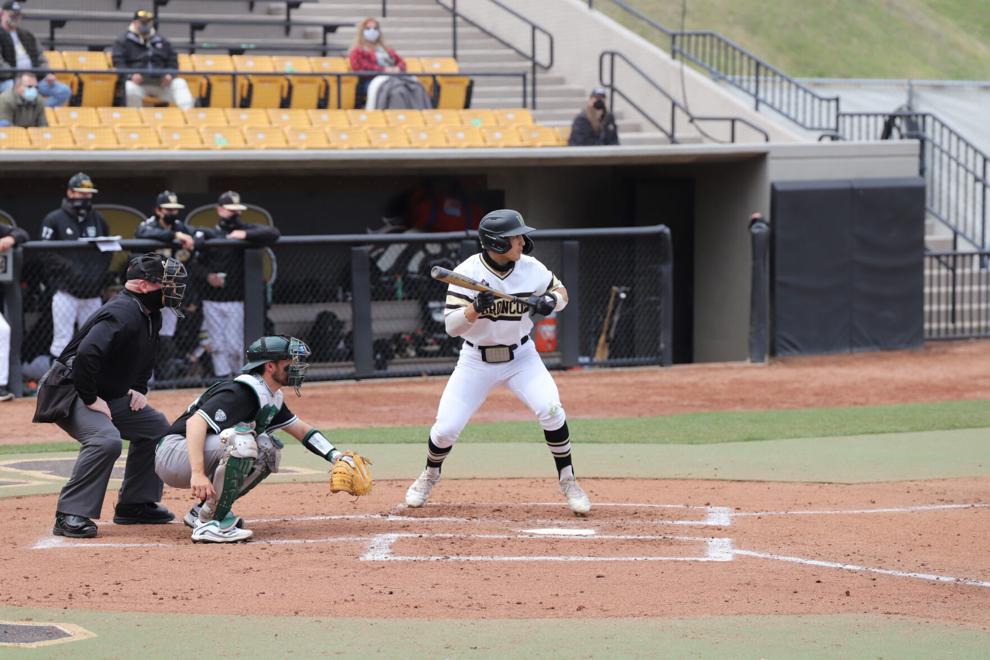 Hyames Field had its first action in nearly two years as Western Michigan baseball split its home-opening series against Eastern Michigan in a series that had to contend with weather to get completed.
It was mostly clear skies and sunshine for Saturday's home opener after the series was pushed back a day due to forecasted rain, but the Broncos could not come away with a win as starting pitcher Brady Miller allowed seven runs in just two innings in a 9-4 loss. Miller moved to 0-4 on the year as he allowed nine hits and two walks, with five of the seven runs being earned while the other two scored as a result of a Will Morrison error.
The Eagles stretched the lead to 9-0 before starting pitcher Davis Feldman was taken out of the game after throwing five scoreless innings, allowing five hits and three walks while striking out seven batters. The Broncos battled back against the EMU bullpen, scoring four runs including the first home run of the season for Justin McIntyre, but it was not nearly enough to complete the comeback.
Sunday was planned as a double-header but dropped to just one game as a result of a mix of snow and rain with temperatures below 40°F. WMU had a fantastic pitching performance from junior Jack Huisman, who went seven innings allowing just one run on four hits and two walks, striking out seven. After Eastern Michigan took a 1-0 lead in the top of the second, the Brown and Gold responded with three in the bottom half including Connor Charping driving in a run and later scoring.
The Broncos would add three more in the fourth with a McIntyre double driving in two of the runs. Greg Budig doubled for the second time in the game in the fifth inning to drive in a run and later score to make it 8-1 WMU. Both bullpens tightened down from there, as Will Mullen and Dane Armbrustmacher both added two strikeouts in one inning of work to close out the win.
McIntyre would continue his hot stretch in game one of Monday's double-header, driving in all three of WMU's runs in a 3-1 win. Mullen got the start on the mound for the Broncos and went 5 ⅔ innings after facing four batters the day before. He allowed one run on three hits and four walks, striking out six EMU batters in the game.
The scoring started in the third inning when McIntyre hit in Morrison, who had walked and stolen second base. Morrison would draw another walk after Max Huntley had singled to lead off the inning, and after a wild pitch moved them to second and third, another McIntyre single brought both of them home to make it 3-0 in favor of the Broncos. A solo home run by Christian Bault brought in a run for the Eagles in the sixth and ended Mullen's day, but Ryan Watt came in to pitch a scoreless 1 ⅓ innings to earn the save.
Armbrustmacher got the start for the second game of the day and final game of the series, but left quickly after walking the first three batters he faced. A sacrifice fly, a wild pitch and a passed ball brought all three in to score. The Broncos got one back in the bottom of the inning, with Sean O'Keefe driving in Morrison.
Brenden Lovell settled things down on the hill for WMU, throwing three innings without allowing a run on one hit and one walk, picking up two strikeouts. Watt came in for the fourth inning and two more unearned runs scored, helped by wild pitches and driven in by a ground-rule double by Will Oberg to make it 5-1 EMU.
Charping scored two of the three runs that the Broncos would score in the fourth and sixth innings, but WMU would be unable to tie the game and fell 5-4 with Cameron Wagoner getting the save for Eastern Michigan.
The Broncos return to action from Hyames Field next weekend against Akron. The series starts with a game Friday at 3 p.m., the teams will play a double-header on Saturday starting at noon, with game four Sunday at 1 p.m.