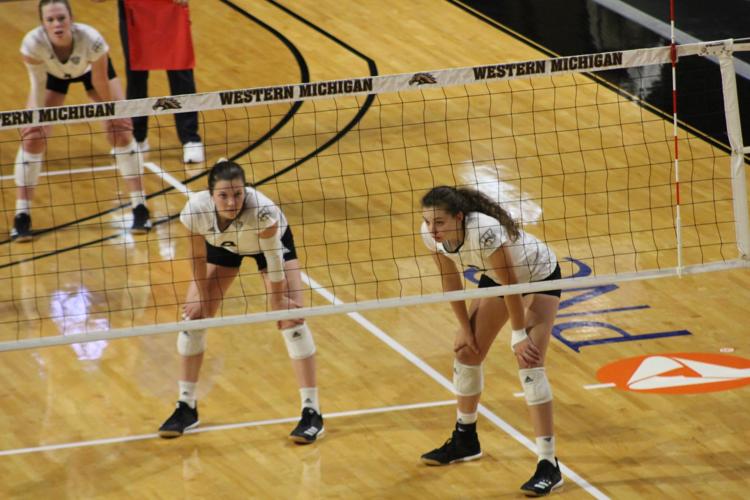 Western Michigan started out Mid-American Conference play 1-1 with an overall record of 10-4 after splitting their games this past weekend at home.
Eastern Michigan were the first opponents on the MAC schedule, where the Broncos earned a clean sweep of the Eagles, by the scores of 25-16, 25-17 and 27-25.
The Broncos hosted in-state rivals Central Michigan on Saturday, coming off the energy of the football win, volleyball tried to use it for themselves but fell short getting swept 24-26, 19-25 and 14-25.
Against the Eagles, the Bronco offense flexed their muscles with a team .348 attack percentage throughout the match. Junior Rachel Bontrager helped this offensive explosion with 15 kills and six digs while freshman Maggie King helped out with nine kills and four digs. 
Defensively the Broncos held the Eagles to a .148 attack percentage with redshirt sophomore Charley Andrews leading the charge with three blocks. 
The Eagles' redshirt senior Cassie Haut had herself a game putting up 10 kills in the match. Junior April Houston contributed on defense with five blocks. 
On Saturday, the Broncos hosted their heated rivals Central Michigan. The game did not go quite as well as they had hoped. However, senior Kathleen Reilly had a historic day where she became the third Bronco in history to record 2,000 digs over her career. 
Offensively the Broncos struggled a bit putting up a .085 attack percentage. Despite this, Bontrager had 11 kills and eight digs, with junior Mary Marzo helping out with 19 assists and eight digs. Defensively redshirt sophomore Janell Williams had herself a great day at the net posting eight blocks.
For the Chippewas junior Kalina Smith helped them put up a .235 attack percentage with 10 kills and six digs on the day. Sophomore Megan Silvertsten contributed with seven blocks. 
Next up for the Broncos they travel to Toledo to take on the Rockets next Friday, October 4 at 7 p.m.