Life is about choices and giving up athletics has been the hardest I've had to make. 
For as long as I can remember, I've had a stick in my hand or a ball at my feet. Growing up in Colorado, I participated in just about every sport imaginable. Whether it was table tennis or tackle football, I played to compete. I played to be better than my teammates and competitors. I played to be the best. 
You can imagine how hard it was for me to hang up the boots and call it quits on my athletic career for good earlier this year. Like so many other college athletes, my academic and athletic schedules simply did not mesh.
I walked-on to WMU as a kicker/punter in 2018, excited about combining a top-notch professional pilot program with division 1 football. About three days into fall camp, I realized why I was the only aviation flight science major on the football team and one of three WMU athletes in the aviation program.
As a football player at WMU, I spent nearly six hours at the team facility every day by the time meetings, practice, and lunch wrapped up. Around one in the afternoon, I would walk out of Waldo Stadium and head to class. And somehow, after both football and class finished, I had to find time to make my way into the sky. At the time, I was working on obtaining my private pilot's license, the first step in any aspiring aviator's career.
The College of Aviation expects its students to have three or four flight slots per week in order to maintain satisfactory progression through the university's flight courses. As an athlete, especially when you factor in some adverse West Michigan weather, this was nearly impossible for me. Any moment I was not hitting the books or in shoulder pads, I was racing out to the WK Kellogg Airport in Battle Creek to fit a flight in. 
I received an I, or incomplete, in both of my first two flight courses until they were completed well after the semester. I knew I was capable of taking more credits and progressing through my flight courses but didn't have the time or opportunity to do so.
Athletic departments are oftentimes not nearly as flexible as they should be when it comes to the complicated schedule of college athletes. Players cannot take classes that interfere with practice or meetings in any way and some are even told what and what not to major in. If I wasn't a walk-on, I'm not sure my choice to be an aviation flight science major would have been too popular with the coaching staff.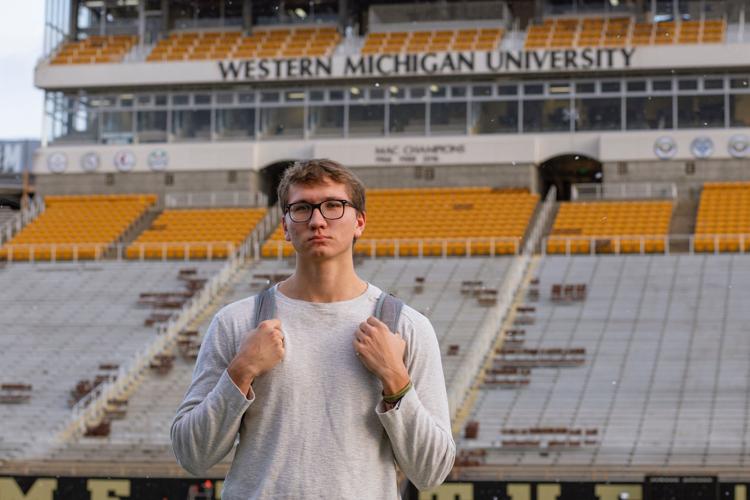 Especially when it comes to division 1 athletics, training to hit that game-winning shot or kick that game-winning field goal can feel like more of a priority than getting a decent grade in Calculus. Student-athletes are too often thought of as commodities whose only value to the university is to help the team win games so the school can sell more tickets. 
But who can blame them? According to Business Insider, the average college football program brings in more than $31 million in revenue per year. In a perfect world, a student-athlete should spend about 50% of his or her time being a student and 50% being an athlete. However, this can be far from reality.
And to be fair, not every college athlete is necessarily bothered by shoving academics to the back burner during their playing career. As the former Ohio State quarterback Cardale Jones put it, "We ain't come to play school."
The NCAA recently unanimously voted in favor of allowing athletes to make money off their names, images, and likeness for the first time in the organization's history. The business of college football is growing exponentially and the student in student-athlete might be slowly fading away.
The way I saw it, I was given a choice. Continue to play college football and move along in my courses at a snail's pace or leave athletics behind. When I was younger and I quit one sport, there was always something else to fall back on. When I decided lacrosse wasn't for me, I started playing soccer. When I lost interest in soccer, I started playing football. However, this time, I knew this was the end. There was no coming back from this one.
For the first few months after leaving the football team, I never looked back. I started flying more than I ever had before and even took 25 credits during the summer to catch up on what I felt I left on the table. 
However, it is now November and football season is winding down, I can't help but to occasionally reflect on my time as a student-athlete. Whether it is the thrill of winning or the comradery between teammates, there is an unmistakable value involved in participating in college athletics and it was one I chose to leave behind.
My identity had revolved around being an athlete my entire life. For the first time in a long time, I was unsure of my purpose. But life went on. Instead of running out of a tunnel with my teammates in front of thousands of screaming fans, I'm now waddling to class in freezing temperatures, only to be greeted by a scowl on my professor's face for showing up late. 
Although it might be a change of pace, it is one I am optimistic will pay off. Since I stopped playing collegiate football, I have earned my commercial pilot's license and plan on being a flight instructor until I accumulate enough flight time to work for a regional air carrier. 
Due to a number of economic factors and a global pilot shortage, it has never been a better time to make a living flying an airplane. After making it my No. 1 priority, I am now on track to graduate a year early.
Maybe I made the right choice after all.