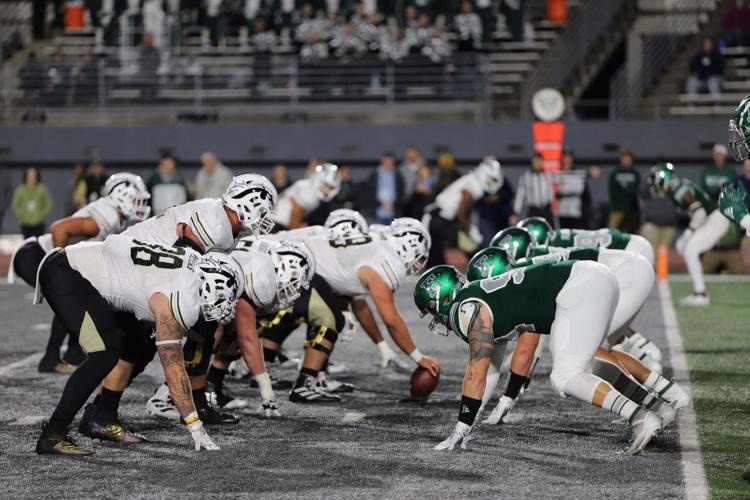 Ohio (3-4, 2-1 MAC)
Ohio defeated Kent State, 45-38, to bring its record to 3-4 overall and 2-1 in the MAC good for first place in the MAC East. Running back De'Montre Tuggle was key to Ohio's victory rushing 19 times for 80 yards and two touchdowns, one of which was in the final three minutes to give Ohio the win. Quarterback Nathan Rourke also had a good day throwing for 342 yards and two touchdowns. Rourke ranks fourth in the MAC this season in passing yards with 1,612. Ohio looks to keep the momentum going with a game at MAC West leaders Ball State on Saturday. 
Toledo (4-3, 1-2 MAC)
Toledo was defeated by Ball State 52-14 bringing its record to 4-3 on the season and 1-2 in conference play. Toledo was without star quarterback Mitchell Guadagni and it showed as the Rockets had only 171 yards passing in the loss. The lone bright spot for the Rockets was running back Ronnie Jones who in only eight carries had 72 yards and two touchdowns. Toledo looks to rebound from the loss in its next game on Saturday at home against Eastern Michigan.
Eastern Michigan (4-3, 1-2 MAC)
The Eagles defeated the Western Michigan Broncos at home 34-27. The back-and-forth battle ended with a last-minute touchdown by the Eagles after backup quarterback Preston Hutchinson connected with receiver Matthew Sexton. Hutchinson had himself a day completing 31 out of his 36 pass attempts for 357 yards and three touchdowns. EMU exploded for a total of 547 yards on offense compared to 359 for the Broncos. The Eagles improve to 4-3 and earned their first win in the MAC. They will now prepare for Toledo on the road and travel to the Glass Bowl on Saturday.
Buffalo (3-4, 1-2 MAC)
The Buffalo Bulls traveled to Akron on Saturday to take on the Zips, the Bulls shut them out 21-0. On offense, Bulls running back Jaret Patterson had another good game rushing for 88 yards averaging 5.2 yards a carry. Linebacker Kadofi Wright had a big game for the Bulls on defense totaling five tackles and two sacks. The Bulls now improve to 3-4 and earned their first win in the MAC. They will now get ready to host the Central Michigan Chippewas on Saturday. 
Akron (0-7, 0-3 MAC)
Akron was defeated by Buffalo 21-0 to bring its record to 0-7 overall and still without its first conference win. Two fumbles for the Zips that resulted in points for the Bulls ended up costing the Akron the game. Akron quarterback Zach Gibson was 22-39 with 193 yards passing. John Lako ranks second in the MAC for total tackles with 82. Akron looks for its first win of the season this Saturday on the road against Northern Illinois.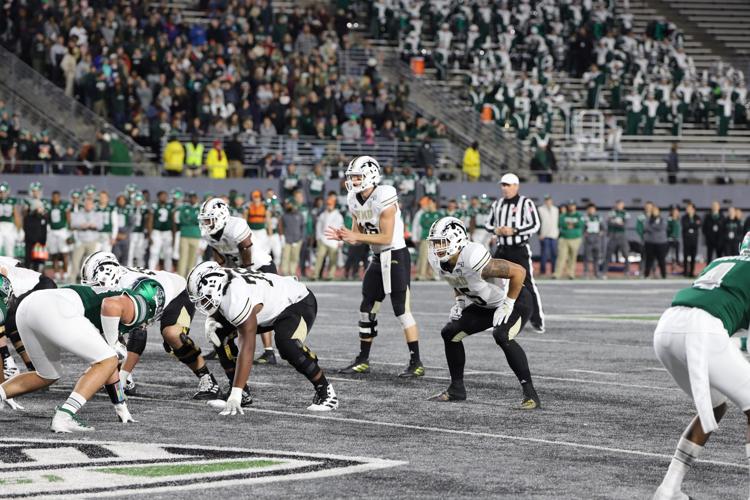 Northern Illinois (2-5, 1-2 MAC)
Northern Illinois was defeated by Miami (OH) 27-24 to bring its record to 2-5 overall and 1-2 in conference play. Quarterback Marcus Childers was a key contributor in the defeat having 144 yards in the air with 1 touchdown. Childers added two touchdowns as well on the ground. Starting quarterback Ross Bowers ranks third in the MAC for passing yards with 1,726. The Huskies look to get back in the winning column facing winless Akron at home on Saturday. 
Miami (OH) (3-4, 2-1 MAC)
Miami (OH) won a hard-fought game against Northern Illinois this past weekend 27-24. The win now moves Miami to 3-4 on the season and in second place in the Mid- American Conference East. Helping the offensive power of the Redhawks was freshman quarterback Brett Gabbert going 15-28 for 273 yards and a touchdown, also contributing on the ground with seven carries for 42 yards. The bulk of the scoring came from junior running back Jaylon Bestor with 14 carries for 32 yards and two touchdowns. The Redhawks will try to keep the momentum high this week when they travel to Kent State on Saturday.
Ball State (4-3, 3-0 MAC)
Ball State solidified itself right on top of the MAC West this past weekend thanks to a 52-14 blowout win over Toledo. Moving to 4-3 on the year and 3-0 in conference play the Cardinals are now in the driver's seat to play in Detroit at the end of the year. Redshirt junior quarterback Drew Plitt went 11-17 with 206 yards, three touchdowns and an interception. The ground game helped too with junior running back Caleb Huntley picking up 119 yards on 20 carries and senior wide receiver Malik Dunner gained 90 yards on two carries for two touchdowns. The Cardinals will put their undefeated conference record on the line on Saturday when they host Ohio. 
Bowling Green (2-5, 1-2 MAC)
Bowling Green faced off against Central Michigan this past weekend and were defeated 38-20. Held scoreless in the second quarter they could never get back in the game. Quarterback Grant Loy finished 13-29 for 166 yards with one touchdown and three interceptions. Loy also had 67 rushing yards and a touchdown on 18 carries. Brandon Perce ranks fourth in the MAC for total tackles with 67. The Falcons will be on the road this Saturday against the Western Michigan Broncos. 
Central Michigan (5-3, 3-1 MAC)
Central Michigan and Bowling Green met Saturday, CMU won the contest 38-20. The Chippewas were able to capitalize with 553 yards of offense on the day. They also held the ball for a dominating 35 minutes. Quarterback Quinten Dormady went 22-for-36 good for 295 yards with a touchdown and an interception. Jonathan Ward and Kobe Lewis both ran for over 100 yards and combined for four touchdowns. Sean Adesanya leads the MAC in sacks with six.  CMU will travel to New York in a matchup against Buffalo on Saturday.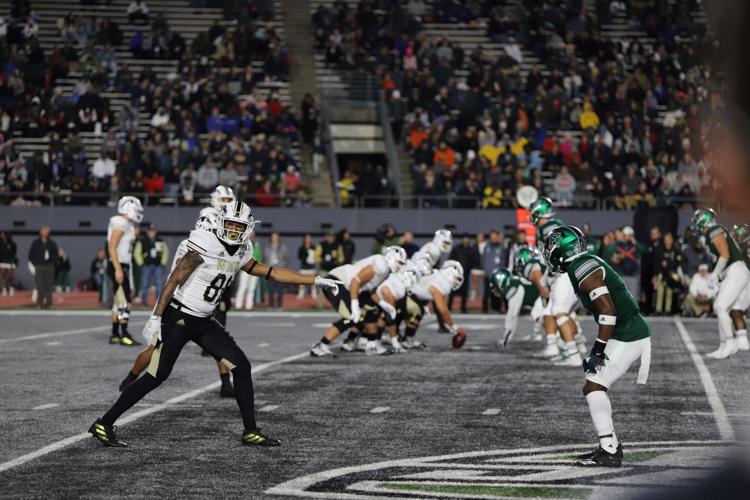 Western Michigan (4-4, 2-2 MAC)
The Broncos had a chance to be in control of their own destiny in the Mid-American Conference West division with a win over Eastern Michigan over the weekend. Unfortunately for the Broncos, that did not happen as the Eagles came away with a dramatic 34-27 win over WMU. LeVante Bellamy carried the Broncos offense, rushing for three touchdowns as he moved to seventh all-time in WMU history for rushing yards. Bellamy also leads the MAC in rushing yards with 877. Quarterback Jon Wassink completed 15 of his 24 passes good for 192 yards, a touchdown and an interception. Wassink is also the MAC leader in passing yards with 2,098. The Broncos are now 4-4 on the season with all four losses coming on the road. With a 2-2 MAC record, Western no longer has much room for error if they hope to win the division and get to Ford Field for the first time since 2016. WMU will be back home this Saturday for a noon tilt against Bowling Green. 
Kent State (3-4, 2-1 MAC)
The Golden Flashes lost a thriller at Ohio over the weekend, 45-38. It was a tough game for Kent State's defense as they gave up 342 yards to the talented Ohio quarterback Nathan Rourke. Ohio also had their way on the ground, rushing for a total of 220 yards against the Golden Flashes. Quarterback Dustin Crum kept Kent State in it as he threw for four touchdown passes and 262 yards, but it wasn't quite enough to beat a solid Bobcats team on the road. Wide receiver Mike Carrigan hauled in two touchdowns to go along with his 72 receiving yards. The Golden Flashes should still feel good about themselves as they sit at 2-1 in the MAC and in a three-way tie for first place in the MAC East division. Kent State welcomes Miami (OH) to Dix Stadium on Saturday for a 3:30 p.m. kickoff.