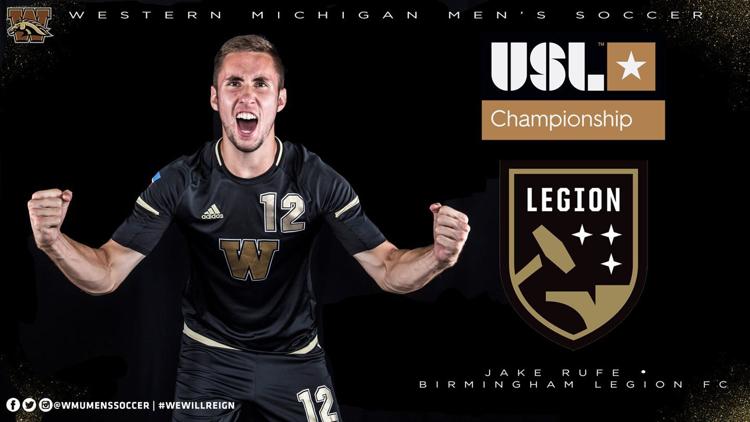 On Monday, former WMU men's soccer midfielder Jake Rufe turned pro by signing a contract to land him a spot in the United Soccer League (USL).  He will be returning to his home state of Alabama to play for the Birmingham Legion FC.
"I'm proud of Jake," WMU head coach Chad Wiseman said in the program's press release. "He has worked hard for this opportunity and will continue to represent Western Michigan well. He was a three-year starter for us in Kalamazoo and now gets to play in his home state with a squad that is just one step away from MLS competition. We continue to cheer loudly for Jake."
Rufe played three seasons in Kalamazoo for Western Michigan from 2016-2018. Prior to his time as a Bronco, he played at Indiana University for two seasons.
During his three years with the Broncos, Rufe started in 51 of his 55 career games. He earned second team All-MAC honors in 2017 and MAC All-Tournament honors in 2018. 
While Rufe was at WMU, he played for AFC Ann Arbor in 2016 and 2017 for USL League Two. Rufe went back to Ann Arbor in 2019 to play for USL League Two's Michigan Bucks. 
"Jake and Eli [Crognale] are good additions to the team as they both bring versatility and depth to our group," Legion FC President and GM Jay Heaps said. "Each player spent the preseason with the Club before signing in March, but due to the escalation of COVID-19, we held off on making this announcement. We are excited that they are with the Club and ready to go when training and play resume."