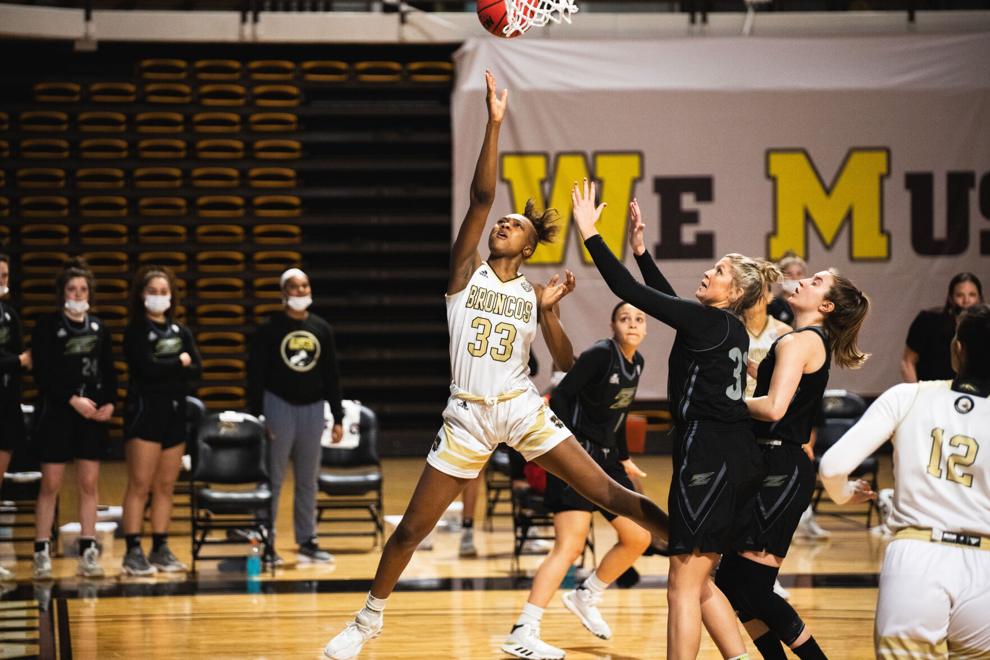 Western Michigan women's basketball earned its second conference victory of the season, beating Akron 74-66 Wednesday.
Redshirt freshman Taylor Williams was unstoppable in the game, scoring 30 points on 14-23 shooting, tying the program record with 21 rebounds, and adding two assists, two blocks and three steals.
"She was everywhere," head coach Shane Clipfell said of Williams' performance postgame. "She made some really tough shots. I mean, how many offensive rebounds did she get when it was one-on-two or thee for Akron?"
Akron got out to a hot start, taking an 11-4 lead early, but an 11-0 run by the Broncos headlined by six points from Williams put WMU in front. The Broncos would wrap up the first frame with a 20-16 lead behind eight points and six rebounds from Williams while Jordyn Dawson had 10 points for Akron but committed two fouls which led to her sitting the entire second quarter.
The second quarter was a battle of scoring runs for both sides, with Akron posting 9-0 and 8-0 runs in the frame while WMU rattled off 11-0 and 6-0 bursts. Williams had 17 points and nine rebounds while sophomore Sydney Shafer was also in double-digits with 10 points and had picked up three steals. Lonasia Brewer was leading the Zips with 11 points.
Akron shot 6-11 from behind the three-point line in the first half, which helped them stay in the game in spite of committing 12 turnovers which the Broncos turned into 14 points. WMU had scored 24 of its 41 points in the paint as it held a 41-37 lead at the break.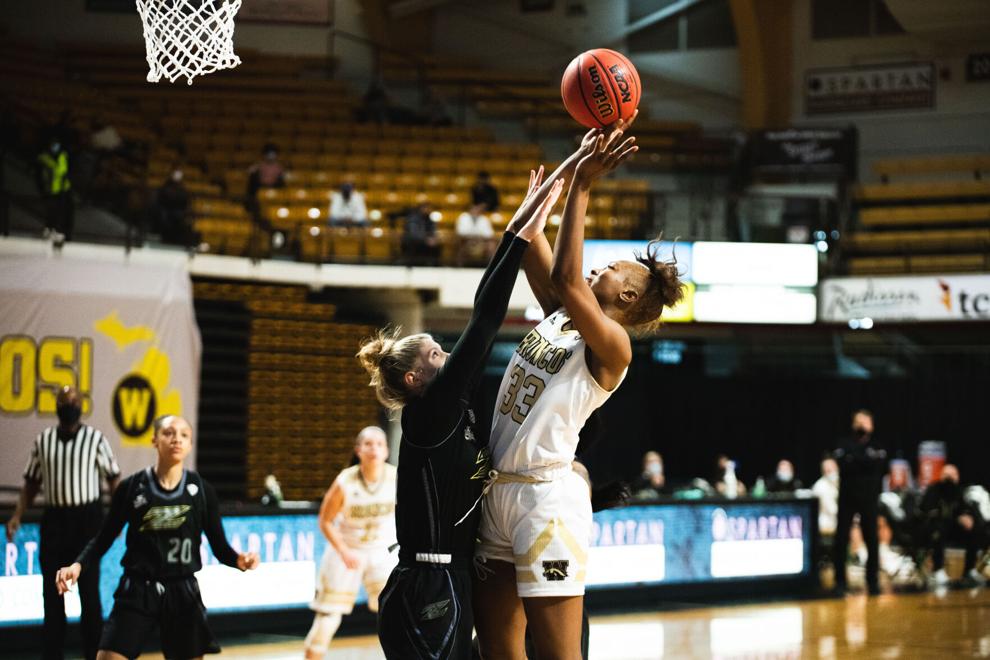 Williams was on fire to start the third, securing a double-double and working her way up to career-highs in points and rebounds. The Broncos were able to stretch the lead to as many as 14 points behind her work on both ends of the floor.
Akron ended the third quarter on an 8-0 run, providing a chance for and momentum towards a fourth-quarter comeback. After three quarters, the score was 58-52 in favor of the Broncos.
WMU failed to score for over six minutes between the end of the third quarter and start of the fourth, allowing the Zips to trim the deficit to just three points. A big three-point shot by Shafer extended the lead to seven with 5:48 remaining, and Akron would be unable to get the deficit under five the rest of the game.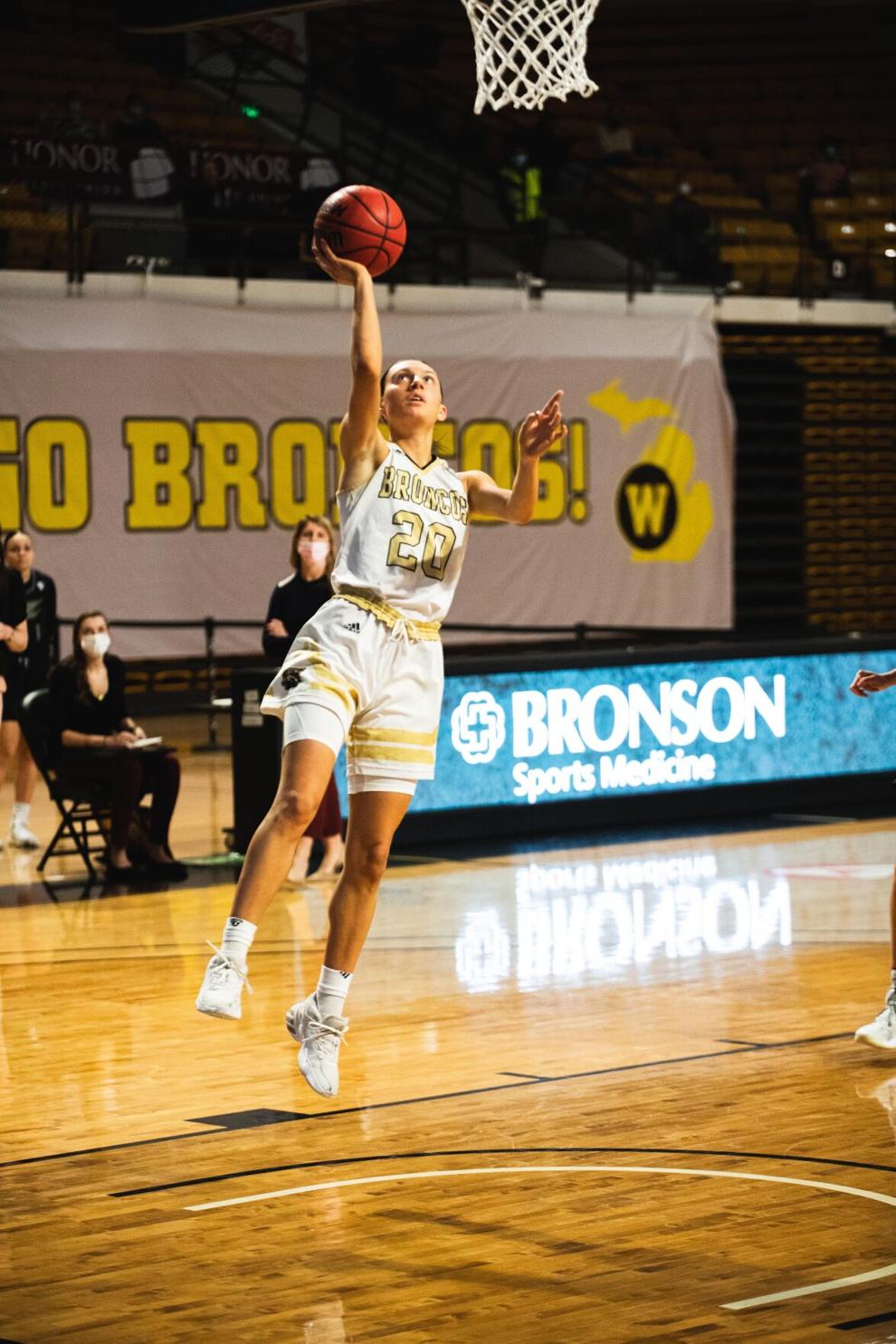 Shafer made four of six free throws in the final minute to help seal the win for the Broncos. She finished with 22 points and five steals, and is now averaging 21.2 points over her last five games. Senior Reilly Jacobson added 13 points, two blocks and two steals as another major reason WMU was able to come away with the win.
"What I saw from Shafer was she played better defense than she normally does," Clipfell said. "She's a kid that can score in a lot of different ways, I'd like to see her be a better finisher at the rim, when she gets there she has a tendency to get in there and kind of freeze up a little bit. She's a kid that's starting to figure out how to move better without the ball."
For Akron, Dawson finished with 20 points, four rebounds and four steals, but she also committed eight turnovers and five penalties, fouling out late in the fourth quarter. Brewer added 19 points and Layne Ferrell rounded out double-digit scorers with 10.
The win put the Broncos' record on the year to 3-12 and 2-11 in MAC play. WMU returns to action Saturday at Ohio. The game will tip-off at 1 p.m. and air on ESPN+.