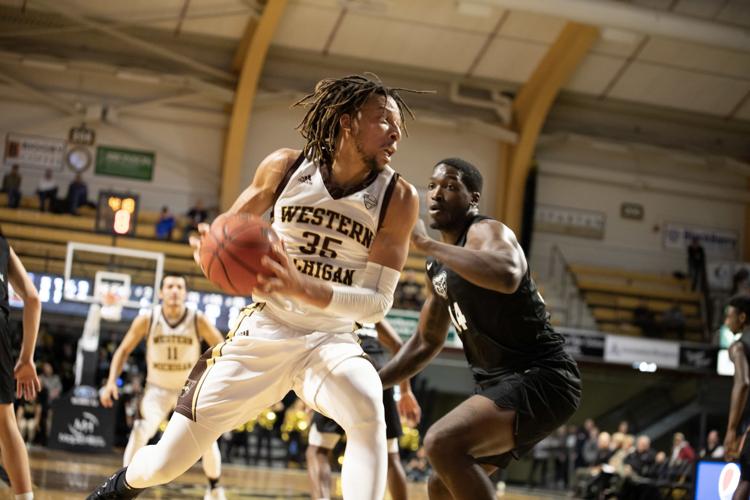 After a winless trip in Orlando in the NIT Season Tip-Off last week and on a three-game losing streak overall,  the Broncos returned home for an in-state battle with the Oakland Grizzlies on Tuesday night.
The cold shooting seemed to carry over from last week as the Broncos shot just 33% from the field and 23% from three in a 72-62 loss to the Grizzlies at University Arena.
 Out of the gate, WMU jumped out to a 5-2 advantage after drilling two of their first three field goal attempts. But that did not last long, as the Broncos started to go cold and watched Oakland slowly build an early lead.
The Grizzlies doubled up the Broncos 18-9 at just over the midway point in the half, but a 6-0 surge from the Broncos capped off by a Patrick Emilien putback made it an 18-15 game at the 8:05 mark.
Head coach Steve Hawkins had to go deep into his bench at the center position after seeing freshman Titus Wright pick up two early fouls, which hampered the Broncos interior defense a bit.
"The two fouls definitely hurt because they happened so quick," WMU head coach Steve Hawkins said. "When we prepared for the game defensively we felt like Wright, Johnson and Whitens could not get in foul trouble. We felt like Johnson and Titus would have to deal a lot with Brechting and Hill-Mais.When we went to Chase (Barrs) when Titus got into foul trouble, he was giving up 50 pounds and we had to go small."
WMU would even things up at 18 with a Jared Printy three from the right wing, followed by a Brandon Johnson layup to make it an 11-0 run for the Broncos.
A three pointer from Oakland's Tray Maddox, Jr. from the right wing would end that run to put Oakland back up 21-20.
The Grizzlies punched back with a 14-2 run of their own to go up 32-22 with just under three minutes to go in the half.
Brandon Johnson had a nice half for the Broncos, as he converted on a nice spin move for a lay-in to as they chipped the deficit to 32-28 with just over a minute to go in the half.
Then, trailing 34-28, Johsnon got the ball in the middle of the lane and knocked down a fadeaway jump shot to trim the Oakland lead to four once again. Johnson was the Broncos leading scorer going into the break with nine points and for the game finished with 18 points and 15 rebounds.
"Every night I try my best to play as hard as I possibly can," Johnson said. "Whatever my coach needed me to do and whatever these guys need me to do I'm here for it."
The Grizzlies would get a bucket right at the end of the half to go up 36-30 going into the locker room.
For the first half, the Broncos shot just 34% from the field overall and 3-16 from three-point range, while Oakland shot 63% from the field and 2-of-4 from three. 
WMU was able to stay in it by registering 11 more shots than the Grizzlies while hitting the glass for 10 offensive rebounds and only committing three turnovers compared to Oakland's eight.
To start the second half, the teams went back and forth before the first media timeout. Wright picked up an early third foul to force Hawkins to go to Chase Barrs, but the Broncos would hang around.
A three from Rafael Cruz, Jr. from the right wing on a pass from Flowers made it 41-37 Oakland with just under 16 minutes to go in the game.
WMU would continue to crawl back in it as they cut the deficit to 43-41 on a nice pass from Jason Whitens in the open floor to Johnson for a dunk off an Oakland turnover. But that is as close as they would get.
Oakland would respond with a 6-0 run to stretch their lead back to eight before a Flowers drive cut it to 49-43 with about 12 minutes left in the game. 
WMU would continue to hang around as a Jared Printy three-pointer made it 50-46 Oakland, but Grizzlies guard Blake Lampman answered with a three of his own to push the lead back to seven.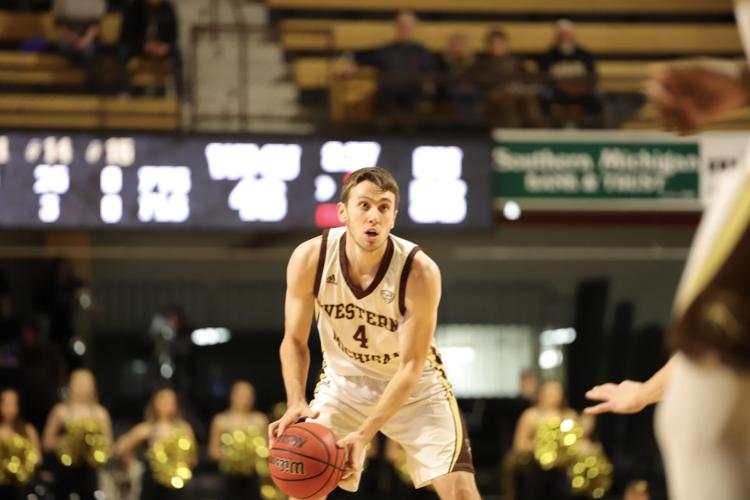 Lampman would connect again from the corner to stretch Oakland's lead to ten, but Printy would answer right back with a three while getting fouled. The four-point play made it 56-50 Oakland with 7:44 to play.
The Broncos battled all night but just could not seem to make the big run to get themselves over the hump, as the Grizzlies came up with a response every time WMU threatened. 
WMU committed just five turnovers for the game compared to Oakland's 10 and grabbed 15 offensive rebounds on the night. Hawkins said the loss bothers him but at the same time is looking at the big picture and that the Broncos are just in a major shooting slump.
"We're just missing shots. We can point at a lot of things right now," Hawkins said. "But Oakland shoots the ball pretty well, they are a high percentage team. But we just missed them tonight and I don't know how many of them seemed to go halfway down and come back out. And if you knock down just two or three of those it becomes contagious, but we are just in the middle of a shooting slump."
At the last media timeout, the Grizzlies still held a six point lead with 3:44 remaining. 
Oakland would then make the final push to put the game out of reach, as a tough two-pointer late in the shot clock by Maddux put Oakland up 10 with just over two minutes to play.
From there, the Broncos could not gain any more ground as the loss drops them to 4-5 on the season.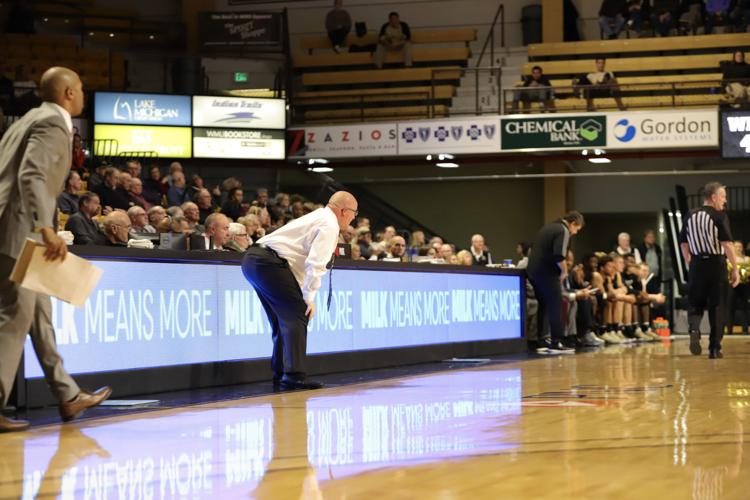 WMU has now lost four in a row after starting 4-1. But Hawkins is confident that the team won't let things snowball and is confident his guys will work hard to get out of the slump.
"When I walked into the locker room afterwards, they were having that conversation," Hawkins said. "They were talking and had already assessed the game. I was ready to come in and assess the game and I heard them talking about 'hey guys we missed a bunch of shots tonight, this game isn't going to define us.' They were talking about getting themselves right and finding the gym and that is what has to be done."
For Oakland, forward Xavier Hill-Mais finished with a game-high 26 points on 11-of-13 from the floor. Daniel Oladopo and Jake Lampman also finished in double figures for the Grizzlies, with 11 and 10 points respectively.
Along with Johnson, Flowers reached double figures with 12 points as Jared Printy added 10 on 3-of-6 from three for Western Michigan.
Western will look to break their four-game slide on Saturday, Dec. 7 against Youngstown State at 2 p.m. at University Arena.