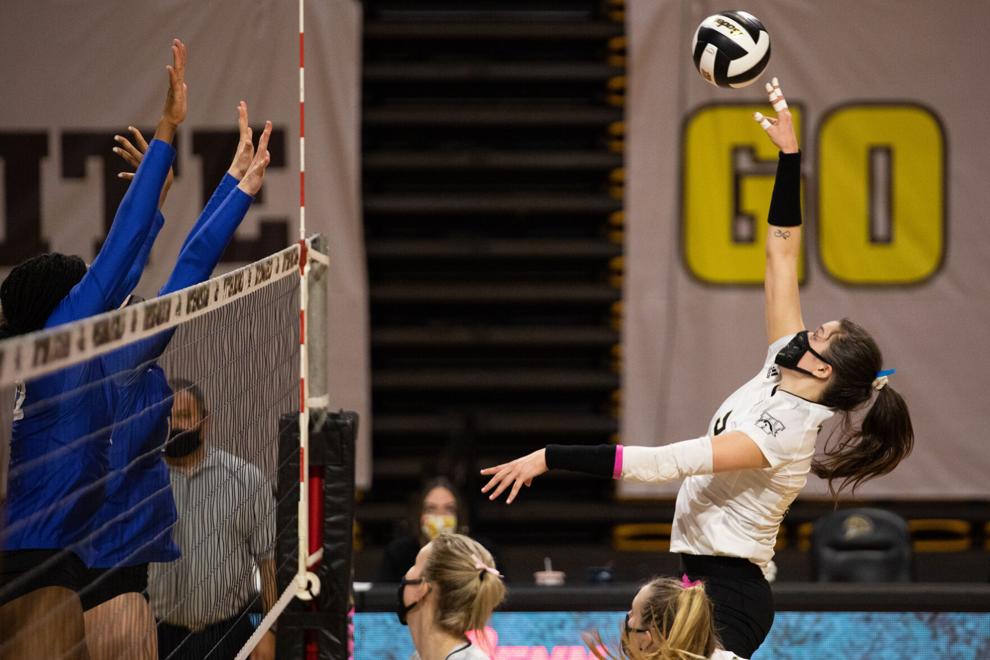 Western Michigan volleyball earned a series sweep over Buffalo to move to 9-3 on the season.
WMU completed a home comeback victory over Buffalo on Thursday winning in five sets (24-26, 27-25, 25-16, 25-11 and 15-6).
The Broncos picked up the win despite dropping the first two sets, in both of which WMU held an early lead, but dropped off towards the end. Leading the way for the Broncos was Rachel Bontrager who got herself a double-double with 30 kills and 12 digs. Her 30 kills marked the most in a match by any Bronco since 2005.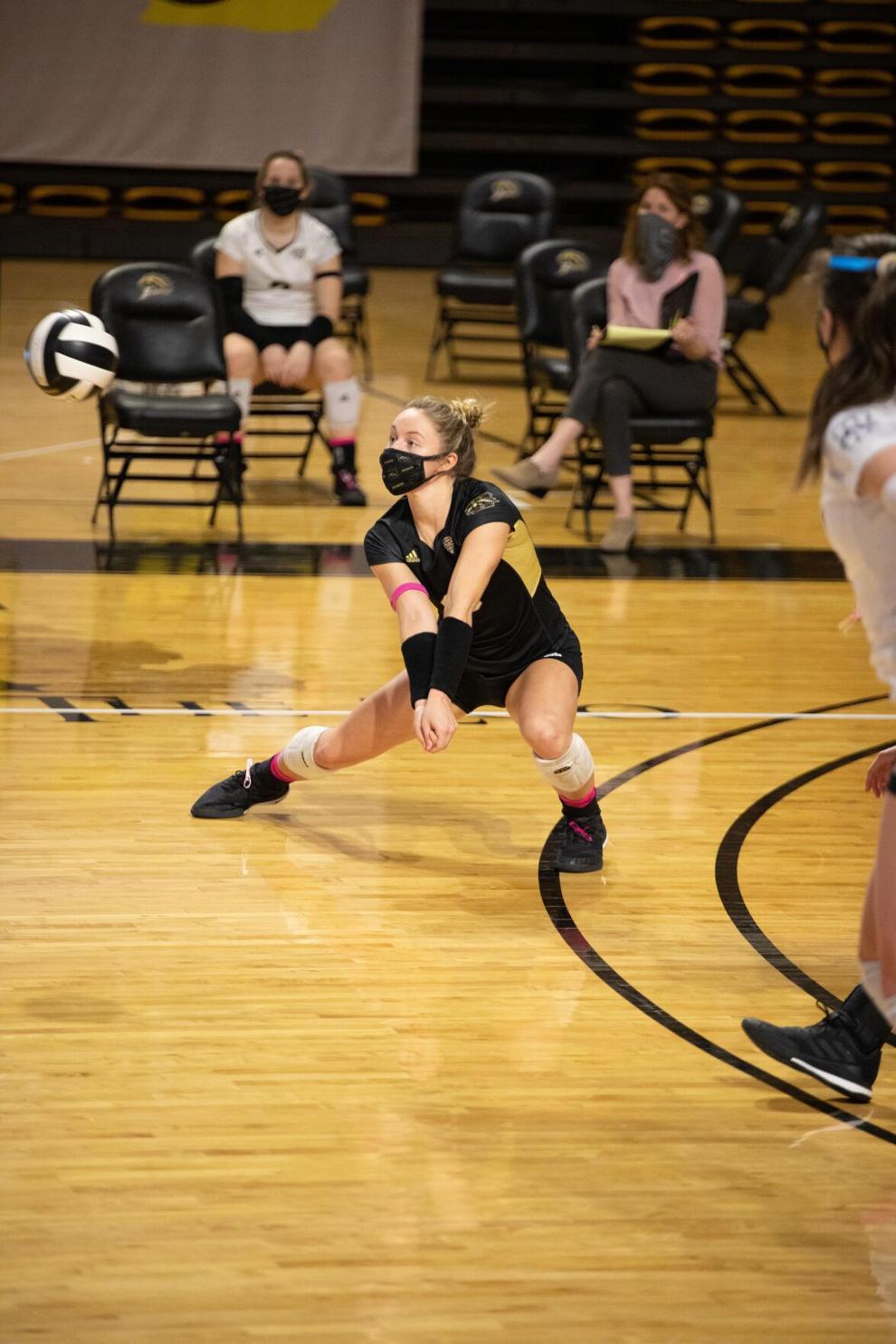 Kaley Smith also got herself in the record books Thursday as she secured her 1,000th career dig as a part of her 36 on the night. Smith is only one of 10 players in WMU history who has reached 1,000 digs in their career and her 36 digs tied for fourth-most in a single match in WMU history.
Overall on the day the Broncos took the third set and ran with it, outscoring the Bulls 65-33 over the last three sets. Leading the Bulls was Milla Malik who had 17 kills and five digs on the night.
In match two, the Broncos won in straight sets at 25-21, 25-23 and 25-22. WMU started off hot with a .316 hit percentage in set one, and the defense stepped up later in the game as the attacking cooled off, finishing at .235 in the match.
In the second set, WMU returned to the comeback mentality that worked Thursday, rattling off a 7-0 run to get back into the set after falling behind 19-9, and closing the set with a 5-0 run to go ahead 2-0. Set three was much more back-and-forth, with neither side scoring more than four points in a row. The Broncos finished off the win with a 3-0 run after being tied at 22 points.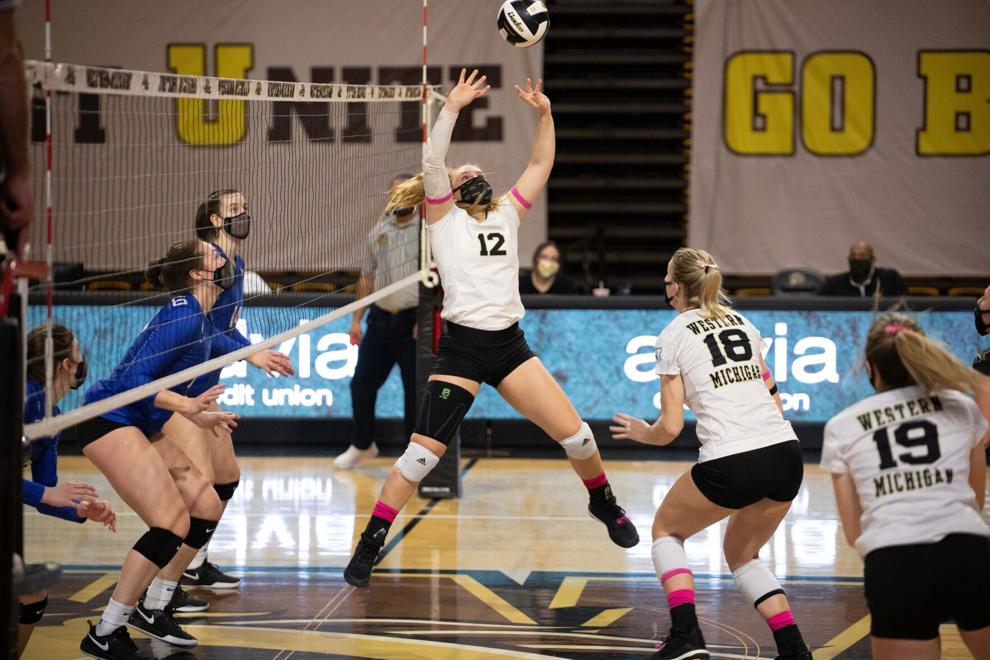 Maggie King led the way for WMU Friday with 16 kills after recording 18 in Thursday's win to join Bontrager with triple-digit kills this season. Logan Case had her six-match streak of at least 40 assists snapped Friday as she had 37, to go along with four digs and three kills. Case had 57 assists and seven digs in match one.
Smith had another big match Friday with 23 digs. Bontrager had just 13 kills to seven attack errors on 37 chances, but added four blocks and five digs to help contribute to the win.
Emma Gielas led the Bulls' in Friday's losing effort with 12 digs and nine kills.
The Broncos return to action at University Arena Sunday for a single match against Ball State. The Cardinals are currently the only other MAC West team over .500 at 6-5. That matchup will start at 2 p.m. and air on ESPN3.