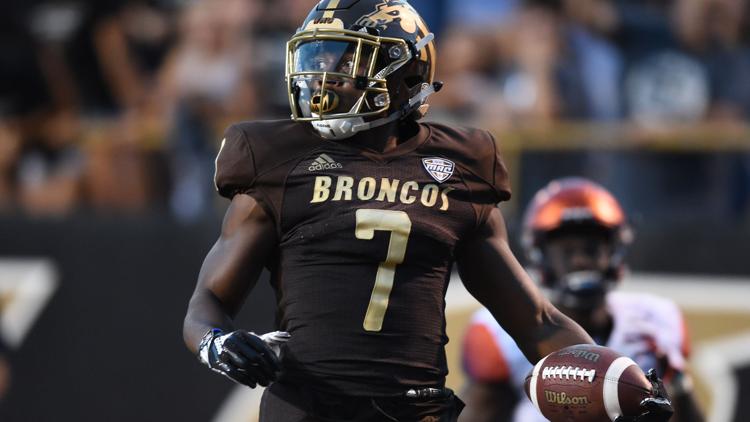 Western Michigan wide receiver D'Wayne Eskridge was named one of college football's biggest "freaks" in a list compiled by The Athletic's Bruce Feldman.
The idea of Feldman's list aims to spotlight players who generate buzz within their programs based off "displaying the type of rare physical abilities that wow even those folks who are used to observing gifted athletes every day."
Feldman said conversations with coaches, staffers and scouts helped him compile this year's list of 50 players, even as college football teams haven't had much time for training in the offseason due to COVID-19.
"Eskridge came to the Mid-American Conference as a decorated track athlete and has excelled for the Broncos, starting on both sides of the ball in 2019 before suffering a season-ending clavicle injury in Week 4," Feldman said of the redshirt senior. "The 5-9, 190-pounder clocked a laser-timed 4.33 40 as a sophomore and has continued to get more explosive in his college career. He benches 350 and squats 505 to go with a 37.5-inch vertical and a very good short shuttle time of 4.08."
Feldman listed "explosiveness" as Eskridge's "freakiest" attribute.
Eskridge's primary role in 2020 will be back at the wide receiver position, but head coach Tim Lester has said he could still be flipped over to cornerback if he is needed enough on defense.
He comes into his final season at WMU with 88 career receptions for 1,476 yards and seven touchdowns. In 2018, the last season he was playing at wide receiver full-time before switching to defensive back in 2019, Eskridge hauled in 38 catches for 776 yards and three scores.
Eskridge was able to redshirt last season after that Week 4, season-ending injury at Syracuse, allowing him to return to Kalamazoo for a fifth and final season in 2020.