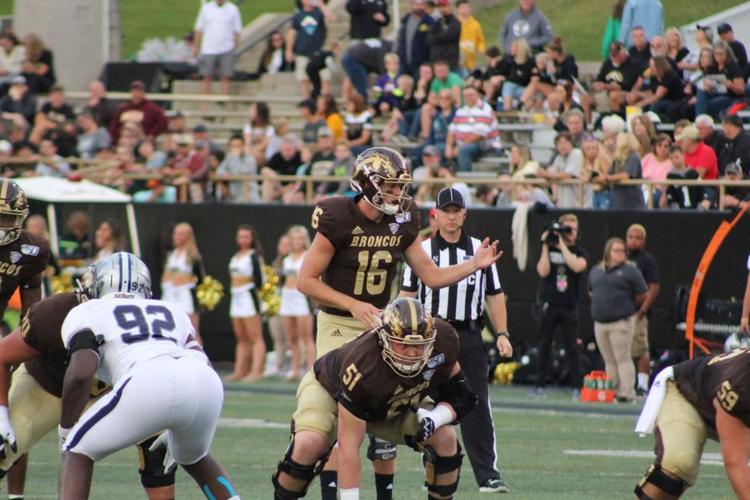 Western Michigan football had two players honored by the Mid-American Conference on Monday for their week one performances against Monmouth. 
Senior quarterback Jon Wassink was named the Co-Offensive Player of the Week in the MAC West division along with Eastern Michigan quarterback Mike Glass III. 
 Senior kick returner/wide receiver Keith Mixon was named the MAC West Special Teams Player of the Week. 
Wassink's recognition comes after a 20-of-25, 368-yard passing performance last Saturday night. He also threw for a total of five touchdowns, which tied a career-high for him and was the fourth most in a game in Bronco history. Of his 20 completions, 10 of those went for 15 or more yards while he had five completions go for 30 or more yards. 
It was Wassink's first game back from a season-ending foot injury that knocked him out in week 9 of 2018 against Toledo. He now has three career games in which he has thrown for over 300 yards, and it was his second straight season-opener throwing for over 300 yards. In 2018 against Syracuse, he threw for 379 yards in a 55-42 opening night loss at home. 
 Mixon, the senior transfer from Mississippi State, totaled 164 return yards on Saturday. His second-quarter kickoff return of 52 yards was the longest return for the Broncos since Darius Philipps' 100-yard kickoff return touchdown at Michigan State on Sept. 9, 2017. He also tacked on a 65-yard kickoff return in the third quarter.  
Mixon's 143 kickoff return yards are 10th most in a single game in program history and the most since Dervon Wallace tallied 177 yards against Toledo on Nov. 8, 2011. Mixon is ranked as the No. 2 kickoff return man in the country entering week two.