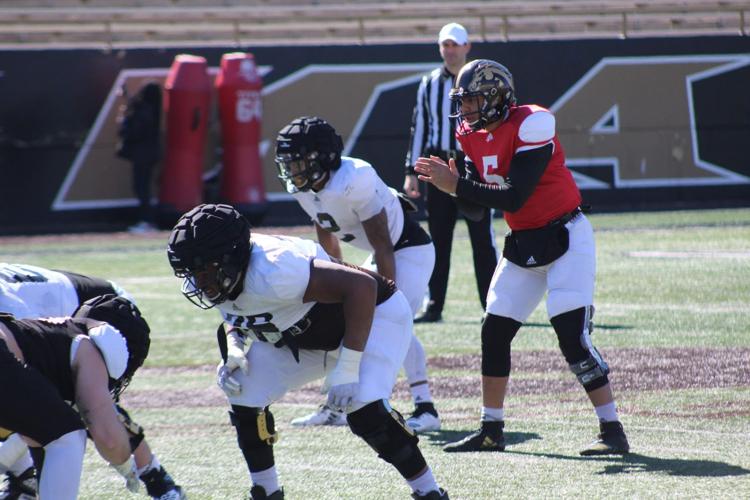 Back on Dec. 30, 2019, redshirt sophomore quarterback Kaleb Eleby took to his Instagram page and posted a picture with a caption that simply said: "Time Served."
The post came after WMU's last second loss in the First Responder Bowl to Western Kentucky. With former quarterback Jon Wassink now graduated, Eleby, who arrived on WMU's campus in 2018, has most certainly served his time and seems ready to take over the reigns as the starting quarterback in 2020.
The former three-star recruit has stayed ready and has kept a positive mindset even as he didn't see a snap in 2019 and redshirted while Wassink started in every game.
"It's just a mindset and how you look at things," Eleby told the Herald in an interview last season. "I'm just looking at things with a positive mindset. Just learning as much as possible."
In 2018, Eleby's freshman season, he took over as the starting quarterback in the last five games when Wassink went down with a foot injury. Eleby completed 92-of-147 passes and threw for 1,092 yards with four touchdowns and three interceptions.
Now, with Eleby's past experiences and being able to learn head coach Tim Lester's system for the past couple of seasons, passing game coordinator and quarterbacks coach Eric Evans thinks Eleby has taken some major steps forward to help expand his game.
"I think just his knowledge of the system and overall football knowledge in terms of reading coverages and understanding defenses has really grown over the last year and a half," Evans said. "Even though he didn't get game reps last year, he was very helpful on the sidelines to Jon, to me and just helping us with what he was seeing and giving productive suggestions to Jon. He really went from being a true freshman and trying to learn things for the first time to being a veteran and understanding the 'why' of the offense and the 'how' of the offense."
Evans said Eleby has some "natural abilities that get you real excited," including his arm strength, accuracy and creating big plays when a play may break down.
Even though Eleby will have big shoes to fill stepping in for Wassink, who threw for 50 touchdowns and nearly 6,500 yards in his career, he will have a greater chance at putting some of those natural abilities on display with a  core of wide receivers who are capable of making big plays.
Redshirt senior D'Wayne Eskridge is back at receiver, along with first team All-MAC selection from last season in Skyy Moore, with plenty of depth behind those two.
Evans said he thinks having a veteran group of receivers is as good of a situation for a first-time starting quarterback anyone could ask for.
"They've obviously been doing the extra things in throwing together and spending time together off the field, developing those relationships and I'm excited to see how that all comes to fruition when we can start in preseason camp," Evans said.
Even as Eleby projects as the clear starter, Evans said he has seen growth from his entire quarterback room.
Two notable reserves are redshirt junior Griffin Alstott and redshirt freshman Nick Kargman.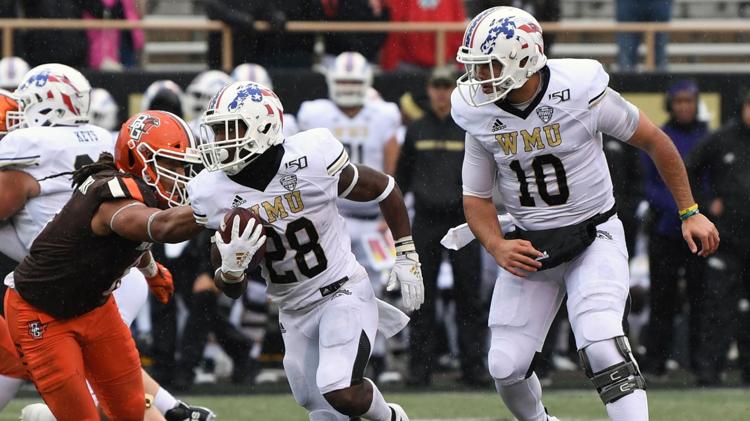 Kargman redshirted last season and did not see game action while Alstott appeared in four games, going five-for-six with a touchdown pass.
"Nick Kargman was a true freshman last year so he spent a lot of time on the scout team," Evans said. "But then, in spring ball, really impressed myself and the coaches and the team. Gets the ball out extremely quick, he's extremely intelligent and knows where to go with the ball. He was very impressive in the spring and made a lot of strides through those eight spring practices. Griff Alstott got to play in a few games last year, and in the games he got to play he did a great job moving the ball down the field and coming away with some scores. He does a nice job competing, comes from a great football family and has some athleticism."