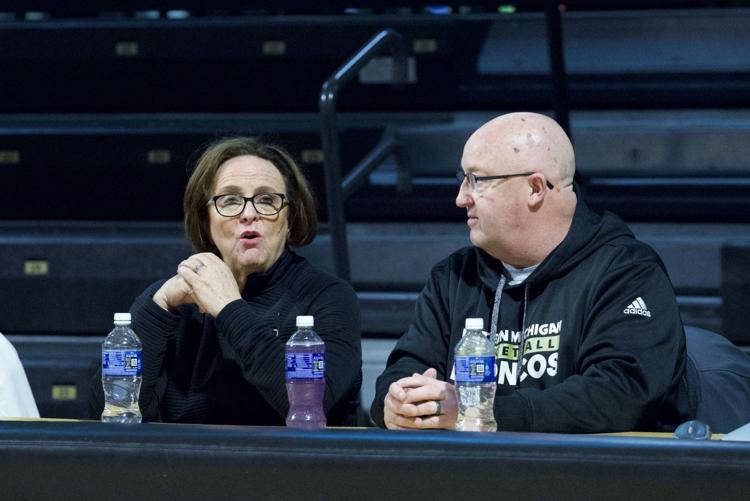 Former Western Michigan men's basketball coach Steve Hawkins appeared as a guest on Fox Sports' Doug Gottlieb's 'All Ball' podcast on Thursday.
During the interview, the two discussed a variety of basketball related topics, ranging from when Hawkins was a coach at a basketball camp Gottlieb attended in middle school to the nature of Hawkins' departure after 20 years at Western Michigan.
When discussing Hawkins' two NCAA Tournament appearances (2004 and 2014), Gottlieb asked Hawkins why he didn't look for another head coaching job and move on from WMU in the midst of his success.
"It's harder to answer that question now and be honest with you because of what has taken place," Hawkins said. "Had I known it was gonna end that way, I probably would have left a lot earlier."
Being the head coach at the program for 17 years and an assistant for three years, Hawkins' loyalty to the university is well documented. On the podcast, he explained why he didn't want to just use WMU as a stepping stone for a shot at another head coaching position elsewhere.
"It meant something to me when the fans (and alumni) are coming to me and saying 'please don't use my school as a stepping stone, please please don't do this,' and I remembered that," Hawkins said. "I remembered the loyalty part of things, I remained loyal to the university, I like living in Kalamazoo. For those who have never been here it's like the beer capital of Michigan, there are brew pubs everywhere. I'm a beer drinker and chicken wings kind of guy, so I was happy."
Hawkins went on to explain the basketball facilities becoming a "real issue" and that the investment in the basketball program had stopped.
"When I look back it at now, If I were able to forecast into the future and had a crystal ball, yeah I would have taken one of those other opportunities along time ago," Hawkins said.
Hawkins also said he doesn't regret his decision to not take another job when the program was winning when he was at the helm because of an interview he once read that featured Jack Nicholson. During the interview, Hawkins said 'regret' came up as one of the topics.
"He (Nicholson) said, 'what's the point?'", Hawkins told Gottlieb. "He (Nicholson) said 'I don't believe in regret, it's not productive.' And that has always stuck with me and I feel the same way. I don't regret it, I would have missed out on coaching a ton of wonderful kids that I have great relationships with to this day. That has meant as much to me as everything else."
Hawkins finished his career at Western Michigan with a 291-262 record, leading the Broncos to Mid-American Conference titles and NCAA Tournament appearances in the 2003-04 and 2013-14 seasons in his 17 years as head coach.
His teams also finished on top of the MAC West eight different times. Since the 2013-14 season, the Broncos have a 87-107 record as a program.
Hawkins was relieved of his head coaching duties on March 11 as his contract was due to expire. On March 28, athletic director Kathy Beauregard named longtime WMU assistant Clayton Bates the 14th head coach in WMU men's basketball history.
For Hawkins, his immediate future plans including starting a podcast within the next "couple of weeks," he told Gottlieb. 
Hawkins said since no coaching jobs have opened up amid the coronavirus pandemic, he has to figure out what he is going to do over the next year and decide or not he wants to stay in the coaching business.
Hawkins said his podcast will be basketball centric, but will focus on things outside of basketball as well. 
"I want to get into more the personal part of things," Hawkins told Gottlieb. "I'm gonna talk with coaches around the country and get into more of the personal part of things. I want to talk with the coaches wives, 'what's it like to sit up in the stands and hear people screaming at your husband?' Or 'what's it like when your husband loves a player and you don't think he's very good?'"
Hawkins said he will use the "Next Possession" mantra he established with the WMU basketball program over the years to move forward with his own life.