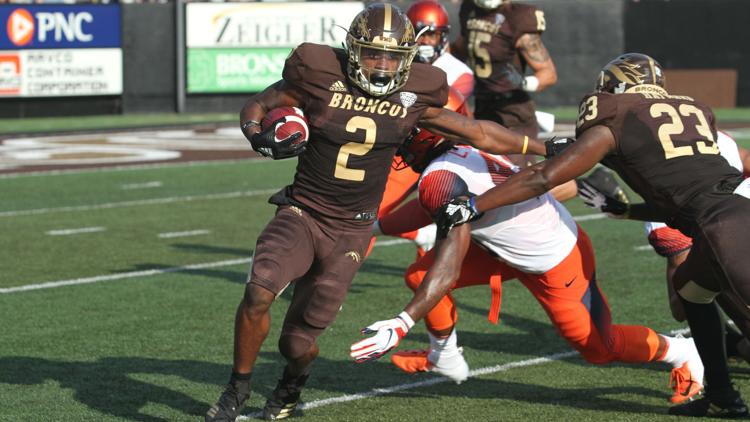 For the second time in three days, Western Michigan senior running back LeVante Bellamy has been added to a watch list.
On Monday, he was named to the Maxwell Award watch list. On Wednesday, Bellamy was named to the watch list for the Doak Walker Award, given to the nation's top running back.
The award is named after Southern Methodist University's three-time All-America running back Doak Walker. It is the only major collegiate award that requires all candidates to be in good academic standing and on schedule to graduate within one year of other students of the same classification.
Last year, Bellamy had a career-best season for the Broncos. He finished second in the Mid-American Conference with 1,228 rushing yards and six touchdowns. The 5'9", 185 pound running back was named First Team All-MAC after averaging 6.0 yards per carry and 94.5 yards per game on the ground. He also made contributions through the air, hauling in 30 receptions for 185 yards and a touchdown.
The PwC SMU Athletic Forum Board of Directors will name ten semifinalists in November. Three finalists will then be announced on Nov. 20, as voted on by the Doak Walker Award National Selection Committee. On Dec. 2, the committee will cast another vote to decide the winner. The National Selection Committee consists of past recipients, former NFL All-Pro and college All-America running backs, as well as media members and selected special representatives.