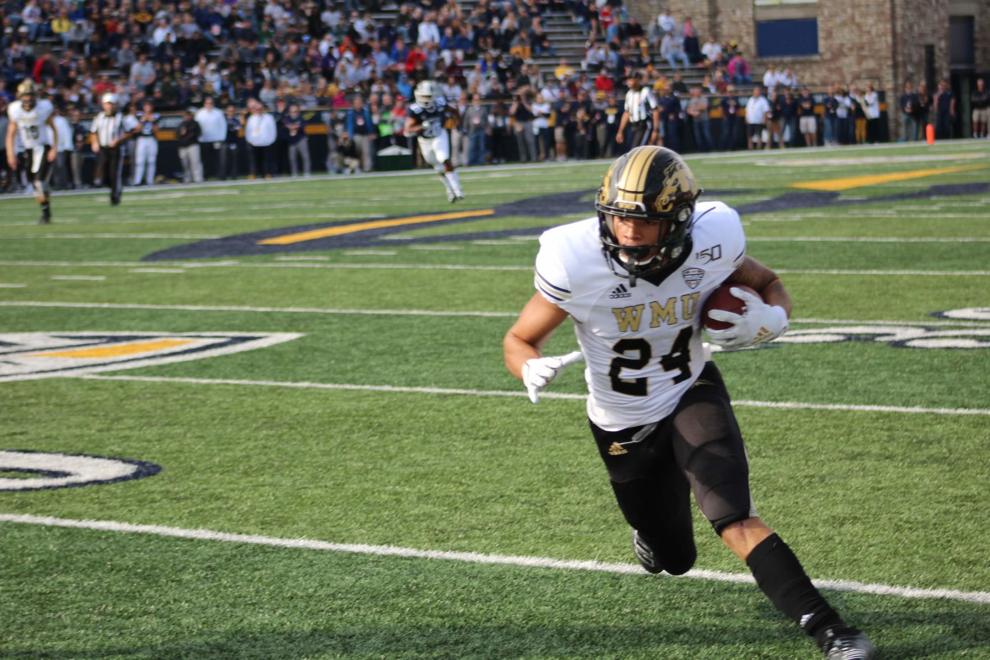 On Wednesday, head coach Tim Lester and WMU football will be looking to beat Toledo for the first time in Lester's time at the helm in Kalamazoo.
Here are three things that must happen for the Broncos to finally get over the Toledo roadblock.
Kaleb Eleby has to be the best quarterback on the field
Last week, Bronco fans got a glimpse of what this WMU offense can be when it put up 58 points at Akron.
WMU was able to find a nice balance of run and pass, going for over 200 yards in both categories, but will face a much tougher test with Toledo's defense.
If this game becomes a shootout and Eleby has to make play after play with his arm and legs to keep the Broncos in it, he is fully capable of doing that with the weapons he has around him.
Running backs La'Darius Jefferson, Sean Tyler and Jaxson Kincaide will try to provide balance around him and attack Toledo's run defense, but Eleby will need to find a way to continue to get the ball to his playmaking wideouts in D'Wayne Eskirdge and Skyy Moore for the Broncos to keep the Rockets on its heels.
The task will be difficult against a Toledo secondary which includes Samuel Womack, who was tied for second in the nation in pass breakups with 15 last season. But as long as the Broncos' offensive line gives Eleby time to throw, he should be able to find some open receivers throughout the night along with being able to extend plays with his legs.
On the Toledo side, quarterback Eli Peters has experience and can make plays of his own. But coming out of high school, Eleby was the more highly touted player, being the 27th rated pro-style quarterback in the 2018 class (according to 247 Sports) compared to Peters being the 45th ranked in the 2016 class. Eleby's raw talent needs to show out in this game and if that happens, it will put WMU in a position to win.
WMU's defensive line has to pressure Peters
When Peters has the opportunity to sit back in the pocket with time, he has the ability to pick defenses apart and get the ball to his playmakers.
Bryce Mitchell is a big, physical receiver for the Rockets who can make plays down the field and win 50-50 balls in the air. The Broncos found that out last season when Mitchell caught four passes for 119 yards and a touchdown in its win over WMU.
Toledo's offensive line will not be at full strength for Wednesday's game either. Projected starting left tackle Mitchell Berg had shoulder surgery and will miss the season and right tackle Lavel Durmont suffered a leg injury and had to be carted off the field last week against Bowling Green.
Head coach Jason Candle said Durmont will be "out for a while," according to a report from the Toledo Blade.
The WMU front seven will need to take advantage as it will be especially important for Ali Fayad, Andre Carter and Ralph Holley to get into the backfield to get in Peters' face so he does not have time to take shots down the field against a WMU secondary that was quite frankly not tested against Akron.
Cornerbacks Patrick Lupro and Keith Jones Jr. already have their work cut out for them and it will only make their tasks more difficult if the front seven cannot get pressure on the quarterback. If Peters is not given the time to survey his options down field, he won't be able to test those corners as often as he might like.
Contain Toledo's rushing attack in the early downs
The Rockets boast arguably the best rushing duo in the conference with running backs Bryant Koback and Shakif Seymour. The Broncos know all about them from last year's contest, as the two combined to rush for 237 yards.
If the Broncos allow the two to have that kind of success in the running game again this year, it will be a long night for Lou Esposito's defense.
Stopping that attack is nearly an impossible feat, but WMU needs to do its best to slow it down, especially on first and second down.
WMU's defense is at its best in obvious passing situations where the defensive line can get after the quarterback without the threat of the run. Getting Toledo's offense in multiple third-and-long scenarios will only help the Broncos in being able to generate the consistent pressure on Peters that will be needed to be successful. 
That being said, WMU will have to be aware of Koback slipping out of the backfield as a pass catcher, as he showed plenty of ability in that aspect of his game against Bowling Green with four catches for 50 yards.