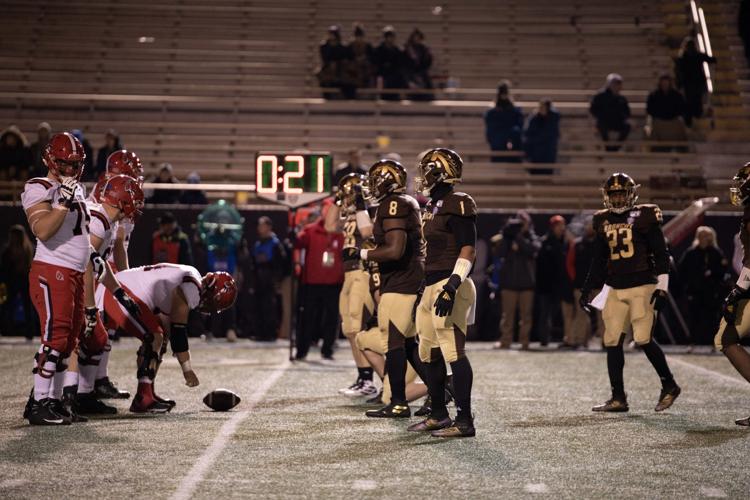 Buffalo (5-4, 3-2 MAC)
The Buffalo Bulls decimated the Eastern Michigan Eagles on the road Saturday winning the contest 43-14. Buffalo quarterback Kyle Vantrease passed for 208 yards while throwing one touchdown pass. Bulls running back Jaret Patterson had another dominant game as he rushed for 160 yards, crossing the goal line twice. Patterson ranks third in the MAC for rushing yards with 995. Wide receiver Antonio Nunn hauled in the team's only receiving touchdown of the game. Buffalo now improves to 5-4 on the year and will travel to Kent State on Thursday, Nov. 14 as part of MACtion. 
Northern Illinois (3-6, 2-3 MAC)
The back-and-forth conference play of the Huskies continued last weekend falling to Central Michigan on the road 48-10. After defeating Akron 49-0 a week prior, NIU struggled to find any offensive production. Quarterback Ross Bowers had an okay day in the air with 221 yards, a touchdown and three interceptions. Bowers ranks fourth in the MAC for passing yards with 1,947. The running game was where the Huskies really struggled totaling 22 yards throughout the game compared to the 327 CMU rushing yards. NIU will travel to Toledo to face the Rockets on Wednesday, Nov. 13 at 7 p.m. 
Eastern Michigan (4-5, 1-4 MAC)
The Eagles had very little offensive and defensive production on Saturday against the Buffalo Bulls falling 43-14. Two quarterbacks played for the Eagles as Mike Glass III and Preston Hutchinson both saw field time. Glass threw for 95 yards with a touchdown while Hutchinson threw for 90 yards and an interception. Glass ranks third in the MAC for passing yards with 1,991 but has struggled as of late. Wide receiver Mathew Sexton snagged himself a touchdown on 87 receiving yards in the game.  The Eagles will travel to the winless Akron Zips on Tuesday, Nov. 12 as they try to get back on the winning track.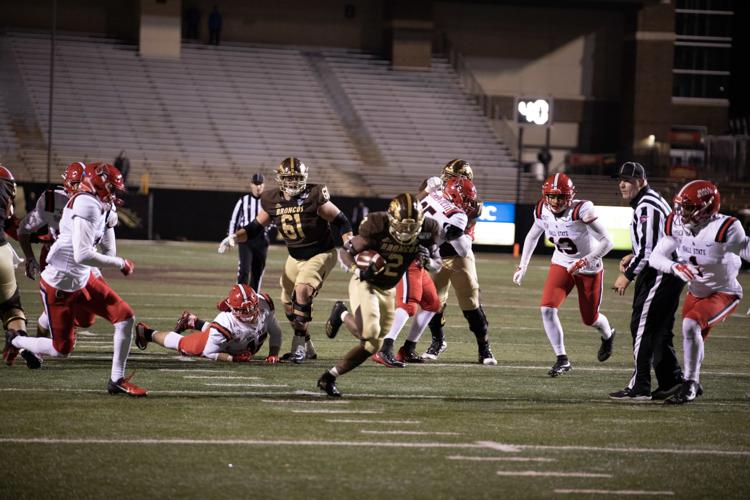 Akron (0-9, 0-5 MAC)
Akron struggled once again this past weekend losing to Bowling Green 35-6 to remain winless on the year. Quarterback Nato Nelson had a rough outing throwing for only 60 yards and two interceptions. The running game was not much better as leading rusher Peter Hayes-Patrick ran for 23 yards of the total 64 yards on the ground. Redshirt sophomore Bubba Arslanian totaled 19 tackles to push his season total to 93, good for third in the MAC. The Zips will welcome Eastern Michigan on Tuesday, Nov. 11 in a matchup between last place teams in their respective divisions. 
Western Michigan (6-4, 4-2 MAC)
The Western Michigan Broncos squeezed out a tight game against MAC West leader Ball State winning 35-31 after scoring a game-winning touchdown with a minute to play. Western Michigan now moves to first place in the MAC West with the win on Tuesday night. The Broncos had a huge performance on offense thanks to big nights from senior quarterback Jon Wassink and senior running LeVante Bellamy. Wassink threw for 124 yards and rushed for 131 while crossing the goal line for once. Bellamy rushed for 157 yards on 31 carries and crossed the goal line three times. Wassink leads the MAC in passing yards with 2,397. In addition to leading the MAC in rushing yards, Bellamy ranks third in the country for rushing yards with 1,212. The season doesn't get any easier for the Broncos as they will travel to face MAC East leader Ohio in a must win game. Kickoff is set for 7:30 p.m. on Tuesday, Nov. 12 on ESPN2. 
Kent State (3-6, 2-3 MAC)
The Kent State Golden Flashes lost a heartbreaker to MAC rival Toledo last Saturday 35-33. Some players who kept Kent State in the game were quarterback Dustin Crum and safety Manny Lawrence-Burke. Crum threw for 257 yards on 14 passes while throwing three touchdowns. The defensive MVP for Kent State was Burke racking up eight tackles while assisting on seven. Wide receiver Kavious Price broke the 100-yard mark receiving with his 102 yards in the air. The Golden Flashes will host the Buffalo Bulls Thursday, Nov. 14 for a 7 p.m. kickoff.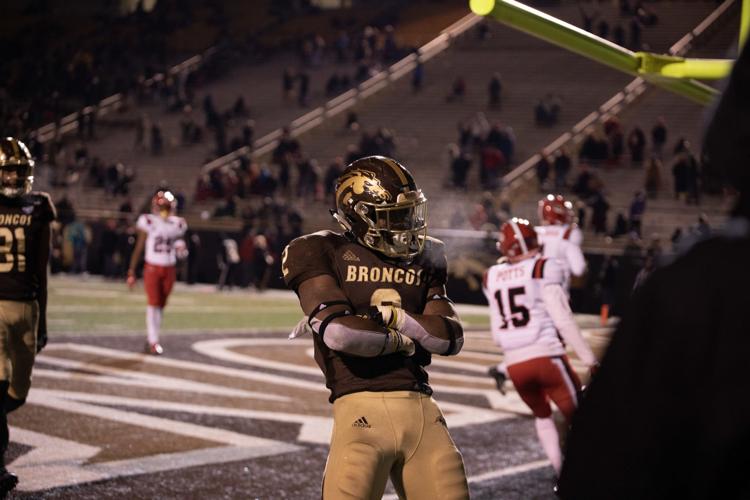 Ohio (4-5, 3-2 MAC) 
Ohio was defeated my Miami (Ohio) 24-21 in a heartbreaking loss between the top two teams in the MAC East division. Quarterback Nathan Rourke was held in check for most of the game throwing for 133 yards and a touchdown. Rourke also led the Bobcats with 80 yards and two touchdowns on the ground. Rourke ranks fifth in the MAC for passing yards with 1,876. Wide receiver Ty Walton hauled in the Bobcats only receiving touchdown on a four-yard pass. Ohio plays in yet another big time game on Tuesday, Nov. 12 as Western Michigan comes into town. Both teams need a win to stay alive in the MAC championship hunt. 
Toledo (6-3, 3-2 MAC)
Toledo defeated Kent State 35-33 in a closely contested matchup. Running back Shakif Seymour ran all over the Golden Flashes as he had a career-high 175 yards and two touchdowns. Quarterback Eli Peters threw for 194 yards, a touchdown and an interception. Toledo continues to be productive on offensive averaging 449.2 yards a game which ranks 2nd in the MAC. Defensive back Kahlil Robinson ranks second in the MAC for interceptions with three on the year. Toledo will try to continue its two-game winning streak on Wednesday, Nov. 13 at home against Northern Illinois.
Ball State (4-5, 3-2 MAC)
Ball State lost a close game 35-31 against Western Michigan in a battle for first place in the MAC West division. The Broncos won the game on a nine yard Bellamy rushing touchdown with a minute left in the contest. Ball State was down by 10 going into the second half, but started the half strong by taking the opening kickoff all the way for a touchdown, for the only touchdown of the quarter before the teams traded touchdowns in the fourth. The air game for the Cardinals had a decent showing with freshman quarterback Drew Plitt putting up 14 competitions on 22 attempts and 148 yards. Plitt ranks second in the MAC for passing yards with 2,125. Leading on the ground was junior Caleb Huntley having 120 yards on 18 carries and a touchdown. Next up, the Cardinals host Central Michigan on Saturday, Nov. 16.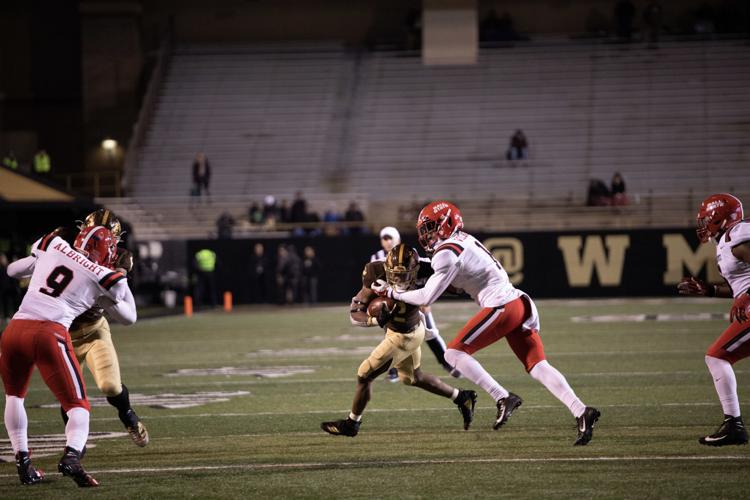 Miami OH (5-4, 4-1 MAC)
Miami (OH) won a tightly contested match against Ohio last 24-21, thanks to a 53-yard field goal by senior Sam Sloman with 3:48 left in the fourth quarter. The team won the Battle of the Bricks and more importantly took sole possession of first place in the MAC East division. Freshman quarterback Brett Gabbert had 149 yards and a touchdown on 10 completions. Junior running back Jaylon Bestor had 84 yards and two touchdowns on 15 carries. Up next the Redhawks put their 4-1 MAC record, best in the conference, on the line against Bowling Green at home on Wednesday, Nov. 13. 
Bowling Green (3-6, 2-3 MAC)
Bowling Green faced off against the winless Akron Zips and won the contest 35-6. Quarterback Grant Loy had a decent game throwing for 113 yards and a touchdown. Running back Andrew Clair led the Falcon rushing attack with 86 yards and two touchdowns. BGSU held the Zips offense to a total of 100 yards. Fifth ranked wide receiver in the MAC, Quintin Morris hauled in 53 yards and a touchdown on four receptions. Bowling Green will travel to MAC East leader Miami (OH) on Wednesday, Nov. 13. 
Central Michigan (6-4, 4-2 MAC) 
Central Michigan got back to its winning ways last weekend defeating Northern Illinois 48-10 at home. With the win the Chippewas are tied for first in the MAC West division with WMU but the Broncos hold the tiebreaker after defeating CMU earlier in the season. Quarterback Quinten Dormady had a good day against the Huskies throwing for 288 yards and three touchdowns. The running game for CMU was in full force totaling 327 yards and three touchdowns. Running backs Kobe Lewis and Jonathan Ward both ran for over 100 yards and combined ran for 281 yards. Ward ranks fourth in the MAC for rushing yards with 863. CMU travels to Ball State on Saturday, Nov. 16 with still lots to play for in the MAC.