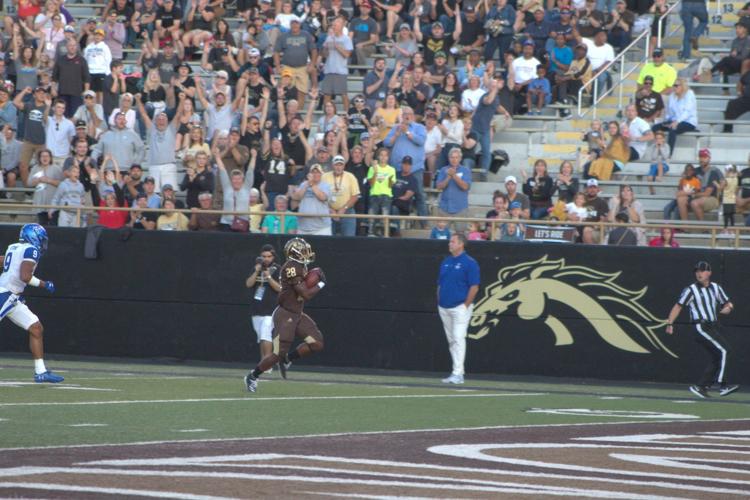 The talk around Western Michigan football going into the 2019-20 season was the experience the Broncos have on both sides of the ball. 
Seniors like quarterback Jon Wassink, running back LeVante Bellamy, and linebacker Najee Clayton have stepped up, probably to nobody's surprise. But often, it's the young players and the unexpected production a team can get that can help elevate overall success. 
Three games into this season, three freshmen on the Broncos offense have stepped up in big ways. Wide receiver Dashon Bussell and Skyy Moore have impressed, as well as running back Sean Tyler, who had his breakout game last Saturday against Georgia State. 
It's rare for freshmen to make an impact early in their careers in college football, but these three players have done just that. 
Let's look at how these freshmen have burst onto the scene early in the season. 
Bussell is a redshirt freshman who wasted no time making an impact for the Broncos offense in his first collegiate game. 
He made five catches for 116 yards in his debut and showed how dangerous he can be in Western Michigan's offense, giving Wassink a reliable deep threat with good hands and big-time athleticism. His first two catches in the game against Monmouth went for a total of 92 yards. 
Western Michigan head coach Tim Lester said they knew he was going to be a special player.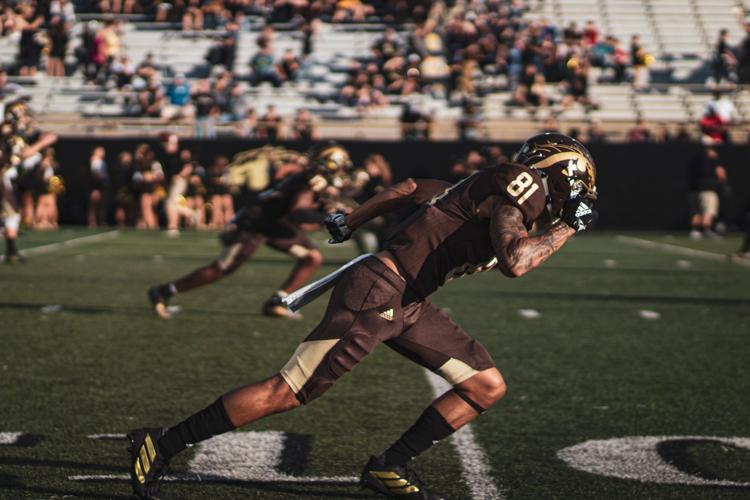 "We knew Bussell was going to be a good player this year," Lester said after the Monmouth game. "He probably would have played last year if he didn't hurt his shoulder. But it was fun for him to get out there and get over 100 yards. He's also really tough and he's a great blocker, so it was good for him to get out to a good first game." 
The former three-star recruit from Knoxville, Tennessee helped fill the loss of Jayden Reed, who transferred to Michigan State in the offseason and was WMU's top receiver last season. 
His first touchdown reception came over the past weekend when Wassink delivered a perfect ball in stride to him for a 41-yard score. Overall, Bussell now has 12 receptions for 223 yards and one touchdown through three games. 
He also showed consistency in spring and fall camp, but it's hard to forecast whether performance in camp will translate to the season. For Bussell, it certainly has so far. 
Full disclosure: I am by no means a football coach, nor do I have any business judging talent when it comes to football. But even I could tell Moore was ready for the bright lights when I saw some of the catches he was making during fall camp. 
Moore is a pure athlete, as shown from his high school days where he played both quarterback and cornerback at Shady Side Academy. There, he was the only player in the history of the Allegheny Conference to rush and pass for 1,000 yards in back-to-back seasons. 
Lester continues to be amazed with the type of player Moore is. 
"He's a guy who can play any position," Lester said at Tuesday's presser. "And he's getting much better at wide receiver just because he's playing it more. They're two things that impress me with him. One is that he is a competitor. I don't know if everyone born in Pitsburgh is just that way, but he is a tough sucker. And he has great ball skills." 
Those assets have helped Moore contribute to Western's offense, as he has hauled in 12 passes for 161 yards and scored a touchdown in the opener against Monmouth. 
Moore should continue to be a big part of WMU's offense for years to come. 
Months ago, it didn't seem like Tyler would get a whole lot of action at running back this season. Bellamy had solid options behind him in veteran Davon Tucker and sophomore Chase Brown. 
Tucker is still a Bronco, but when Brown decided to transfer to Illinois in the offseason, that left an open competition for the third running back spot.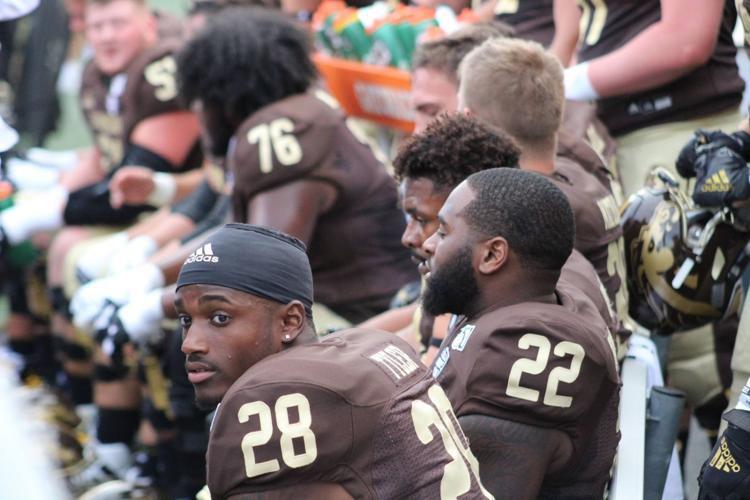 And Tyler has taken full advantage of the opportunity. He had his coming out party against Georgia State, rushing for two touchdowns and 138 yards on six carries. That's a healthy 23 yards per carry. 
"He's dynamic, he's strong, he's fast," Lester said about Tyler after the GSU game. "We know Bells is a senior and we brought Tyler in to replace Bells. We didn't know he would be ready to play like he is now. We could see that in camp that he is a pretty special player and he works hard. So, it was good to get him in some space." 
Bellamy said in the offseason that Tyler reminded him a little bit of himself. But one thing they both have in common? They can both run. Like, really fast. 
On Tyler's first touchdown run on Saturday, I had to do a double take from the press box. Typing on my computer, I saw a WMU running back explode out of the hole for what seemed like the 50th time of the night. When I picked my head up I figured, "there goes Bellamy again." But it was No. 28, not No. 2. 
Tyler looks like an explosive player already early on in his career, and as the season wears on, he should get even more reps.  
The Broncos will be on the road this week as they travel to the Carrier Dome to face off against Syracuse at noon on Saturday.