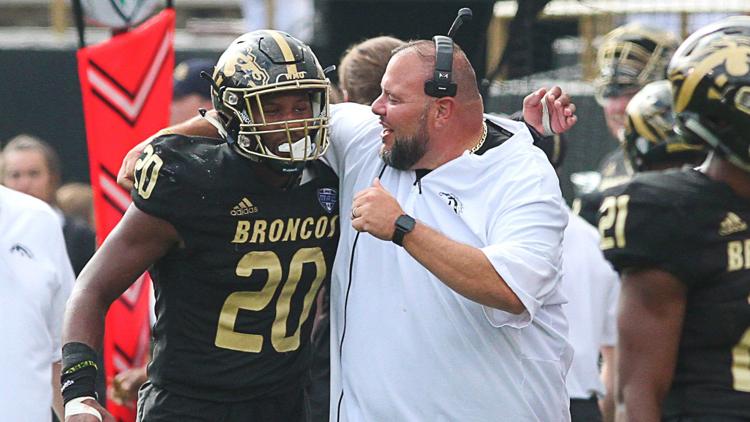 Eight games into the 2018 season, things were looking promising for Western Michigan football. After an 0-2 start to the season, they reeled off six straight wins and ascended to the top of the Mid-American Conference West standings. 
But during that winning streak, the Broncos offense was on fire, averaging 41 points per game during that stretch. The defense showed flashes of success during the stretch, but still had a couple of games where they gave up 35 plus points to Miami (OH) and Bowling Green. 
Then, when quarterback Jon Wassink went down in week nine, it was up to the defense to provide some consistency while freshman quarterback, Kaleb Eleby, figured out how to run the offense. And, although they were put in some tough spots in certain games, the defense faltered down the stretch. 
The Broncos gave up over 44 points per game in their last five while allowing over 400 yards per game. Former defensive coordinator, Tim Daoust, was fired before the last game of the regular season. Lou Esposito was given the interim tag for the final two games.  
Western put together a stellar performance against Northern Illinois in the final week of the season. But then in the bowl game against BYU, the Broncos allowed 49 points to the Cougars and allowed BYU's quarterbacks to complete all 19 of their passing attempts.  
Overall, the Broncos gave up over 40 points in six of their 13 games last season. But now, Lou Esposito has the keys to run the defense. 
Senior linebacker Najee Clayton thinks the defense has something to prove coming into the 2019-20 season. 
"We definitely have a chip on our shoulder with the way the season ended last year," Clayton said Tuesday at MAC Media Day. "I feel like we have a bunch of guys in the locker room that would give you the same answer as far as saying, ok, last year was last year." 
Clayton emphasized how hard the coaching staff has worked in the offseason to put them in the right positions, giving them confidence heading into the season. 
"We have an even simpler scheme (this year)," said Clayton. "There's nothing to really think about, it's just go out there and react and go play. Lester understands what we need to succeed and puts us in a really good position to be successful." 
The Broncos head coach, now in his third season, knows they must improve on that side of the ball. The biggest change on Western Michigan's defense will be the transformation of D'Wayne Eskridge from receiver to defensive back. Eskridge will still play some at wide receiver, but it's evident that Lester thinks he is needed to help shape the defensive secondary. 
"We've kind of come full circle with our defense," Lester said Tuesday at Media Day. "We have eight or nine legit defensive linemen who can play, which is rare. We're two-deep at linebacker, two-deep at safety, two-deep at corner and have eight or nine seniors on that side of the ball in starting roles. It's an exciting time to have the experience and the depth, something we didn't have last year." 
Lester also said that they have recruited to get to this point on defense. He said he loves the coaching staff who is helping his players develop, and that he knew they needed to improve on that side and have put enough attention there to do that. 
With a defense that ranked No. 72 in yards allowed per game last year out of 130 teams, it will be interesting to see if the Broncos can make enough strides to make a big jump this season.