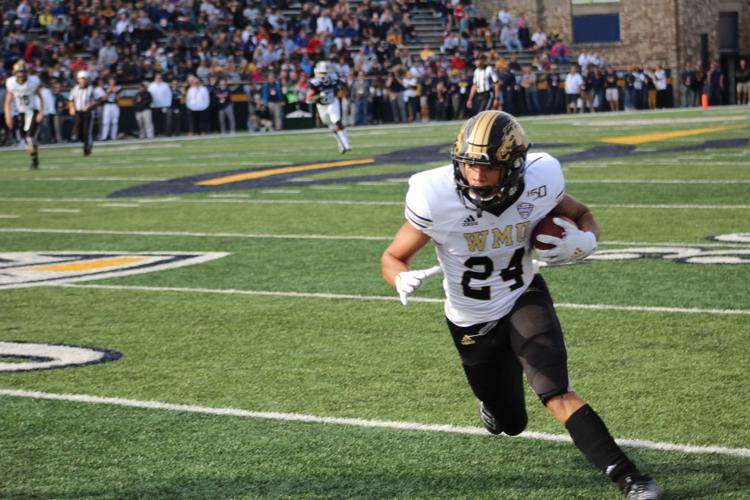 In a Zoom call with reporters last week, WMU football head coach Tim Lester took some time to go through what his team's depth chart may look like by the time the Broncos take the field on Nov. 4 at Akron.
Even though depth charts are subject to change by the week, it is interesting to get an early look on who has impressed thus far in practices and how the Broncos will fill holes from last year's team coming into this season.
Here is a position by position, in-depth look at WMU's rough depth chart on the offensive side of the ball up to this point.
Quarterback
Projected starter: Kaleb Eleby
Backups: Nick Kargman (2) and Jack Salopek (3)
Redshirt sophomore Kaleb Eleby is by all means expected to take over the reins at quarterback for the season. Lester said he has gotten more reps with the first team than Kargman and also praised Eleby's natural leadership ability and the way he communicates with his teammates and coaches. Lester said he has been throwing the ball well and has put some muscle on from last season.
Kargman, a redshirt freshman, had a rough first day of camp but has "turned it on since," Lester said in the Zoom call. Lester praised his timing and his ability to get the ball out of his hand quickly to find open receivers.
True freshman Jack Salopek has moved into the mix for the third quarterback spot. Griffin Alstott, who appeared in four games last year off the bench while Eleby redshirted, is not listed on the 2020 roster.
Running backs
Starter: Sean Tyler
In the mix: Jaxson Kincaide, La'Darius Jefferson (?)
Although Tyler projects as the No. 1  running back, the position is very much a fluid situation with Michigan State transfer La'Darius Jefferson awaiting the decision on  his waiver request to the NCAA for immediate eligibility. If the request is granted, Jefferson could ascend to the "go to" guy, but even then, the running attack should be more balanced this season in terms of workload.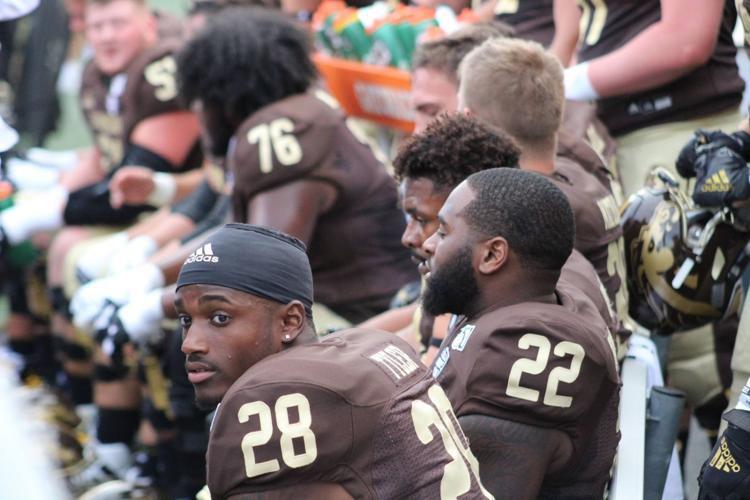 Last season, Bellamy received the overwhelming majority of the carries en route to a historic season for him. Tyler showed promise last season and Kincaide is a grad transfer from Nevada who will give the backfield some experience. Lester has liked to use three running backs in the past and Jefferson would be a big addition for 2020 if he can get immediately eligible.
Tight ends
Starter: Brett Borske
Backups: Luke Sanders (2), Anthony Torres (3)
At 6-foot-6, 275 pounds, Borske replaces First Team All-MAC honoree Giovanni Ricci. Borske is capable of hauling in receptions but excels with his blocking in the running game and is a much different player from Ricci.
Sanders, who transitioned to tight end from receiver in 2019, is more of a pass catching threat. Torres has appeared in one game since 2018 in his career, which came against Delaware State his freshman season.
Wide receivers
Starters: Jaylen Hall, D'Wayne Eskridge, Skyy Moore.
In the mix: Corey Crooms, DaShon Bussell, Cam Cooper, Anthony Sambucci.
Being the deepest position on the offensive side of the ball, Eleby will have plenty of weapons to choose from in the passing game.
Hall has emerged in training camp thus far as the frontrunner at the field receiver position in Lester's offense. The redshirt junior got off to a hot start in 2019 while appearing in 13 games with four starts, hauling in three touchdowns on 16 receptions.
Eskridge will start at boundary receiver after spending most of last season at cornerback before suffering a season ending collarbone injury in Week 4 at Syracuse. His presence will give Eleby a downfield option as Eskridge has shown the ability to use his speed to get by opposing secondaries in the past.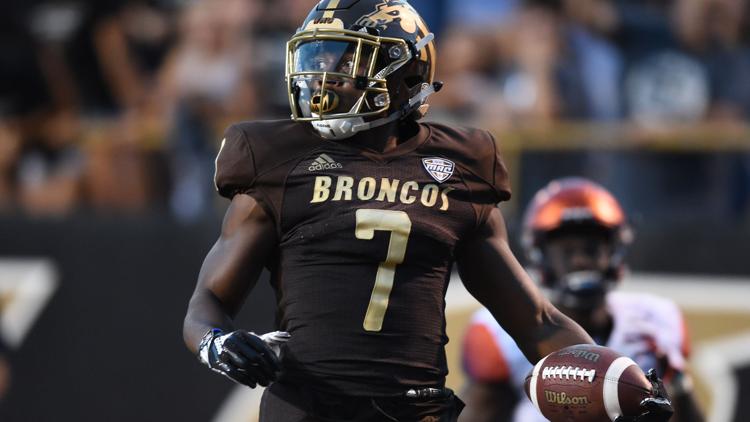 Moore will start in the slot after becoming Western Michigan's first true freshman wide receiver to be first team all-league in 2019, with Cam Cooper backing him up.
 Crooms and  Bussell, who both came up with plenty of big catches of their own in 2019, will be squarely in the mix for significant playing time at wideout again in 2020 and should both be expected to contribute.
Sambucci is a freshman from Lemont, Ill., who coach Lester said has been impressive throughout training camp so far.
Offensive line
Starters: Left tackle: Jaylon Moore. Left Guard: Mike Caliendo. Center: Wesley French. Right Guard: Dylan Deatherage. Right Tackle: Mark Brooks.
This is the only position Lester did not give at least a  two-deep, but the Broncos starters up front should be a solid group as it returns two starters from last season, with the other three having plenty of experience.
Moore and Caliendo are both redshirt seniors on the left side of the line and have started 62 games combined in their Bronco careers.
French is the new center for the 2020 season, replacing Luke Juriga. French suffered a season-ending injury in spring practices last season and has seen time on both the offensive and defensive lines during his tenure at WMU.
On the right side of the line, Dylan Deatherage will play right guard and Mark Brooks will be the starting right tackle. Deatherage played in 12 games last season while starting in two, while Brooks also played in 12 games in 2019 and started the last three after Spencer Kanz missed the final three games due to injury.
Kanz and guard Jordan Asbury are not listed on the 2020 roster after starting the majority of games for the Broncos on the right side of the line last season.