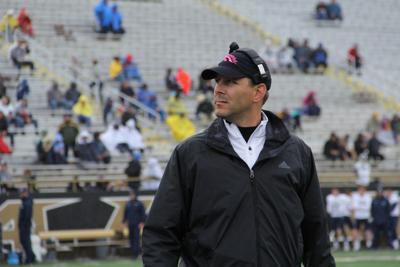 Western Michigan head football coach, Tim Lester, is about 20 years removed from his playing days when he quarterbacked the Broncos in the late 1990's. 
But Lester will have a chance to put his arm on display again. Only this time, on a baseball diamond instead of a football field. 
The Bronco coach will throw out the ceremonial first pitch at the Kalamazoo Growlers game on Thursday night for the first ever "WMU Night at the Growlers." 
Luckily for Lester, he does have some experience with tossing out first pitches, and he seems to have learned from those times. 
"I normally don't try to show off the arm," Lester said. "I did that one time and my whole arm went numb and I realized I'm old. Now I've gone back to the nice smooth changeup right down the middle." 
Lester even said he has thrown a wild pitch previously, which is something he is sure to avoid ever happening again. 
"That's why I'm back to just lobbing it up there. I've learned my lesson," said Lester. 
The Growlers will be sporting WMU-themed jerseys that will be available for auction after the game. 
In addition, the first 400 fans to purchase tickets through the WMU Night promotional page will receive a WMU-themed Growlers hat. 
The gates open at 6:05 p.m. at Homer Stryker Field, with game time at 7:05 p.m. To purchase tickets, visit the link to the promotional page below.