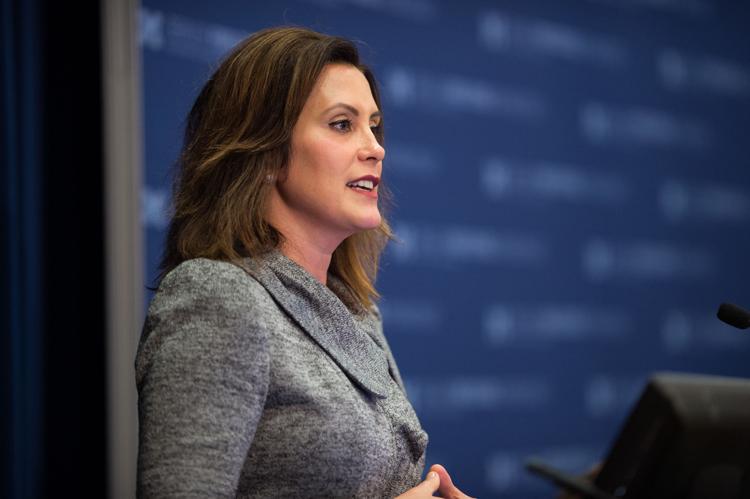 On Aug. 20, the Michigan High School Athletic Association announced it would authorize fall competition in volleyball, soccer and swimming amid the coronavirus pandemic.
However, competition in those sports are only allowed in the Upper Peninsula and Lower Northern Peninsula  (Regions 6 and 8), as those only two regions in Michigan that are in Phase 5 of Michigan Gov. Gretchen Whitmer's Safe Start Plan.
Executive order 2020-160 forbids competitions in these sports in regions that are in Phase 4 due to social distancing regulations.
It has now been almost two weeks since the MHSAA made the decision to clear those three fall sports and executive director Mark Uyl said the organization is still looking for answers from the governor's office on when or if schools not in Regions 6 and 8 can start competing.
"Our position and what our schools' position is and what our schools are ready to do has been made very, very clear," Uyl said last Wednesday on"The Huge Show," a sports radio talk show in Michigan. "It's now up to downtown Lansing to be able to make some decisions and give some guidance about what is going to be allowed and what isn't. This is no longer a decision that we as the MHSAA can make. We have to make sure that we're following all current executive orders of which that is what essentially right now is the issue. The governor's office is aware of that, and we're continuing to work together on the resolution."
Time is not something schools have right now when it comes to its athletic seasons. Many high school boys soccer teams have already had around a quarter of its schedules canceled due to the indecision. Student-athletes in volleyball and swimming are also missing out on tournaments and meets at the high school level.
"We are also communicating loud and clear that the clock here is ticking, Uyl said on the radio show. Right now everybody is in limbo and this is not fair to our kids and our coaches. If the answer is no, we need to know that. We haven't gotten that answer yet and because of that we're going to continue to fight, to push and to advocate for what our kids, our coaches and our schools are telling us to do."
Hundreds of student-athletes, parents and coaches took to the Capitol in downtown Lansing last Friday to protest against the decision to postpone the football season as part of a #LetThemPlay movement, which now has over 18,000 members on Facebook.
Mason football coach Gary Houghton told the Detroit Free Press at the event he is concerned about the negative impacts a postponed season could have on student-athletes.
"My sophomore season (of high school) we had fall sports canceled because of a failed millage," Houghton said to the Free Press. "What I saw happen is what I'm concerned about might happen here throughout the state. We had an increase in alcohol and drug use amongst teens that would normally be playing football. We had some issues with behavior. I'm concerned."
The MHSAA has since changed its stance on its decision to postpone football in the fall, according to a report from Mike Lacett from WZZM 13.
Things are getting crazy. The @mhsaa has asked the state for permission to play football again in the fall. A spokesperson tells me this had little to do with the rally Friday. Instead he says the conversation to play never ended even after the announced the season was postponed.

— Mike Lacett (@mikelacett) August 31, 2020
According to the report, a spokesperson from the MHSAA told Lacett the organization has asked permission from the state to play football again in the fall. Lacett said the spokesperson told him the change in opinion had little to do with last Friday's rally, but instead that "the conversation to play never ended even after the announced season was postponed."
The spokesperson also told Lacett the change in opinion was seeing how other states have been able to play.
.@MHSAA spokesperson tells me they are in favor of playing football in the fall. They think it can be done safely. The change in opinion was seeing how other states have been able to play. https://t.co/kT2WUrr926

— Mike Lacett (@mikelacett) August 31, 2020
Cross country, golf and tennis have all been cleared by the MHSAA in all parts of the state as all three sports have already had contests. For football, the decision stands for now. But for the other fall sports, student-athletes and coaches have to be wondering when a call will be made regarding their seasons at the state level.
The lack of direction and decision-making is not only affecting high school sports. Youth sports clubs in the state are awaiting a decision to be made by the state as well, making it difficult for club organizers or coaches to give parents any answers regarding what the future holds.
The West Michigan Youth Soccer Association, a nonprofit organization in West Michigan that operates under the Michigan State Youth Soccer Association umbrella, said in a statement on Facebook on Aug. 11 a canceled season would put the organization "at risk" from a fiscal perspective in the future.
"The amount of administrative effort to prepare rosters, print player cards, schedule games, and assign officials, adds to our concerns from a fiscal perspective," the statement read. "The cost to perform these tasks to have the season cancelled, like 2020 Spring, will be financially detrimental leaving us at risk for the future. We are working closely with our Administrative Staff and Referee Assignors to mitigate this impact as much as possible."
WMYSA postponed the start of its season to Sept. 19, a week later than it originally planned on starting.
That date is coming up quickly with still no answers being provided by the governor's office. In the meantime, coaches must continue to run socially distanced practices with no contact allowed with seasons approaching fast.
Millions of kids across the United States are involved in sports. At this point, people have to be wondering 'is the risk of youth sports organizations collapsing really worth it?' If organizations start folding, what opportunities are parents going to be able to provide for their kids to help their physical and mental development?
No responsible parent wants to put their children's' health at risk, and the decision to put your child in sports during a pandemic can certainly be a difficult one for some.
But many parents are comfortable with their kids taking the field right now as well.
According to the CDC, 280 lives have been lost as a result of COVID-19 of people between the ages 15-24 in the United States, as of Aug. 26. In 2018, nimh.nh.gov reported 6,211 suicides in 2018 for the year in that same age group.
Almost six months into the pandemic in the United States, if the current mortality rate keeps up for another six months for that age group, that would make young people in the 15-24 age group about 11 times more likely to die from suicide than of COVID-19 when comparing to the 2018 data. With more kids being isolated from friends during the pandemic, how many young lives that could be lost due to a potential mental health crisis should also be a concern.
In the 5-14 age range, COVID-19 has taken 28 total lives in the U.S. The National Institute of Mental Heath's statistics on suicide deaths does not show the number for ages under 10, but there were 596 deaths by suicide in 2018 from ages 10-14 in the U.S.
No family should be put in a position where they feel like they are putting their family's health at risk. For the families that want to keep their kids out of school and off the field, they should have the right to do that.
But for the ones who are confident it is safe for their kids to take part in these activities, it is time to let them families make that choice. These decisions should not be left up to one person in Michigan.
Each organization should have safety measures in place to mitigate risk as much as possible. Players can spread out on benches. Coaches and referees can wear masks. Parents who are watching can wear masks and socially distance from each other. Postgame handshakes can be eliminated. But it's time for parents to have a say in all of this instead of just one voice in Lansing who is deciding which activities in society are worth the risk and which are not.
All summer in Michigan, people have packed beaches and have gone to eat at restaurants. Casinos, bars and strip clubs have opened at one point or another, all of which have a risk factor when it comes to COVID-19. But kids in the lowest risk group when it comes to the virus can't play sports yet? Even the sports that are considered "moderate" risk? There is no logic behind that.
Let them play. It's time.