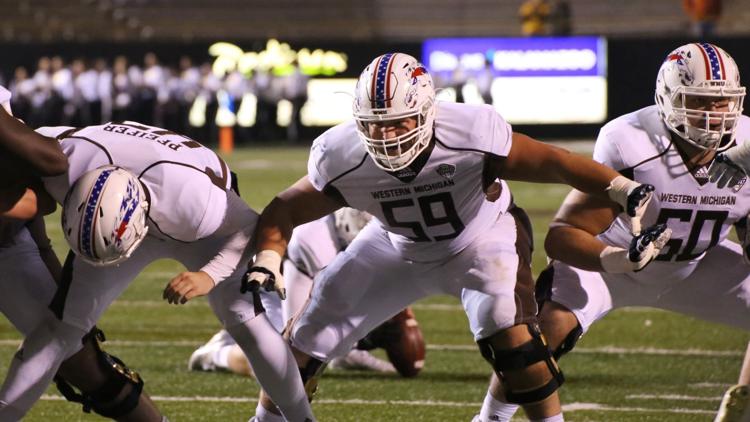 Western Michigan had a fourth player added to a preseason watch list on Friday. Senior center Luke Juriga was named to the 2019 Rimington Trophy Watch list, an award presented to the most outstanding center in Division I college football. 
Juriga joins three other teammates to have their names be added to preseason watch lists, including LeVante Bellamy (Maxwell, Doak Walker), Giovanni Ricci (Mackey) and D'Wayne Eskridge (Biletnikoff).
Since the inception of the Rimington Trophy, the award has raised over $4.2 million for the Boomer Esiason Foundation in its 17-year history to finding a cure for cystic fibrosis. Dave Rimington was a first-team All-American center at Nebraska in 1981 and 1982. During that time, he became the John Outland Trophy's only two-time winner as the nation's top college interior lineman.
Juriga was a First Team All-MAC player last season. He started all 13 games for the Broncos in 2018, including leading the team in snaps played at 1,056. He helped pave the way for a Bronco rushing attack that ranked 33rd in the nation last year.
For the 2019 season, Juriga will make the switch from guard to center. He will try to fill the shoes of former center John Keenoy, who graduated in 2018 and signed a deal with the Minnesota Vikings as an undrafted free agent in April.
At 6-foot-4, 295 pounds, Juriga will look to pave the way for one of the MAC's most explosive players in LeVante Bellamy in the rushing game. As a whole, WMU will return an experienced offensive line with upperclassmen like Jaylon Moore (Jr.), Mike Caliendo (Jr.), Alex Keys (Sr.), and Spencer Kanz (Jr.).
Western Michigan will open their season on Saturday, Aug. 31 against Monmouth University at Waldo Stadium.