Western Michigan football came into the offseason with questions about their wide receiving core. 
Some of those questions look like they were answered on Saturday night. The Broncos used their aerial attack early and often as senior quarterback Jon Wassink threw for a career high five touchdowns in a 48-13 win over Monmouth on Saturday night.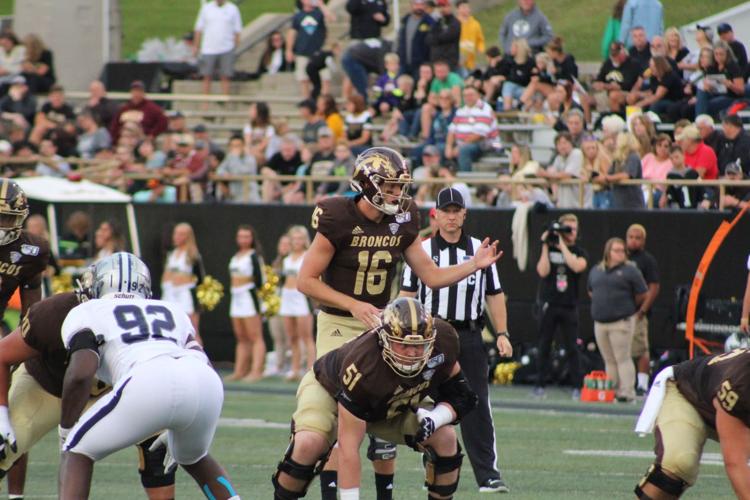 In the first quarter alone, redshirt freshman wideout Deshon Bussell had two receptions for 92 yards on two huge passing plays. 
"We knew Bussell was going to be a good player this year," Lester said. "He probably would have played last year if he didn't hurt his shoulder. "But it was fun for him to get out there and get over 100 yards. He's also really tough and he's a great blocker, so it was good for him to get out to a good first game." 
Early on, Western Michigan was able to take advantage of a Monmouth mistake on special teams. 
After the Broncos defense forced a three-and-out on the opening drive, Monmouth punter Colin McCreary fumbled the snap and had to throw a desperation pass that fell incomplete. 
Western's offense took full advantage, as LeVante Bellamy powered into the endzone from three yards out to cap a five-play, 32-yard scoring drive. 
On the Broncos next drive, they didn't benefit from good field position. After starting from their own eight, Wassink connected with Bussel for a 60-yard reception to put the Broncos at the Hawks 21-yard line. 
A couple plays later, Wassink connected with his roommate Giovanni Ricci for a 15-yard touchdown on a fade route. The catch was initially ruled incomplete but overturned after review. That capped a six-play, 92-yard drive. 
Western Michigan wasn't done through the air in the first quarter. Starting on their own 35, Wassink again found Bussel for a big game on a throw to the outside for 32 yards. Then, one play later, Wassink connected with sophomore wide receiver Jaylen Hall in the back of the endzone as Hall came down with a one-handed catch. 
Monmouth was finally able to answer with a nice drive of their own to begin the second quarter, as they capped off a long drive with a 14-yard touchdown run by Pete Guerriero, who finished with 107 yards on the ground and a touchdown.  
WMU countered with a 45-yard field goal from Thiago Kapps after getting a couple of touchdowns wiped off the board via penalties. 
The defense tightened back up to force a Monmouth punt to give it back to the offense. Wassink again connected with Ricci for a second time in the endzone, capping an 11-play, 49-yard drive. 
As the first half wound down, WMU's defense was able to come up with one more stop, as a goal line stand preserved their 31-7 lead going into the half. 
With 11 seconds to go in the half, Monmouth had the ball at the WMU 1-yard line with no timeouts. They tried a running play up the middle with Devell Jones, and he was stuffed for a loss as time expired to end the first half. 
Lester still wasn't too pleased with the defense that they let them drive that far in the first place. 
"I was upset that they drove the ball for that long," Lester said. "Kind of a double edges sword there. I came in and got after the defense pretty good. "But I thought they came out with some more fire in the second half." 
The Broncos didn't slow down much to begin the second half. Wassink threw his fourth touchdown pass of the night to a wide-open Brett Borske in the endzone for a 25-yard score to push the Broncos lead to 38-7. 
The Hawks did their best to make sure the game didn't get too out of hand, countering the Broncos touchdown drive with one of their own on a 14-yard touchdown reception by Terrence Greene Jr from Bahar with 6:26 left in the third. 
But the Broncos offense just kept coming. After a 65-yard kick return by Keith Mixon, it put the Broncos at the Hawks 35-yard line to start another scoring drive.  
Wassink found true freshman Skyy Moore for an eight-yard touchdown to cap off the short drive, extending WMU's lead to 45-13 with 4:03 to go in the third. It was Wassink's fifth touchdown pass of the night. 
Wassink said he saw some things in Monmouth's coverages that allowed him to have so much success in the passing game. 
"A lot of times they had the safety low in the box," Wassink said. "That left at least one or two receivers or tight ends out there one-on-one. We had to take advantage of them putting an extra safety in the box." 
WMU would then go to the ground game and chew the clock, as a long 12-play, 84-yard drive capped off by a Thiago Kapps field goal with 8:40 left in the game would help do just that. 
The Broncos didn't have great success in the run game, but it didn't seem to matter. 
Lester seconded what Wassink said and that the passing game just opened up based on the coverages Monmouth were playing. 
"We had a lot of favorable matchups in the RPO (run-pass option) game," Lester said. "They were seven versus or six (in the box) all day. "We found a couple ways (to run it) late in the third and fourth quarter." 
Wassink ended the night 20/25 passing for 368 yards and five touchdowns. WMU had plenty of receivers get in the action, as Bussel finished with 116 yards, Hall with 40 yards and a touchdown and Skyy Moore with 23 yards and a touchdown.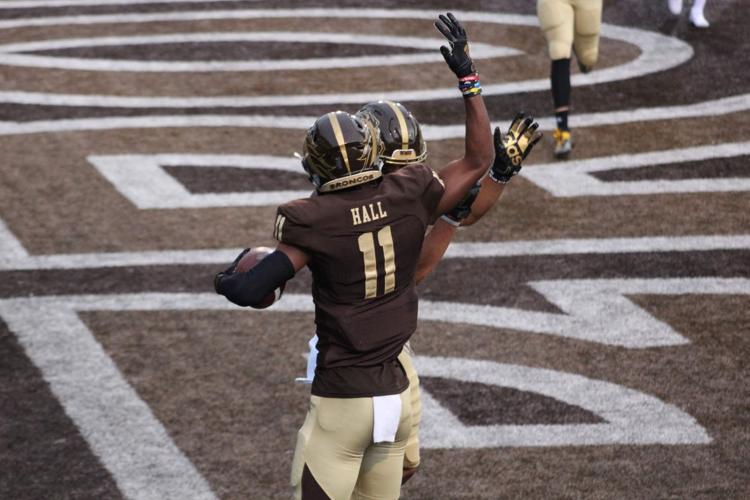 Tight end Giovanni Ricci had a career-best game, scoring twice and racking up a career-high 97 receiving yards.  
For Monmouth, quarterback Kenji Bahar finished 14-26 passing for 194 yards and a touchdown.  
Western Michigan will next play at Michigan State next Saturday, Sept. 7. Kick off for that game will be at 7:30 p.m.