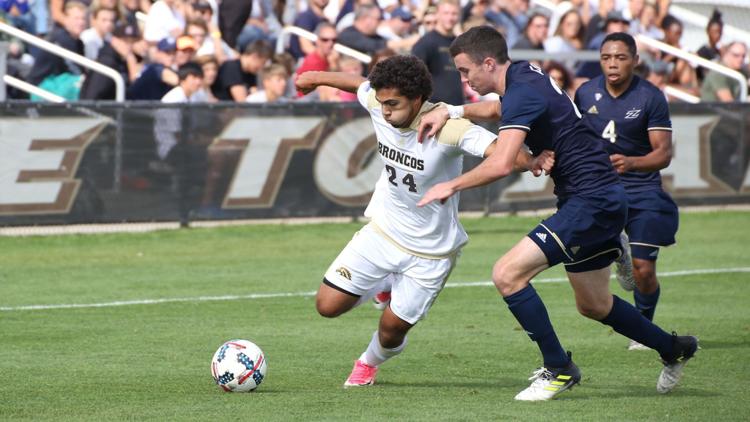 Western Michigan men's soccer fall 1-0 in overtime against DePaul. The Broncos controlled much of the match, however it was DePaul's Brayden Callipari that scored the winning goal in the first overtime period.
WMU went on the attack early and often creating chances in the first half. Jaylen Shannon almost opened the scoring in the first ten minutes with a header that was cleared off the goal line.
After a back and forth 20 minutes, the Broncos started to control more of the ball in the first half. However, the backline of DePaul played extremely well stopping any attack that came their way. WMU outshot the Blue Demons 4-3 as the game entered halftime knotted at zeros.
"In college soccer, you can't let a team hang around," head coach Chad Wiseman said. "We created many scoring chances and had great set piece opportunities, but just lacked a killer instinct to put one in the goal. DePaul hung around and made us pay the price."
The Broncos continued to press the DePaul defense in the second half but could not breakthrough with the opening goal. WMU created plenty of chances including eight corner kicks that failed to find the back of the net.
The match headed into overtime scoreless with the Broncos knocking on the door of the Blue Demons. However, DePaul defender Callipari would find the back of the net in the eighth minute of overtime. A free kick just outside the box was saved by WMU goalkeeper Isaac Walker but Callipari was there for the rebound and finished his chance.
WMU was led by senior forward Anthony Bowie who tallied four shots with three on net. WMU outshot DePaul 11-4 and totaled 11 corner kicks in the match. Walker finished the game with two saves.
"There is no time to feel sorry for ourselves," Wiseman said. "We have to turn around and get ready for Green Bay."
WMU will travel to face Green Bay on Sunday with kickoff set for 2 p.m. The match will also be aired live on ESPN3.