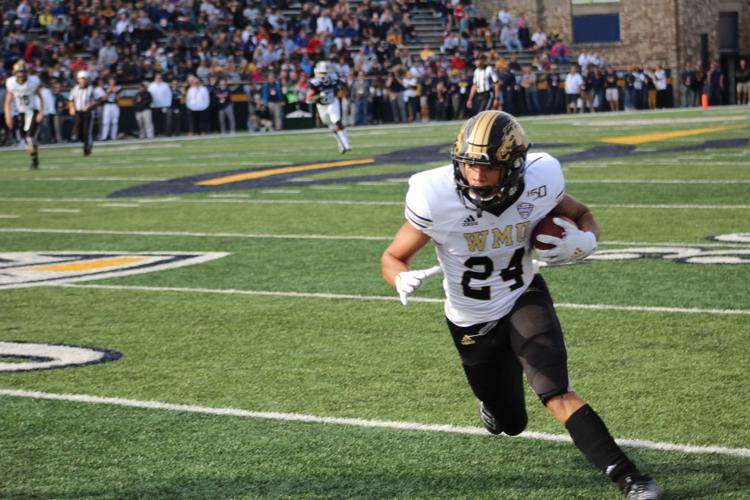 If you plan on tuning into a Western Michigan football game this season, don't be surprised if you see sophomore wide receiver Skyy Moore air the ball out once or twice during the year.
"We've got a couple plays in where I get to loosen up my arm a little bit," Moore said with a smile on his face. "So you might be able to see that this year."
In high school at Shady Side Academy in Pennsylvania, Moore, a multi-sport athlete, played quarterback and defensive back and was recruited by Western Michigan as the No. 36 ranked player in the state.
Moore was a two-time Offensive Player of the Year in the Allegheny Conference while also winning a Defensive Player of the Year award. He was also the first player in conference history to rush and pass for 1,000 yards in back-to-back seasons.
His athleticism was no secret coming out of high school, but suffering a broken ankle at the end of his senior year at Shady Side set Moore back a bit. Couple that with it already being hard enough to see the field as a true freshman in college football and it seemed as if Moore had a couple things working against him.
Yet, as soon as Moore stepped on campus in 2019, he made himself impossible not to notice. As he ran by defenders and made plays in practice going into last season, questions began to build from the media on whether Moore could be a guy making an impact as a true freshman.
Those questions were answered as the season played out, as Moore became Western Michigan's top receiver and one of former quarterback Jon Wassink's most reliable targets.
Moore's 51 receptions, 802 yards and three touchdowns all ranked first among WMU's wide receivers in 2019, with only tight end Giovanni Ricci hauling in more touchdown passes.
While Moore makes catching passes on the field look easy at times, it is easy to see why he has made such an impact early on in his career while looking at his athletic background.
The value of playing multiple sports
Some coaches at the high school level now pressure kids into specializing in one sport. But there are benefits to playing multiple sports, such as helping an athlete developing their all-around skills, which clearly seems to be the case with Moore.
An all-conference basketball selection his junior and senior years of high school, Moore said he received one piece of advice from his high school coach that stuck with him.
"He told me Urban Meyer only recruits three-sport athletes," Moore said. "So ever since he told me that since my freshman year, I just wanted to be the most athletic in the school at whatever sport I was playing."
Potential of the Bronco receiving core
Moore may have been the most notable of the young receivers last year, but the Broncos had several wide receivers make an impact at different points in the season.
In 2020, the receivers will be catching balls from promising redshirt sophomore quarterback Kaleb Eleby instead of Wassink, along with being led by a new receivers coach in Greg Harbaugh Jr.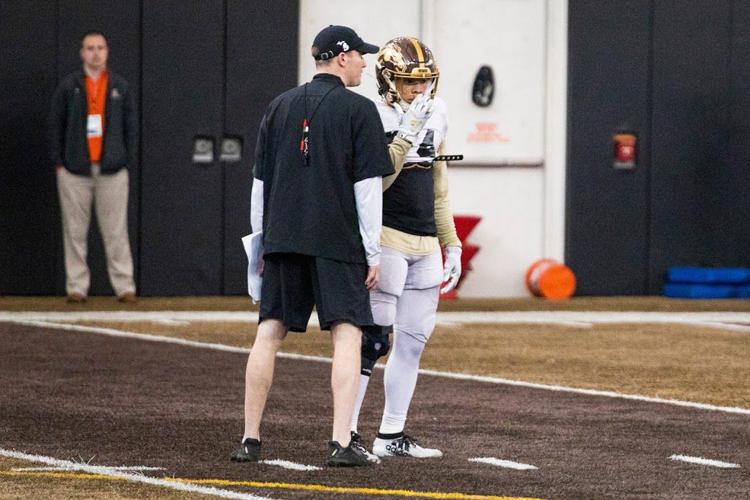 But with D'Wayne Eskridge moving back to the offensive side of the ball coming off last season's injury with the likes of guys like Jaylen Hall, Dashon Bussell and Corey Crooms, Moore said he likes the potential of the group.
"I think we have a chance to be really special," Moore said. "I think with the addition of Dee into our receiving room, I feel like we can shock a lot of people this year."
Last season, teams started to man cover against the Broncos young receiving core, challenging them to beat them in one-on-one situations in efforts to slow down LeVante Bellamy in the running game.
Moore said beating man coverage has been a point of emphasis for the receiving core.
"We're working on a lot of new releases this year. If they want to keep manning up on us, we'll have something for that this year," Moore said.
Moore's goals at WMU
While Moore had an impactful season in 2019, he still sees room for improvement for himself as his football career plays out at Western Michigan.
"Just becoming a better, more smooth receiver," Moore said about what his goals are for the 2020 season. "Coming out of my breaks better, getting off of press coverage, recognizing defenses and just being able to become a better receiver so I can reach that next level."
Team wise, Moore knows the Broncos let a chance at a Mid-American Conference slip away last season, so Moore said his ultimate goal by the time he leaves Western Michigan is to win as many MAC championships as possible.
The Broncos will begin its pursuit of that first MAC championship under fourth-year head coach Tim Lester on Friday, Sept. 4 at home against Colgate.
WMU will continue its spring practices on March 10, before wrapping up the spring on March 28, when the Broncos will hold its open practice at Waldo Stadium.