WMU football redshirt freshman defensive end Marshawn Kneeland says the message to the team from head coach Tim Lester has been to "stay prepared" and "be ready."
In light of Wednesday's announcement from the Big Ten to bring football back on Oct. 23-24, a reversal of its initial decision, the message from Western Michigan football players is clear: They are ready to play this fall.
"Seeing the other Group of 5 players, watching them play and seeing how they came up with a way (to play) makes me confident that the MAC could come up with a way," redshirt sophomore wide receiver Dashon Bussell said.
WMU football players and coaches sparked a #WeWant2Play movement on Twitter on Wednesday, with the players releasing a collective statement asking the Mid-American Conference and its presidents to "create the best and safest plan to allow us to play this fall."
Statement from the Western Michigan football players asking the Mid-American Conference and it's presidents to create a safe plan to allow the team to play this fall. pic.twitter.com/d7nC0I9GVR

— Seth Berry (@berry_seth14) September 16, 2020
As of Wednesday, the conference announced it had "no plans" to play a fall season in any sport and are focused on providing competitive opportunities for its athletes in the spring.
The statement from MAC commissioner Jon Steinbrecher didn't quite satisfy sophomore wide receiver Corey Crooms.
"I was kind of upset," Crooms said about the conference's statement. "The fact that they're not even considering it is what got me kind of upset. Everybody else is coming up with a way and it seems like everybody else already has a plan."
On Aug. 8, the MAC became the first conference to postpone football, along with its other fall sports amid the coronavirus pandemic. The Big Ten, PAC-12 and Mountain West shortly followed suit.
But the other six conferences in the Football Subdivision did not, with many conferences already having started games already.
Redshirt sophomore defensive tackle Braden Fiske said when he turned his television on last Saturday, he and his teammates talked about how frustrated they were watching other teams play while they had to sit out.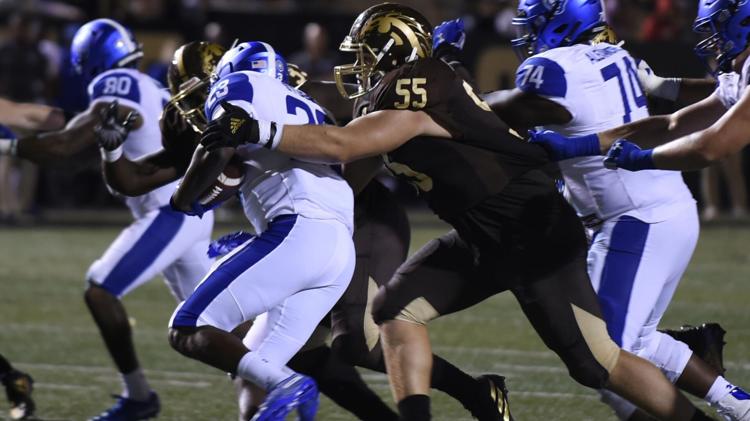 A lot of the players turned on the Notre Dame-Duke game. The Broncos were originally scheduled to play a nonconference game against the Fighting Irish before the season was postponed.
"This past Saturday, when most of the world was watching the ACC start their season up, most guys up here watching the Notre Dame-Duke game and when we saw them and were like 'man, that's supposed to be us right now and we're supposed to be playing Notre Dame.'", Fiske said. "That really fueled the fire right there. But we are definitely wondering why most of the rest of the country gets to play, including youth and high school sports and we're sitting at home having to watch all of this."
While WMU's players want to play a fall season, they also recognize the challenges that go into that happening, as several games across college football have already been postponed due to a high volume of COVID-19 positive tests or players having to quarantine due to contact tracing.
Kneeland stressed he has a high level of confidence in the health and safety protocols taking place at WMU, even with athletic teams currently being shut down due to nine positive cases across four sports last week.
"I definitely feel a lot safer while at practice than just walking around on campus," Kneeland said. "Because even if you're in that space on the field, you know everybody there has been tested. And if somebody did go out and contract it that we are keeping socially distant, we have our masks up, we're spraying everything down- I definitely feel very safe."
Kneeland added he thinks having the incentive of a football season forces everyone on the team to think more diligently about the consequences of not following protocols and potentially putting themselves at a higher risk of contracting the virus.
Crooms echoed a similar sentiment, adding the football team can stay in their "bubble" and stay away from interactions with the rest of the student body as much as possible.
"I feel very safe around the football team because that's our bubble," Crooms said. "We control our bubble and I think that's what it's gonna take to have a safe season. Every player in the MAC, every team in the MAC needs to control their bubble. I feel like we are very safe with the football team rather than out at home or around other people."
Several reports have indicated that while the MAC announced it would not explore any fall options, discussions from administrators could be happening behind the scenes.
The Toledo Blade was first to report that Athletic Directors from the conference met on Wednesday night and that the hope is for a six to eight game season starting on Oct. 24, with a Dec. 19 MAC title game at Ford Field.
The Blade's report said the MAC's presidents are meeting on Saturday. Yahoo Sports' Pete Thamel said the conference still has "a ways to go, but there are signs."
There's some action brewing in the MAC. Source tells @YahooSports that the "Spring Committee" meeting to discuss the MAC's spring schedule tonight was cancelled. Can confirm @toledonews report that MAC presidents are meeting on Saturday. Still a ways to go, but there are signs.

— Pete Thamel (@PeteThamel) September 17, 2020
Multiple obstacles likely lie ahead for the conference to reverse its decision, such as if the conference can gain access to efficient and rapid testing for all programs to be able to proceed while trying to avoid interruptions.
There are also financial hurdles that will also have to be overcome and worked out. But three of the other Group of 5 schools are still playing this fall while multiple reports indicate the Mountain West is also working on a return.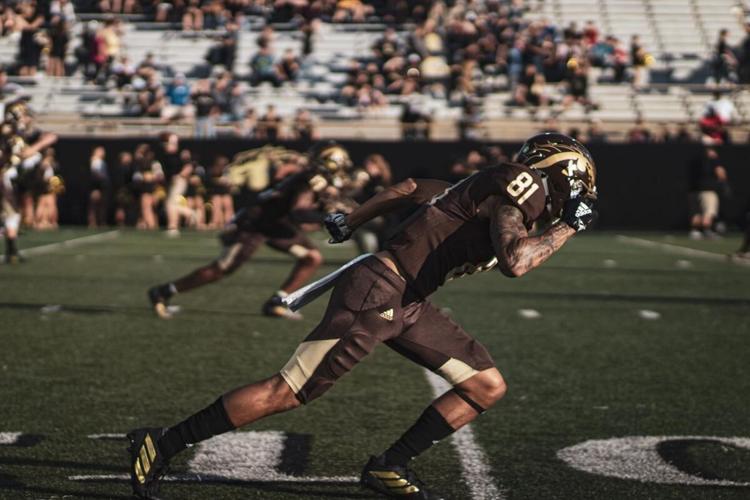 WMU's players recognize the hurdles. But they see other conferences overcoming, or at least working to try to overcome those challenges. 
"I really just think money is probably the biggest issue in all of this," Bussell said. "We were hoping when we saw the Big Ten come back and announce they were playing, that the MAC would look into it better than what the commissioner came out and said."