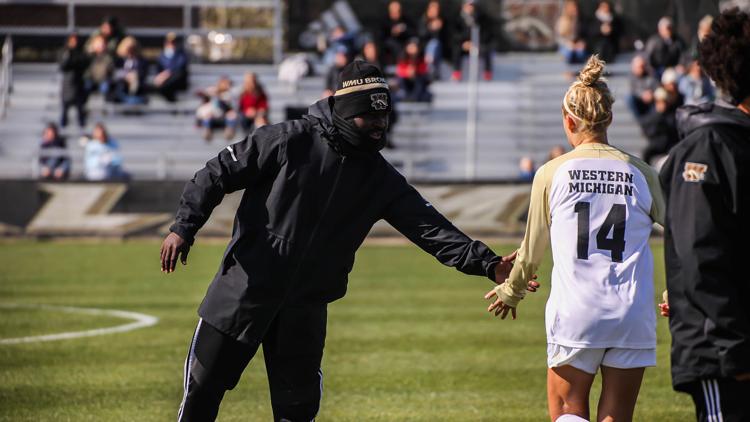 The WMU women's soccer program has released its schedule for the 2020-2021 season, which is set to begin in March. 
Due to the coronavirus pandemic, the season was moved from its traditional fall start. WMU will play 10 conference games with all of them being against MAC West opponents. The winner of the two divisions will square off in the conference championship that is scheduled to be played on April 18 with the location still in question. 
The Broncos will open up the season on March 4 at Northern Illinois before playing its home opener on March 7 against Eastern Michigan. After the home opener, WMU will go on a two-game road trip for matches against Ball State on March 14 and Central Michigan on March 18.
After the two-game road stretch, the Broncos return to Kalamazoo to host Toledo on March 21 and will finish up the month on the road against Eastern Michigan on the 28th.
Beginning in April, the Broncos have three straight home games, the first being April 1 against Northern Illinois, followed by Ball State on April 4 and April 8 against Central Michigan. WMU will cap off the season at Toledo on April 11. 
"I would like to thank the MAC, Kathy Beauregard, Keanah Smith, team doctors and trainers and all others that worked so hard in order for us to compete in the spring," said head coach Sammy Boateng in a press release. "It is exciting to have a schedule that we can work towards safely. We look forward to competing for a championship."
Earlier in the week, the Mid-American Conference announced a plan for postponed fall sports to operate in the spring.
The conference approved volleyball, men's and women's soccer and field hockey to operate this winter/spring while men's and women's cross country is still under consideration.
At WMU, women's soccer is the only postponed fall sport so far to have announced a spring schedule.
WMU women's soccer schedule 2020-21
3/4: @Northern Illinois
3/7:Eastern Michigan
3/14: @Ball State
3/18: @Central Michigan
3/21: Toledo
3/28: @Eastern Michigan
4/1: Northern Illinois
4/4: Ball State
4/8: Central Michigan
4/11: @Toledo