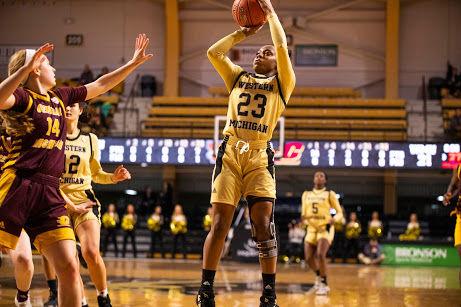 Western Michigan couldn't take down the top team in the Mid-American Conference in Central Michigan despite taking a six-point lead into the fourth quarter. Losing by a final score of 80-70.
The game went back-and-forth in the first half, with nine lead changes before the break. The Broncos went on a 10 point run late in the third quarter, but a fourteen-point run by the Chippewas starting with a buzzer-beating three-point shot by freshman Molly Davis at the end of the third quarter turned the tide.
CMU's 80-point total matched the most the Broncos have given up this year, also allowing 80 in a loss to Florida Atlantic on Nov., 24.
The Mid-American Conference's leading scorer, junior Micaela Kelly, helped Central rack up those points by scoring 31, including 20 in the first half.
Head coach Shane Clipfell described game-planning for Kelly as "a nightmare," adding, "we don't have anybody like that to practice for," Clipfell said. 
Davis took over in the fourth quarter for the Chippewas with 12 of her 19 points coming in the final period.
 Western had some trouble from the free-throw line, where they were just 7-12 as a team, while the Chippewas converted 15 of their 20 free throw attempts.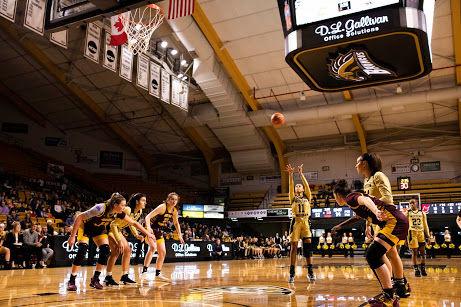 Junior Reilly Jacobson scored a career-high 20 points in the loss, connecting on nine of her 11 field goal attempts. The coaching staff had predicted she would have a big game and had made her a bigger part of the offensive focus due to the success she had been having in practice, according to Clipfell. 
Redshirt senior Breanna Mobley contributed season highs in rebounds (16) and assists (7) but only scored four points on 2-7 shooting. Also blocking two shots in the game.
Graduate student Chelayne Bailey appeared to have hurt her left leg in the second quarter but was able to remain in the game, finishing with 11 points, four rebounds and three assists.
The Broncos' next game will be on the road against Bowling Green on Wed., Jan. 22 at 7 p.m., with the Falcons record currently at 7-10 overall and 0-5 in conference play.