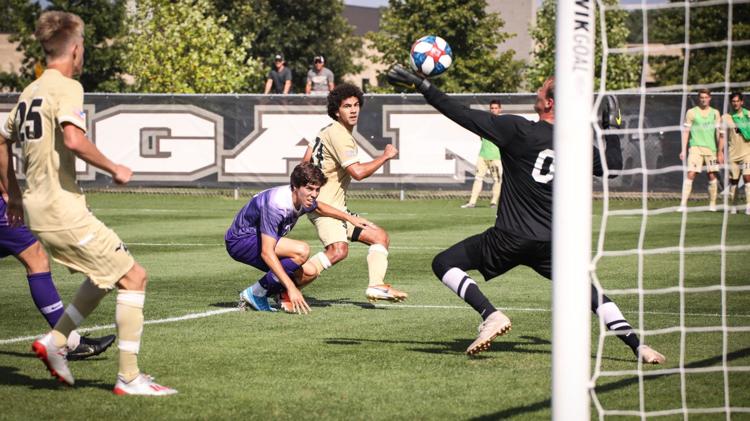 Western Michigan men's soccer win a huge game on the road against Big Ten opponent Michigan State and improve to 4-2 on the season. The 1-0 Bronco victory is the first win over Michigan State in 26 years and only the third all-time win over the Spartans.
"What a performance the men had tonight," head coachChad Wiseman said via press release. "Bronco nation showed up to East Lansing in big numbers to witness it and we are very thankful for their support. We have a lot of respect for Michigan State and what they have accomplished, including a final four appearance last year. We know we beat a top program today."
The Broncos came out of the gate fast as they controlled much of the play in the first half. WMU held MSU to only four shots in the first half while the Broncos tallied 11 shots. After pestering the Spartan defense, WMU would breakthrough with a goal in the 32nd minute.
Freshmen midfielder Charlie Sharp would find the back of the net to score his second goal of the season. Sharp ripped a shot that would hit the crossbar and bounce back into the goal giving the Broncos the 1-0 advantage. Max Keenan was awarded his fourth assist on the season which passes Brennan Creek for the lead leader in assists.
"What a goal by Charlie," Wiseman said. "That is a freshman making the most of an opportunity and taking his moment."
Western continued to put pressure on the Spartans back line during the second half. The Broncos finished the match with 13 shots on target compared to MSU's two shots on frame. Sharp and Eric Conerty lead WMU in shots on goal with seven between the two of them.
"I thought we were very good defensively. We gave them very few dangerous chances and showed some big-time toughness," Wiseman said. "Our game plan was to out chance them on the night and we certainly did that. We made their goalkeeper make 12 saves and several of those were big time saves as well."
Redshirt freshmen goalkeeper Isaac Walker was awarded two saves in his second shutout of the season. Spartan goalkeeper Hunter Morse tallied 12 saves on the night.
The Broncos will have little time to celebrate as they travel to face No. 5 Virginia on Monday with a 7 p.m. kickoff time.