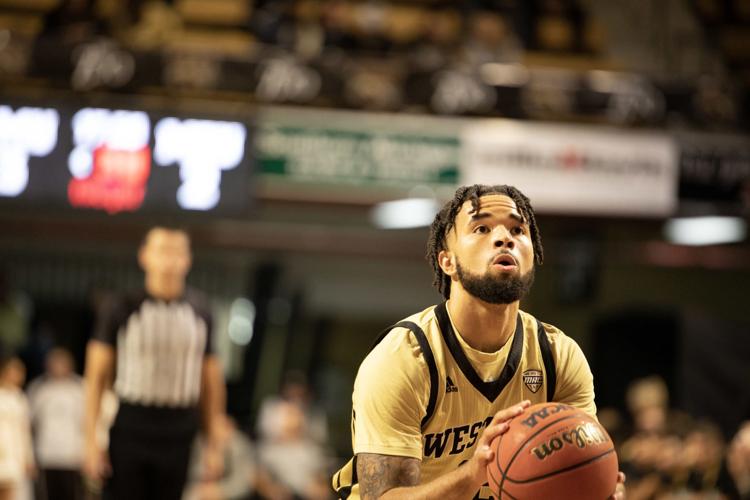 Junior guard Michael Flowers scored a career-high 34 points as Western Michigan men's basketball defeated Milwaukee in a triple overtime classic on Saturday night on the road by a score of 115-110.
Flowers came through in key situations three different times. The Southfield, MI native hit a three-pointer at the end of regulation to send the game to overtime, another to send it to double overtime and a third to push the game to triple overtime. For the contest, Flowers was 11-of-20 from the field including 7-of-9 from three point range.
The Broncos had six players score in double figures against the Panthers, including Brandon Johnson's double-double with 21 points and a career-high 15 rebounds. Johnson played 46 minutes and shot 6-of-15 from the field while going 9-of-12 from the free throw line. 
Redshirt sophomore Jason Whitens also scored a career-high with 15 points to go along with nine rebounds in 40 minutes of action.
As a team the Broncos shot 44.8% from the field, 40% from three and 78.9% from the free throw line. The 45-of-57 clip from the line for WMU was both the most free throws made and attempted in a single game in school history.
The Broncos finally began to pull away after a back-and-forth game as a steal from sophomore Adrian Martin resulted in a lay-up from sophomore William Richard-Boyer to put the Broncos up three with 2:30 left. WMU would then cash in on their last six free throws to secure the five point win.
WMU is now 2-0 on the season, marking the first time the Broncos have started 2-0 since the 2014 season.
They will welcome in Mississippi Valley State next on Tuesday, Nov. 12. Tip-off for that game inside University Arena will be at 7 p.m.